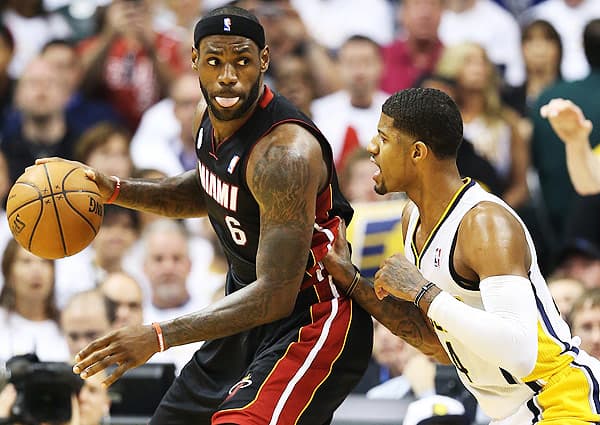 2013 NBA Finals San Antonio Spurs vs. Miami Heat Series & Game 1 Preview
Bovada.lv Odds To Win 2013 NBA Championship Odds: San Antonio +185 – Miami -225
TV: Game 1: 9:00 EDT ABC Series
After a long NBA season and several weeks of playoff basketball we have our Eastern and Western Conference Champions. Fans might remember Heat superstar LeBron James losing to the Spurs in the 2007 NBA Finals, when he was a member of the Cleveland Cavaliers. LeBron is clearly a much more dominant force in today's NBA and is no doubt looking to exact revenge on San Antonio. While the Spurs will look for one another ring to add to their storied history over the past decade plus.
How the Heat Got Here
Miami was the top seed in this year's playoffs and faced the 8th seeded Milwaukee Bucks in the First Round. The Heat quickly dispatched the Bucks in four games to move onto Conference Semifinals to face the Chicago Bulls. After dropping Game 1 to Chicago, the Heat won four straight games to advance.
Their first real trouble came in the Conference Finals against the Indiana Pacers. Miami won Game 1 but dropped two out the next three games. The Heat won Game 5 to go up 3-2 on the Pacers, but Indiana won a Game 6 and forced Game 7 in Miami. Ultimately, the Heat triumphed in a grueling series, winning 99-76 on June 3rd.
How the Spurs Got Here
San Antonio also breezed through the First Round, sweeping the Los Angeles Lakers. Things got a little tougher in Golden State during the Conference Semifinals, but after being knotted at 2-2, the Spurs won two straight to close out the series.
The Western Conference Finals were decided as quickly as the First Round for the Spurs. They handled the Memphis Grizzlies four straight losses to book their ticket to the NBA Finals. The Spurs have only lost two games this postseason with a record of 12-2 throughout the first three rounds of play.
Previous Meetings
The Heat faced the Spurs twice this season, but Gregg Popovich decided to rest Manu Ginobili, Tim Duncan and Tony Parker in the game which was won by Miami. In the second meeting, James, Wade and Ginobili all sat out, as well. Neither of these teams has faced in other at full strength this season, which should make for an intriguing first few games from a matchup perspective.

Analysis
While many people across the United States expected to see the Heat in the Finals, perhaps just as many thought the Spurs were finished. With their older roster and stacked Western Conference, few could expect them to be here – but here they are.
The Heat are not massive favorites in this series at -224, and we're sure the sportsbooks will be taking a ton of action on Miami to win the title. The real question is how viable are the Spurs at +185 and what realistic shot do they have at knocking off perhaps one of the best NBA teams in recent history.
Miami was pushed to seven games in a tough series against Indiana, and undoubtedly looked quite vulnerable at times. If a couple more bounces went against the Heat, they could have easily found themselves sitting at home.
Also, let's not forget Miami has been in a shooting slump nearly all postseason from beyond the arc and has not gotten much from its bench except some solid games from Ray Allen and Chris Anderson. Wade's knees are still ailing, and he has had a terrible postseason despite his 20-point performance in Game 7 against Indiana. Bosh was terrible in the Eastern Conference Finals, averaging just 11 points and 4.3 rebounds a game while shooting under 37.7% from the field.
Miami will not fare too well against San Antonio without consistent help from Wade and Bosh. That certainly is not something Miami can count on based on their current track record this postseason. LeBron James can not win every game in a series for you, especially when facing off against a team as deep and experienced as the Spurs.
James will get his and no one will stop him, but is that enough? The Spurs are well rested (they have not played a game since May 27th) and are healthy. The Heat are banged up and just went narrowly escaped against the Pacers.
The coaching matchup is perhaps the most significant advantage that the Spurs have over the Heat. Gregg Popovich is a genius and will easily outcoach Erik Spoelstra. No knock on Spoelstra, but few coaches can hold a candle to Pops. Furthermore, Spoelstra's inability to get other players than LeBron going against the Pacers is worrisome. Pacers' coach Frank Vogel looked to have the better him in that series from a tactical perspective, but just ultimately could not stop one of the best basketball players in NBA History in LeBron James.
Maybe it all comes together for the Heat, and they start playing like the team that won 27-straight games during the regular season. Maybe they will be unstoppable and beat the Spurs in four or five games. While that certainly could happen, we can not judge them based on past performances from a few weeks ago. We have to look at the now.
Even though the Pacers matched up well against the Heat, the Spurs are no slouches defensively and are well rested to face a Heat team that is just trying to catch their breath. Popovich and the Spurs attack the strengths of each team and will make it a priority close down the paint as best as possible.
The Spurs are a matchup problem for any team in the league, especially one that has been prone to inconsistency. San Antonio is an intelligent basketball team that does not turn the ball over and can mold their game plan into one that is best suited for their opponents.
Dwayne Wade's knee is also a gigantic question mark in this series and could easily force him out a few games. He has already missed several games in the postseason, but none against Indiana.
The series is still the Heat's to lose because of LeBron James' ability to carry a team to a championship by himself. But, an average performance of LeBron James could put Miami's chances at a victory in significant time jeopardy. Perhaps they got by with him doing all the work against Indiana, but that will not happen against the San Antonio.
Of course, the Spurs are a talented offensive team in their own right. Duncan has had a phenomenal season for a 38 year old and Parker is perhaps playing the best basketball of his postseason career. The maturation of other young players such as Danny Green and Kawhi Leonard has been a welcomed addition to the reliable Manu Ginobili.
While this pick might be an unpopular opinion among pundits and at your neighborhood sports bar – we like the San Antonio Spurs to beat the Miami Heat in six or seven games. It is too hard to walk away from the Spurs at +185 when they have been playing the NBA's best basketball over the past month.
The Spurs are not intimidated to be on this stage and do not fear any opponent. They have been the underdog heading into the NBA Finals many times before and have come out victorious.
Our NBA Finals Series Pick: San Antonio Spurs +185
So, we took a look at the series on the whole and gave our prediction. Now we will look at Game 1 against the spread. The Finals kickoff with Game 1 on June 6th at 9:00 EDT.
San Antonio Spurs at Miami Heat -5.5 – Total: Ov/Un 189
Odds provided by www.bovada.lv
Even though we picked the Spurs to win the Finals, we still think the Heat will make this a six or seven game series. However, it is still hard to lay off the Spurs in Game 1 for a variety of reasons.
Miami not only had a tough seven game series against the Pacers, but are with an injury prone Wade who is a wildcard on this series. He may be out of gas for Game 1 after his inspired performance in Game 7 against Indiana.
The Spurs have not only rested for over week, but have had plenty of time to practice and mentally prepare for both of their potential opponents whether they faced Miami or Indiana. Gregg Popovich will have a solid game plan and force Spoelstra and the Heat to adjust on the fly, something that he has not been very adept at during the postseason.
Our Pick: San Antonio Spurs +5.5