The Best Netball Betting Sites for 2023
Welcome to our complete guide to netball betting sites. Our team has rated and reviewed all the top online gambling sites for netball betting to come up with our recommended list for you.
Our guide includes everything you need to know to bet on netball, from how to understand netball betting odds to an overview of how the sport works. If you'd like to jump right into the action, you can sign up at one of our top netball betting sites from the table below.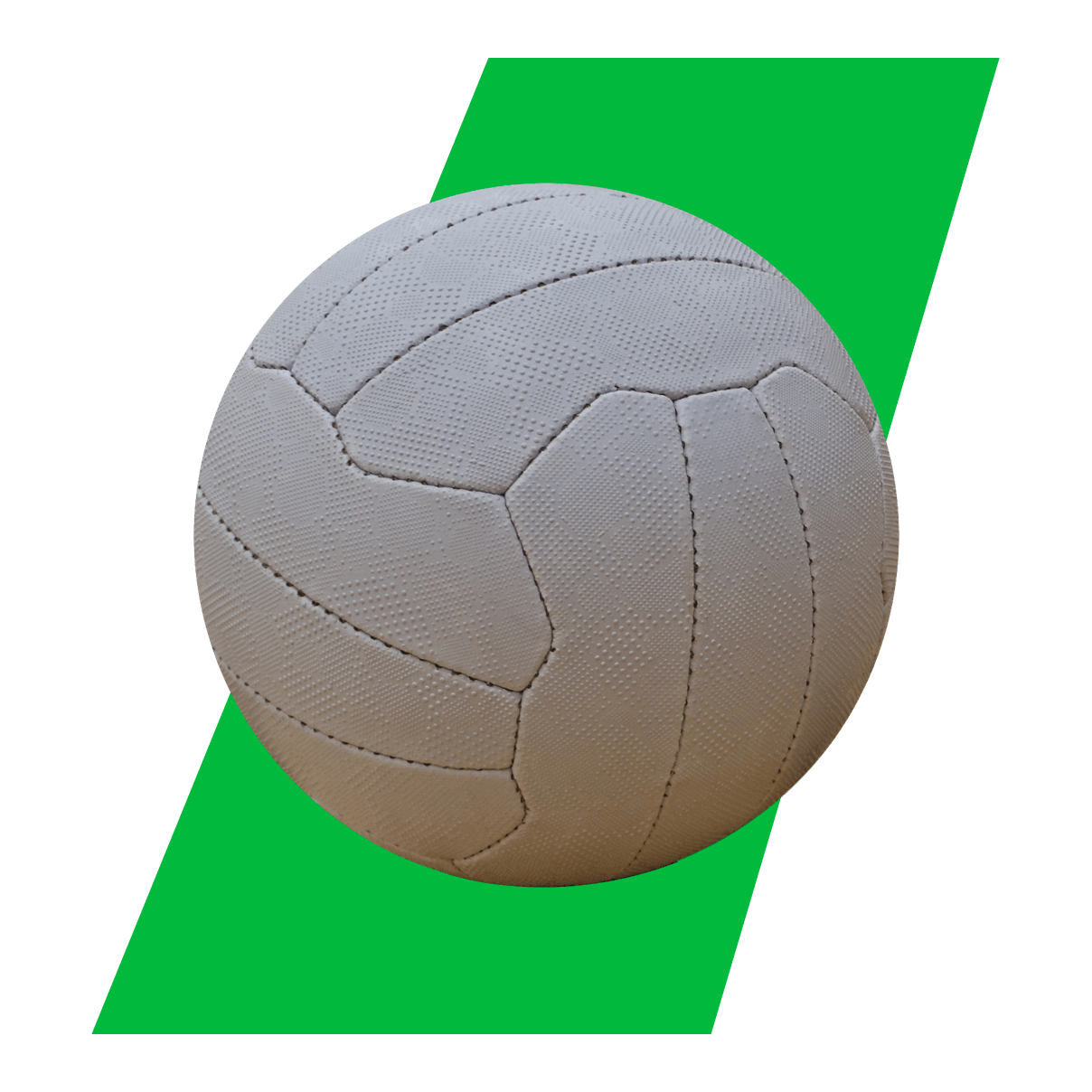 Best Netball Betting Sites – March 2023
An Introduction to Netball Betting
While netball betting has become popular in many countries, many people are still unfamiliar with the sport. Netball developed from early forms of basketball, and in some ways, the two sports still share some similarities.
However, the rules, strategies, and gameplay of netball are now very different from the basketball you might be more accustomed to. Here's a breakdown of the rules, scoring, and gameplay of netball.
Object of the Game
Object of the Game
Netball is a game contested by two teams of seven players each. The object is to score the most goals by shooting the ball through the goal ring, which sits atop a 3.05 metre (10-foot) goal post. Unlike in basketball, there is no backboard to the ring.
A competitive netball game is played over four quarters. Most netball games are 60 minutes long in total. The team that scores the most goals in that time wins the match.
Players and Equipment
Players and Equipment
While each team has seven players, those players are restricted in where they can move on the court. Only two players may stand in the attacking shooting circle, which is the only place where goals can be scored. The positions are as follows:
Goal Shooter: Must remain in the attacking third, and can enter the shooting circle and score goals.
Goal Attack: Can move throughout the centre and attacking thirds, and can enter the shooting circle and score goals.
Wing Attack: Can move between the centre and attacking thirds, but cannot enter the shooting circle.
Centre: Can move anywhere on the court, except in either goal circle.
Wing Defence: Can move between the centre and defensive thirds, but cannot stand in the defending shooting circle.
Goal Defence: Can move between the centre and defensive thirds, including the defending goal circle.
Goal Keeper: Most stay inside the defensive third, and can move into the defending shooting circle.
Netball is played on a 30.5 metre by 15.25 metre court. The goal circles are semi-circular and measure 4.9 metres in radius. A netball ball measures about 700 millimetres in circumference and weighs just over 400 grams.
Scoring
Scoring
Goals may only be scored from inside the goal circle, which is also known as the shooting circle. Only the goal shooter or goal attack may shoot. Any ball that goes through the net from outside the circle or from any other player does not count.
In addition, if the goal keeper or goal defence deflects a shot, it does not count as a goal even if it goes through the ring.
Rules of Netball
Rules of Netball
In netball, players can take no more than one step with the ball before they must pass it. In addition, a player must either pass or shoot the ball within three seconds. This means that netball games regularly see most or all players touching the ball on a regular basis.
After each goal, the game restarts with a centre pass, in which the centre keeps one foot within the centre circle and passes the ball into play. These centre passes always alternate between teams, no matter who scored the last goal.
Contact in netball is limited. Players can only make contact if it does not impede an opponent. In addition, plays must be at least 0.9 metres (three feet) away from the player with the ball while attempting to defend them.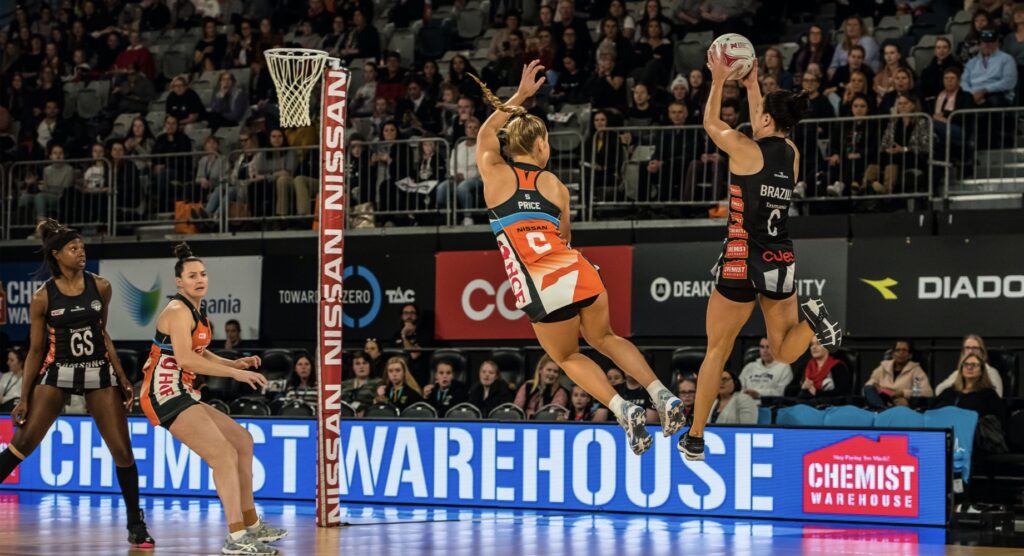 How to Bet on Netball Online
It's easy to start enjoying netball betting online. From signing up at one of our recommended bookmakers to placing your first bet, you should be able to get going in just a matter of minutes. But if you've never tried online betting before, don't worry: we're here to help you get started.
Here's a step-by-step guide to placing your first bet at one of our top netball betting sites.
Step 1
Sign Up at a Recommended Netball Betting Site
To get started, choose one of the great online gambling sites we're added to our top list on this page. Just click on one of our links to be taken right to the signup page for the site of your choice.
Step 2
Register Your Betting Account
To complete your signup at the betting site, you'll need to provide some basic information like your name and address. You'll also want to choose a secure password to use on the site.
Step 3
Deposit Funds into Your Account
To place a bet on netball, you'll need to have money in your account. Go to the cashier section of the betting site. There, you'll find a wide variety of deposit options to choose from. Pick one that works for you, share the necessary information about your payment method, and specify how much you want to deposit. Once you confirm the transaction, your money should reach your account in a few moments.
Step 4
Find a Netball Match to Bet On
Your chosen betting site will have a list of sports that you can bet on. You might find netball on that list, or under a catchall category of "other sports." Under the netball section, you'll find various competitions, like the Superleague or Super Netball. You'll find the match you want to bet on listed among others from that league or tournament.
Step 5
Place Your First Bet
Once you've found the game you want to bet on, you'll see a number of different betting markets available. Choose the bet you'd like to make, and specify how much you wish to bet. The site will show you how much you stand to win if your bet is successful. If you're happy, confirm the bet. Congratulations: you can now watch the match and see how your bet plays out.
Popular Netball Betting Markets
Sports betting sites are booming because there are so many great sports to bet on. Also, thanks to online betting there are more odds, markets and opportunities to
Our recommended sites offer a variety of different netball betting odds, ranging from simple bets on which team will win a match to much more exotic markets. Here's a look at a few of the most common netball betting markets that you'll want to be familiar with.
Match Winner
Match Winner
This is perhaps the simplest market in any sport, as you'll simply be betting on which team will win an individual game. For instance, if you're interested in Netball Superleague betting, you might see the following odds offered:
Surrey Storm: 1.80
Wasps Netball: 2.10
If your team wins the match, you'll be paid at the listed odds on your bet.
Tournament Winner
Tournament Winner
Netball betting sites also offer odds on the winners of leagues and tournaments.
These odds are constantly updated throughout a competition based on how various teams are doing. You can play a bet on any team you like, and if they ultimately win the tournament, you'll be paid out at the listed odds.
Tournament winner markets are a particularly popular option for Netball World Cup betting.
Handicap Betting
Handicap Betting
Handicap betting allows bookmakers to offer similar odds on two teams even if they are not evenly matched. They do this by giving one team a handicap of a set number of goals.
For instance, the Melbourne Vixens may be favoured by 4.5 goals over Sunshine Coast Lightning.
In this handicap market, a bet on the Vixens would only win if they 'cover the spread' by winning by at least five goals, while a bet on Sunshine Coast wins even if the Lightning lose by four goals or less.
First Half Total Goals
First Half Total Goals
Totals betting allows you to bet on the total number of goals that will be scored by both teams combined. However, these bets can be even more specific.
If you bet on the first half total goals, you'll predict whether the combined score will be over or under a specific number – say, 60.5 goals – at halftime. If you predict the correct side of the total, you win your bet.
First Team to Score
First Team to Score
Want to make a bet that will resolve right at the start of the match? Many netball betting sites allow you to bet on which team will score the first goal of the game. Pick the right team, and you'll win your bet.
First to 10 Goals
First to 10 Goals
The first to 10 goals bet is like the first team to score bet, though the results are somewhat less random.
As the name suggests, you'll be asked to predict which of the two teams will get to the 10-goal mark first. If your team reaches double digits first, you win.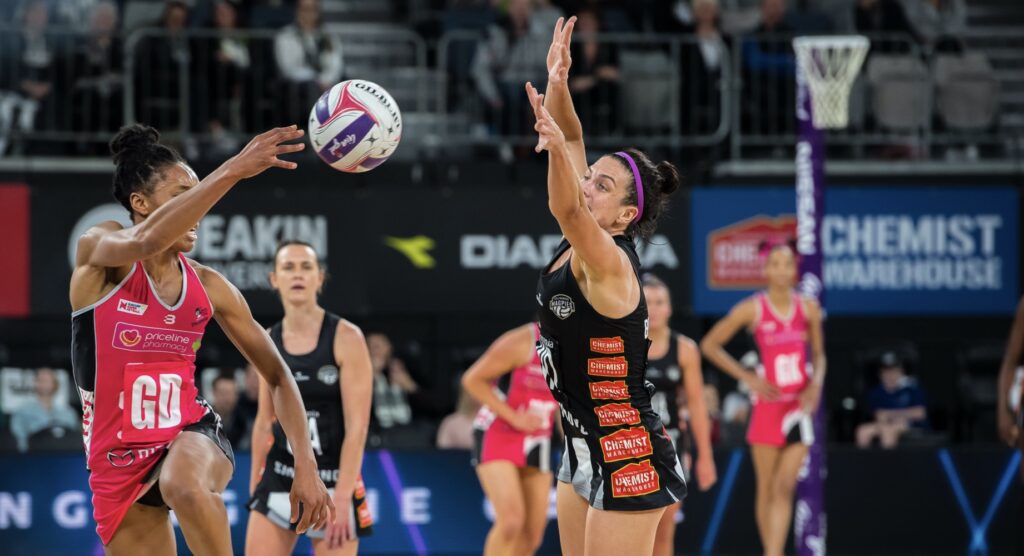 Netball Betting Tips and Strategies
Netball betting is easy to get into, but becoming an expert punter takes experience and practice. Here, we've compiled some of our favourite tips that you can use to improve your results at netball betting sites.
Find the Best Netball Odds
Find the Best Netball Odds
One of the best ways to improve your results when betting on any sport is to compare the odds at several different bookmakers. By opening accounts at multiple netball betting sites, you can always check which one is offering you the best payouts before you decide where to place your bets.
Research Injuries
Research Injuries
The loss of a key player can drastically change the nature of a netball match. This can impact the odds of each team winning, but can also affect totals bets, as the loss of a top shooter might bring the score down, while an injury to a goal keeper could lead to a higher-scoring game. Be sure you know who is playing before placing your bets.
Look at Form and Competition
Look at Form and Competition
It's always important to know how each team has performed lately. Even if a team's overall results look good, you should be suspicious if they have lost their last five matches. However, the level of competition matters, too: a winning streak might look nice until you realize those victories have all come against teams at the bottom of the table.
Bet on Major Netball Competitions Online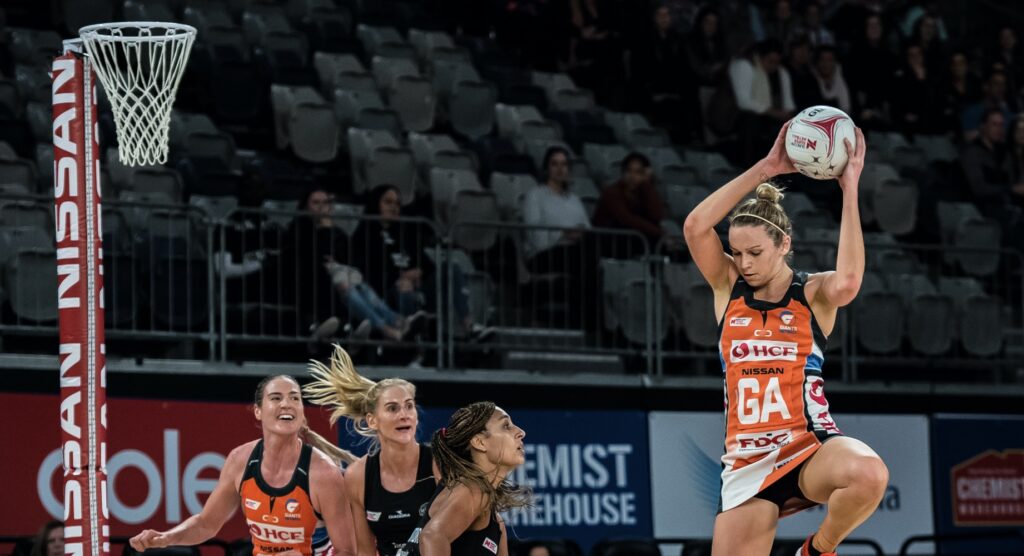 Ready to Bet on Netball?
Whether you want to bet on one of the world's most exciting netball leagues or the quadrennial Netball World Cup, you'll find the most competitive odds and the greatest range of betting markets at our top-rated bookmaker.
FAQs
Can you bet on netball?
Yes, you can bet on netball with any of our recommended
netball betting sites.
Each of these bookmakers offers you the opportunity to bet on all the top netball competitions, including both domestic leagues and major international competitions. You can bet on which team will win an individual match, overall tournament winners, or other markets like which team will score the first goal.
How is netball different from basketball?
Netball may have some basic similarities with
basketball
, but the two games are very different. Netball is played with seven players, each of which has a specified rule dictated by the rules of the game. Only two players can shoot from a specific area of the court, and every goal is worth one point. Unlike in basketball, there is no backboard to the hoop.
Is netball betting popular?
Netball betting is popular in many of the same nations where the sport itself is widely played. That includes Australia, New Zealand, and the United Kingdom. However, our top netball betting sites allow you to bet on competitions from around the world no matter where you live, even if there is no professional netball in your country.
Q.
What are the biggest netball tournaments?
A.
The biggest netball competitions include several major international tournaments, including the Netball World Cup and the Commonwealth Games. There's also the Quad Series, which is contested between Australia, New Zealand, England and South Africa, as well as the Fast5 Netball World Series, which features a faster variant of the sport.