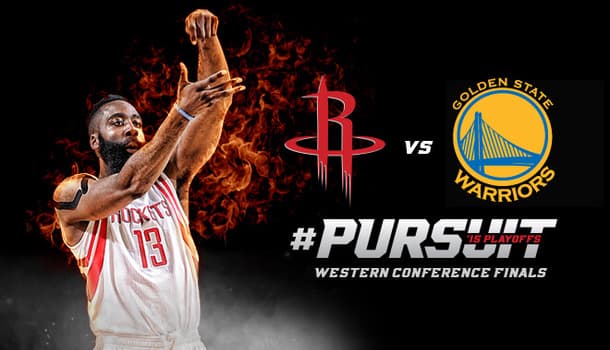 Date: Saturday, May 23rd 2015
Golden State has done what was expected of them – they won the opening two games at home.
Now the real fun begins. Will the Rockets be able to get back in the series or will they fold like a cheap suit?
You can't blame the Rockets effort in the first two games. They lost 110-106 in game 1 and they only lost by one point in game 2 (99-98). James Harden had a chance to win the game, but he blew the chance under pressure.
Warriors vs. Rockets Game 3 Odds
The bookies don't see much separating these teams now that the series is in Houston.
Golden State is a -1 favorite on the point spread in game 3. The over/under is 214.5 points – a big drop from the total in game 2. I believe we'll see a lot more points in the next two games in Houston.
Get the best odds on this game at BetOnline, plus you'll be eligible for a $1000 bonus.
Warriors vs. Rockets Game 3 Preview
This is a tough game to predict at this point spread.
Houston played great and never gave up in Oakland. Harden has been an absolute beast. He dropped 28 points in the opener and followed that up with 38 points. Harden has done just about everything he possibly can.
Dwight Howard is banged up, but he had a much better outing in game 2. Howard had 19 points and 17 rebounds in game 2, so you can't fault his effort. Trevor Ariza was great in the opener, but he was bad in the last game.
Josh Smith has started both games for the Rockets, but I'm not sure that's the best way to go. Smith was great off the bench last round, but he has been shooting poorly this series and taking way too many shots.
Stephen Curry has been unstoppable for the Warriors, as Jason Terry just can't cover him.
Curry is averaging 33.5 PPG in the series and I can't see him scoring less than 30.0 PPG. Terry has no shot stopping him. Klay Thompson has struggled – he's averaging 14.5 PPG in the series — yet the Warriors are still up 2-0.
If Thompson gets going and drops 30, like he's capable of doing, this series could be over very fast.
Andrew Bogut is coming off a 14 point, 8 rebound, 4 assist and 5 block performance in game 2. Bogut makes a huge difference on the court. Not only is he producing on offense, but he's making life difficult for Howard.
Draymond Green hasn't been scoring too much, but he has done everything else for the Warriors.
It's do or die time for the Rockets and I believe they're going to win. Harden will have another big game. Howard and Ariza both need to play well, plus the Rockets need some production from the PF position.
Smith and Terrance Jones haven't been having a good series and they both need to pick it up. Green is small and Jones especially should be able to back Green down in the paint for some easy buckets.
The over is another bet I'll be making for this game on Saturday night.
You can get over 214.5 points at TopBet right now, although I expect an even better line by tip-off.
Golden State are the highest scoring team in the NBA and the Rockets can put up points quickly. Houston likes to move down the court fast and throw up shots. I'm surprised the first two games have been fairly low scoring.
The total has been going down since it opened, so wait until tip-off to place your bet on the over.
Saturday is a big day in sports with UFC 178, NBA playoffs, NHL playoffs and plenty of more action.