Thursday October 31st 2013
Odds provided by Bovada.lv.
Happy Halloween everyone! There are just two games tonight on the hardwood as TNT NBA Thursday kicks off this season.
New York Knicks at Chicago Bulls -8 Total: 189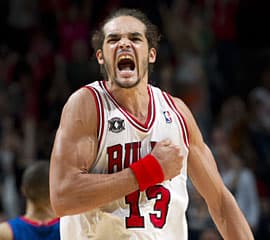 This is game number two for both the Knicks and the Bulls. On Wednesday, New York won 90-83 at Madison Square Garden against the Milwaukee Bucks. They were ahead for much of the game but blew a 25-point lead late but still managed to hang on to win. Carmelo Anthony led the Knicks in scoring with 19 points.
Chicago opened their season against defending champion Miami at American Airlines Arena. Despite the Heat having a 25-point lead, the game was close in the final minutes, but they still managed to hold off Derrick Rose and company. Rose was a little rusty in his debut, going just 4 of 15 from the field, finishing with 12 points. Carlos Boozer led the Bulls in scoring, going 13 of 18 for 31 points.
Both of these teams are suffering from some nagging injuries. Center Joakim Noah is hobbled for the Bulls and both small forward Carmelo Anthony and center Tyson Chandler are dealing with minor ailments. However, all are expected to play on tonight's contest.
This is a tough one to predict. I think a play on the total is a bit of a shot in the dark. The Knicks play better team basketball and an injured Noah is a big deal for Chicago's interior defense. With Noah likely not playing more than 25 minutes, New York will have an advantage inside.
Rose looked great in the preseason, but there is a chance he could struggle in this matchup. Chicago seems to live or die with his shot and an even a subpar game from Rose could cause problems. The Bulls are often stagnant offensively, guilty of standing around and ball watching. I saw that a bit in the first game of the season against Miami. I think the Bulls will be an excellent team this year, but it may take a bit for things to gel.
Pick: Knicks +8 with Bovada.
Golden State Warriors at L.A. Clippers -6.5 Total: 203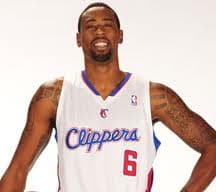 We saw the battle of L.A. as the Lakers took on the Clippers in their first game of the season, and now we get to see another Cali basketball showdown.
Golden State took care of the Lakers in their home opener, winning 125-94, in a game that was seemingly never in doubt. Klay Thompson had a career high in scoring, shooting 15 of 19 from the floor and finishing with 38 points.
The Clippers lost to the Lakers on opening night at Staples Center. After leading much of the game, the Lakers reserves, not starters, were the ones that powered them to victory. The Lakers reserves played all of the fourth quarter, and the club earned 76 points from their reserves, the most in a game since 1985. None of the Clippers had standout performances, and Doc Rivers' coaching debut in tinsel town was a bust.
Many are writing the Clippers off in this game because of their loss to the Lakers in the opener and the subsequent beating the Warriors handed the Lakers. I disagree. L.A. is coming off a day of rest and have a distinctive focus on defense this year. Though it didn't look against the Lakers, this team is going to be much better defensively this year.
The matchups in this game favor the Clippers, especially in the paint. Center Andrew Bogut has proven little in his time in Oakland, and he will be eaten alive by his L.A. counterpart, DeAndre Jordan. I also expect big games out of Chris Paul and Blake Griffin.
This line seems almost "too good to be true" for Warriors backers, at least based on recent results. To me, that is a gigantic red flag. The smart money is on the Clippers.
Pick: Clippers -6.5 with Bovada.