Thursday, December 26th, 2013
San Antonio Spurs at Dallas Mavericks +3 Total: 209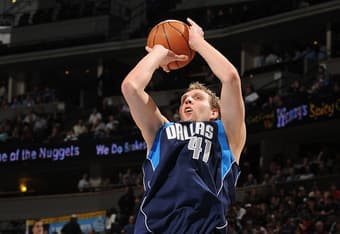 The Mavericks and Spurs had hit a bit of a lull in their season before Christmas, but they both got key victories before the holiday.
San Antonio could not carry their effort into Christmas Day, however. The Spurs fell to 22-7 on the season after losing to the Houston Rockets on the holiday, 111.-98. San Antonio allowed the Rockets to shoot 52.3 percent during the losing effort.
It was an uncharacteristic performance from the Spurs at home, who were dominated on both ends of the floor for in the blowout loss. They have lost every game this season (0-6) when they let their opponents score 110 points or more.
Dallas had the holiday off and had lost back-to-back games before getting a 111-104 victory over Houston on Monday. The win improved them to 16-12 on the year, a game where Dirk Nowitzki led all scorers with 31 points.
This is the first meeting this season between these two Western Conference foes, a series that the Spurs have dominated in recent years. They have dropped the last nine games against San Antonio by an average margin of 17 points.
The Mavericks have been an excellent home team this year, but I think this is a spot that they are vulnerable to a Spurs team looking to avenge their national television loss yesterday. Dallas' schedule at home has also been quite soft, so they are a little overrated in their home arena, as well.
This is a place they have won at over and over again over the years, and they will be focused and ready tonight. I could easily see them winning this game by double-digits, so this one is certainly a "must-play" at -3.
Pick: Spurs -3 available at Bovada.lv
Memphis Grizzlies at Houston Rockets -7.5 Total: 197
After a dominant performance against the Spurs which we described above, the Rockets will host the Grizzlies on Thursday as they look for their 10th win at home this season.
After a solid November, a month in which they played solid basketball and put together a few win streaks, Houston has been less inconsistent in December. Their win against San Antonio was one of their most dominant games this season. James Harden led all scorers with 28 points, and Dwight Howard added 15 points and grabbed 20 boards. The victory put the Rockets at 19-11 on the year.
The Grizzlies have won two games in a row, but both games have been against subpar opponents. They handled Utah and the Knicks on Saturday evening 95-87. Memphis had dropped their last five games before winning against New York. They are mired in the middle of the Western Conference with a 12-15 record.
Memphis lost the reigning Defensive Player of the Year in Marc Gasol to a torn MCL several weeks ago. He has no timetable for a return to the court and is out indefinitely. The Grizzlies have gone 5-9 since he went down with the injury.
Memphis' two wins to break their losing streak does not exactly inspire confidence. They are a terrible basketball team and the Rockets matchup better than them at nearly every spot on the floor. Dwight Howard should have his way in the paint, and no one can check Harden on Memphis.
Houston is playing excellent team basketball and has been strong against some of the weaker teams in the West. The fact that they are coming off a back-to-back is worth thinking about it, but this team is moving the ball so well and I can't see them slipping up tonight against Memphis.
Pick: Rockets -7.5 betting with Bovada.lv