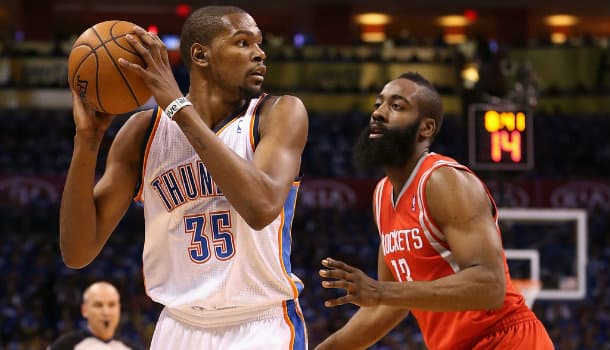 Thursdays are one of the most popular days in the NBA because of NBA on TNT. The slate is always short, which isn't ideal for handicappers, but fans get to watch teams they don't get to watch often.
TopBet is the best sportsbook to bet on the NBA on TNT action. Active bettors at TopBet get a $10 free bet every Thursday that they can use to bet on the prop market that's posted before tip-off.
I'll be posting my picks for the two TNT games. The Knicks play the Bucks as well, but no one will be watching that game and the line isn't even out yet because Carmelo Anthony is questionable.
Oklahoma City Thunder vs. Houston Rockets Picks
Best Bet: Rockets –2 (-110)
The Houston Rockets (27-12) just lost to Orlando last night on the road and now they have to travel back home to play the Oklahoma City Thunder (18-19) with no rest, but I'm still betting them.
OKC has improved a lot since getting healthy, but this team is still struggling against top competition and the Rockets are just that. Houston has a deep roster whereas the Thunder lack any depth.
Houston has been good defensively most of the season, as they only allow 96.9 PPG (2nd). They allowed the Magic to score 120 points and I expect the public to bet OKC, but I like Houston to bounce back.
The Rockets average 101.8 PPG (8th), 43.8 RPG (9th) and 20.7 APG (23rd). They'll have edges in most categories as the Thunder average 98.8 PPG (19th), 46.5 RPG (2nd) and 19.8 APG (30th).
OKC plays solid defense (98.0 PPG – 8th) just like the Rockets, so this could be relatively low scoring although I wouldn't bet on the under with players like Durant, Westbrook and Harden on the court.
Put simply, the Rockets have more depth than the Thunder. Westbrook and Durant can only handle so much by themselves. The Rockets have a lot of depth and a bench that can also score a lot of points.
Cleveland Cavaliers vs. Los Angeles Lakers Picks
Best Bet: Cavaliers –5.5 (-110)
Cleveland (19-20) has Lebron back in the line-up and that can only mean good things. He played in their last game and looked like his usual self, but the Cavaliers ended up losing to the Suns (107-100).
The Lakers (12-27) are an absolute joke. They still find a way to win and cover some games, but this is a real bad team. If the Cavaliers can score 100+ points I expect them to be able to cover the spread.
With Lebron back it means that Irving and Love will take a bit of a backseat on offense again, but this team needs to figure out how all three can work effectively with each other to make it work soon.
I like the addition of Mozgov on the Cavs now that Varejao is out for the season. He's a true center, which is what the Cavaliers need. Mozgov should be able to eat up blocks and rebounds in this one.
LAL struggles to defend any position, but they really do poorly stopping big men. The Lakers allow 106.8 PPG (29th) and they also rank below average in just about every major offensive statistic.
Cleveland scores 99.8 PPG (17th), but those numbers are better when James is in the line-up. They give up 100.1 PPG (19th), but I expect that to decrease with Mozgov, so don't just look at the stats.
The Cavs looked good in their last game, but the Suns are streaking and playing well. Now they get a game against the Lakers who are terrible. They should easily win and be able to work on things as well.