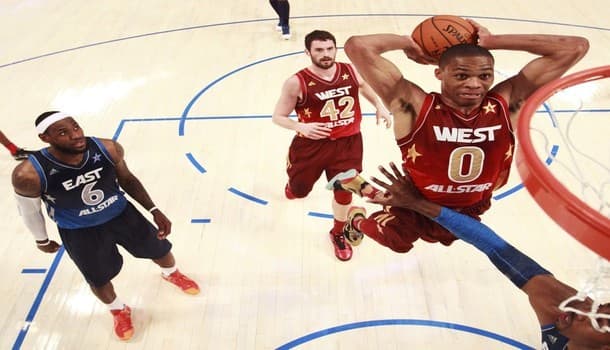 The NBA All-Star break is over tomorrow after a week's hiatus. There are just two games and both can be watched live on TNT. The Thunder host the Mavericks and the Clippers host the Spurs.
I bet on this NBA parlay at BetOnline. If you don't have an account at BetOnline they're the best for the NBA because of a huge lifetime bonus, great odds and high limits. BOL accepts US bettors.
Dallas Mavericks vs. Oklahoma City Thunder Preview
The Thunder (28-25) went into the break on a 3-game winning streak and the week's rest should help this veteran squad. Dallas (36-19) beat Utah before the break, but they're just 6-4 in their last 10.
Dallas has one of the best starting line-ups when healthy because there are no weak spots. Rondo and Chandler are expected to both be back from injury, which means the Mavs will have all starters active.
Ellis, Parsons and Nowitzki round out the starters. The bench is strong as well and Amar'e Stoudemire has committed to the team and will sign within hours. This team is ready to make a playoff push.
As a unit the Mavs rank 3rd in scoring (106.3 PPG) and 23rd in points allowed (101.0 PPG). The Thunder on the other hand are more balanced, as they score 100.7 PPG (12th) and allow 98.8 PPG (11th).
Oklahoma City also ranks 1st in rebounds (46.5 RPG), but Adams is out of the line-up and that has hurt them at center. My money is on OKC and that's because of Durant and Westbrook.
Dallas can't stop those two superstars. In the only other H2H meeting this season Dallas won 112-107 at home, but Durant didn't play. Everything is pointing to OKC covering and they'll be on my parlay.
San Antonio Spurs vs. Los Angeles Clippers Preview
We couldn't ask for a better match-up than this. The Clippers (35-19) are 6th in the West and will host the Spurs (34-19) who are 7th in the West. Both teams bring a 2-game winning streak into this game.
Griffin is out for the Clippers although that hasn't slowed them down yet. The Spurs opened up as a small favorite due to the injury, but I'm convinced that LAC will have no problem winning at home.
The Clippers are 21-7 at home this season while the Spurs are just 14-12 on the road. I also like the fact that Los Angeles is 22-8 against teams in the conference while the Spurs are only 18-14.
Jordan has stepped up in a big way during the Clips winning streak. He had 22 points and 27 rebounds against the Mavs and he followed that up with 24 points and 20 rebounds against the Rockets.
Paul has 25 assists in the last two games as well. The Spurs live by their defense (96.7 PPG – 3rd), but they also average 100.7 PPG (14th) on offense. One problem is the veterans not producing as much.
If this game was in San Antonio I'd likely be on the Spurs, but the Clippers are at home where they've been dominant. Early action has been on the Spurs, so if you wait you may get a better line on LAC.
NBA Parlay Picks
Parlay Bet: Thunder –5 and Clippers +2 (+264 Odds)
With just two games there isn't much to choose from, but I'm confident in these two picks. Both of these teams are good when playing at home. Come back tomorrow to read my best bets for Friday.