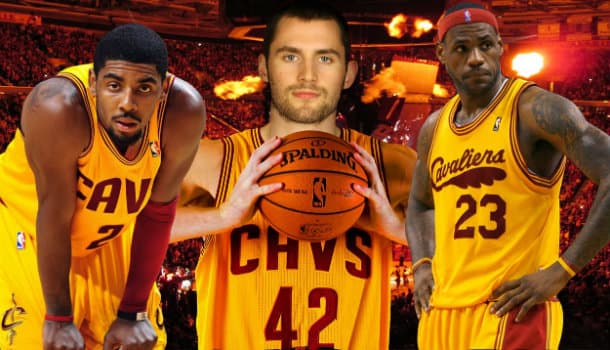 The Cleveland Cavaliers (30-20) have won 11 games in a row and they're the hottest team in the NBA right now. They'll host the Los Angeles Clippers (33-16) on TNT tonight at the Quicken Loans Arena.
Both teams are healthy for the most part. J.J. Redick is expected to sit out, but other than that both teams will be ready to rock in this marquee match-up between two potential NBA Finals contenders.
Los Angeles Clippers vs. Cleveland Cavaliers Preview
When: Thursday, February 5th 2015 at 8:00pm ET
Where: Quicken Loans Arena
TV: TNT
I'm looking forward to this game, as both teams are playing great basketball. Cleveland hasn't lost in nearly a month and the Clippers are 7-3 in their last 10 although they just lost to the Nets (102-100).
Let's take a look at the latest odds.
Point Spread: Cavaliers –4.5
Bet on LAC vs. CLE at TopBet and earn a $10 free bet plus a $250 bonus.
Lebron James is a big reason why the Cavs are now winning, but I also think that the team has simply started to gel as well finally. Since returning from injury though, James has been lights out.
James is averaging 26.2 PPG, 5.5 RPG and 7.4 APG this season. He's coming off a double double against the 76ers a few days ago. Even when James is playing great the rest of the team still has to produce.
Kevin Love has been dealing with some shooting issues, but he has grabbed 10+ rebounds in 7 of the last 9 games that he has played. Kyrie Irving is playing great as well even with James back.
Irving has scored 20+ points in 5 of his last 7 games including a 55 point outburst against Portland at the end of last month. J.R. Smith and Timofey Mozgov have both proven to be great pick-ups as well.
The Cavaliers are scoring 101.7 PPG (10th) and allowing 99.1 PPG (13th). They need to pick it up on the glass though, as they rank 19th in rebounds (42.5 RPG) although Mozgov has helped in that department.
Los Angeles comes into this game playing some great basketball as well albeit not as good as the Cavs currently. The best player on the Clippers recently has been DeAndre Jordan by a long shot.
Jordan has been a beast on the boards all season and he has 39 rebounds in his last 2 games alone. He has been scoring at a nice clip too. Chris Paul and Blake Griffin are the stars, but have been shaky.
One night the two superstars are great and the next they're relatively quiet. The thing with Paul is he seems to play great when he's up against an elite PG, so I expect him to have a great game tonight.
The thing with the Clips is even when one of the stars struggles they still score a ton. LAC is averaging 106.7 PPG (3rd). They need to improve on defense (99.7 PPG – 16th) and rebounding (41.7 RPG – 24th).
Clippers vs. Cavaliers Best Bets
Cleveland Cavaliers –4.5 (-110) – Bet at BetOnline
These teams have met once this year and it wasn't even a month ago. Cleveland won 126-121 on the road as a +8.5 point underdog. Irvin led the Cavs with 37 points and James scored 32 points.
It's unlikely that the Cavs will shoot 55.4% from the field again, but I still expect them to cover the point spread. Until the Cavaliers cool down it's tough to consider betting against them.