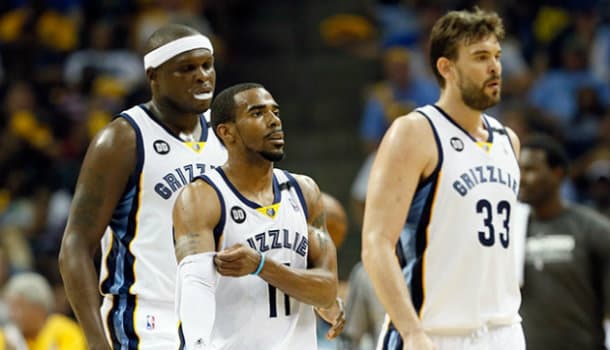 A total of twelve games are on the schedule tonight in the NBA. We have a ton of options to bet on and now is the perfect time to increase your bankroll before the All-Star Game next month.
We're still waiting on the lines to come out for some of the match-ups, but I like a few of the early lines and will be targeting those on the overnight lines before the public moves them tomorrow.
I'll be placing these bets at the TopBet Sportsbook. Everyone new player will receive a 50% match bonus for up to $250 plus every week active NBA handicappers will receive a $10 free bet.
Toronto Raptors vs. Memphis Grizzlies Picks
Best Bet: Grizzlies –5 (-110)
Toronto (24-17) just beat the Bucks and they stay on the road to play Memphis (29-12). The Raptors are my team, as I live in Toronto and they haven't been looking that good since DeRozan got back.
DeRozan has a very high usage rate in this offense and he hasn't been hitting his shot at a very good clip yet. With DeMar back we've also seen the production of the rest of the starters to drop.
The Raptors are scoring 106.4 PPG (5th), but they give up 101.1 PPG (21st). Memphis comes in with a top ten defense (98.0 PPG – 10th). Mike Conley is playing again and he'll do a good job covering Lowry.
This is the type of game where I expect Toronto to struggle. The Grizzlies have a huge edge inside with Gasol and Zbo. Their guards play great defense as well. I'll be betting on Memphis to cover.
Oklahoma City Thunder vs. Washington Wizards Picks
Best Bet: Wizards –1.5 (-110)
The Thunder (21-20) just beat the Heat last night on the road and will now have to play the Wizards (29-13). Washington is one of the best home teams in the NBA with a record of 18-5 this season.
OKC already lacks depth and on B2B nights they're more likely to struggle. Last night Westbrook and Durant both went off for the Thunder, but this is a much tougher match-up against a better defense.
Washington only allows 96.9 PPG (3rd) while scoring 99.5 PPG (19th). The Thunder rank worse in both of those categories. OKC will need to really work the glass (46.8 RPG – 1st) in order to win this game.
The Wizards are one of the best home teams in the NBA. Wall often steps up and plays a bigger role against the top teams. Washington also has more depth. I'll gladly take the Wizards at this spread.
New York Knicks vs. Philadelphia 76ers Picks
Best Bet: 76ers –1 (-110)
I don't have too much to say about this one. The 76ers (8-33) and the Knicks (6-36) are the two worst teams in the East. You never know what you'll get when betting on poor teams, but I like Philly at home.
The 76ers are 4-5 in their last nine games, so this team hasn't given up. MCW is playing great with Wroten out of the line-up and some of the other young players on this team are stepping up.
In a game like this I believe the team with more heart will get the win. The 76ers are at home and have been playing better than the Knicks in 2015. With a low spread I'll take a shot on them.