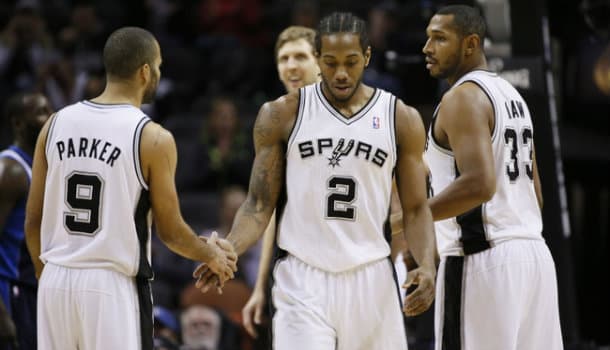 We're now into December and the NBA action is starting to heat up. Today will be relatively quiet, as only four games are on the schedule. That doesn't mean we can't add money to our bankrolls though.
San Antonio Spurs vs. Philadelphia 76ers Picks
Bet Under 195.5 Points (-110) at TopBet
The Spurs (12-4) have won seven games in a row and have worked out their early season struggles. In this game they'll head on the road to play the 76ers (0-16). Philly is the only winless team in the NBA.
Popovich will likely sit his two aging veterans (Duncan & Ginobli), as the Spurs played on Sunday and he doesn't play them in B2B situations. That's why I'm avoiding the big spread and betting on the under.
San Antonio scores 98.7 PPG (18th) and allows 92.7 PPG (1st). Philly comes into the game averaging 90.8 PPG (30th) and allowing 105.7 PPG (27th). The 76ers play no defense, but don't let that scare you.
Tony Parker and Kawhi Leonard will need to lead the Spurs if Duncan and Ginobli sit out. They'll be able to manage the game and pick up a win on the road, but don't expect them to pile up the points.
It sounds ridiculous, but the 76ers season just got bleaker because Tony Wroten is out with an injury right now. He leads the team with 17.9 PPG and his production will definitely be missed.
The Spurs rank T10 in both rebounds (43.5 RPG) and assists (23.9 APG). This is a huge mismatch, but I don't expect this to be a blowout. SAS will put up about 95 points and beat the 76ers by single digits.
Philly's only chance to steal a win from the Spurs would be to get off to a quick start. The Spurs aren't a team built for making big comebacks, but they can manage a game better than any other team.
Minnesota Timberwolves vs. Los Angeles Clippers Picks
The Timberwolves (4-11) are in the basement of the Western conference right now and now they have to play on the road against the Clippers (11-5) who come into this game as winners in four straight.
I'm betting on the under in this match-up, as I don't see how the Timberwolves will be able to put up too many points with the injuries they have. Pekovic is doubtful and Martin is definitely out.
Minnesota comes into this game averaging 101.4 PPG (13th), 40.4 RPG (25th) and 21.6 APG (13th). Martin leads the team with 20.4 PPG while Pekovic averages 11.9 PPG, so that production needs replaced.
Andrew Wiggins is playing better as of late plus Rubio and Young are both great players, but they're likely to struggle against the Clippers who will have a huge size advantage at most positions.
The Clippers only allow 99.1 PPG (14th) and the Timberwolves have no shot at scoring 100+ with their leading scorer injured. LAC should score a lot though and this game could get out of hand early.
If LAC is blowing out Minny early on I'd expect them to play their bench and that'll hurt their chances to score too many points. As a team the Clippers average 103.8 PPG (8th) and 37.9 RPG (29th).
Rubio can be a pest and I think he can limit Paul in this game. Griffin and Jordan will both be tough to stop with Pekovic out, as the Timberwolves will be lacking size in the paint, but that's expected.