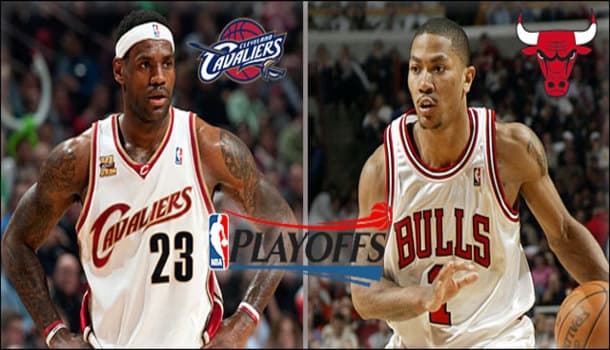 There are two big NBA playoff games on Tuesday, May 12th 2015.
The Cleveland Cavaliers host the Chicago Bulls in game 5 – the series is split at two apiece. We also have the Los Angeles Clippers vs. Houston Rockets – the Clips lead the series 3-1 currently.
Chicago Bulls vs. Cleveland Cavaliers Picks
Date: Tuesday, May 12th 2015 at 7:00pm ET
Point Spread: Cavaliers -5.5 at TopBet
Over/Under: 191 Points at Bovada
Lebron James delivered in a big way in game 4, as he nailed a buzzer-beater to give the Cavaliers a big win (86-84). It was a sloppy game, but the Cavaliers won and evened the series at 2-2.
James finished game 4 with 25 points, 14 rebounds and 8 assists in 43 minutes.
Derrick Rose led all scorers with 31 points, plus Rose pitched in with 2 rebounds and 4 assists. A big problem was the fact that Jimmy Butler (19 points) was the only other double-digit scorer for CHI.
As a team – the Bulls shot 36% from the field (32-89) and 42.9% from deep (9-21).
The Cavaliers shot even worse, as they went 38.7% from the field (29-75) and 20% from 3-point land (5-25). The difference was that the Cavs went 23 of 24 on FT's, while the Bulls only went 11 of 12.
Timofey Mozgov was 7 of 8 from the charity stripe, which was a big surprise.
Joakim Noah has been having a poor postseason, Mike Dunleavy is struggling and Taj Gibson hasn't been playing as well as he can, especially with Pau Gasol out of the line-up right now.
The Cavs are banged up, but so are the Bulls now. Gasol is expected to miss game 5 and with that being said – I'm betting on the Cavs to cover the point spread at -5.5 points.
Chicago won game 1 in Cleveland (99-92), but then they were thrashed in game 2 (106-91).
Until Gasol comes back, the Bulls are in big trouble, as the other big men are all struggling.
L.A. Clippers vs. Houston Rockets Picks
Date: Tuesday, May 12th 2015 at 9:35pm ET
Point Spread: Clippers -2.5 at BetOnline
Over/Under: 219 Points at GTBets
It might be safe to say that this series is already over, although Rockets fans won't want to hear that. However, the Rockets have been manhandled by the Clippers in 3 out of 4 games so far.
The Clippers are up in the series 3-1 and the three wins have been double-digit blowouts.
LAC are going to want to end the series tomorrow night if possible. It looks like the Warriors and Grizzlies will have a long hard fought series, so the Clips have a chance to win and rest up.
DeAndre Jordan wasn't having a great series, until his game 4 performance. He led all players in scoring (26) and rebounds (17). The Clips had six players score in the double-digits in G4.
James Harden hasn't been great in this series and he really struggled last game. He only took 12 shots in the game, which is way below his average. Dwight Howard has also been struggling in this series.
With the two big stars struggling – the Rockets stand no chance of coming back.
The question is will the Clippers be able to get the job done tomorrow night? I believe they will win and cover the point spread, which will allow them to get some rest before the conference finals.
Chris Paul and Blake Griffin are getting it done, while the Rockets stars aren't.