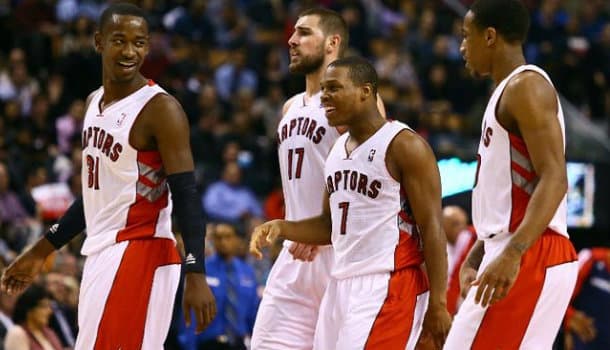 There are eight teams in action tomorrow night and I have several picks to share with everyone. I'll be on the Raptors over the Thunder, Wizards over the Knicks and Trail Blazers over the Cavaliers.
Grab a 50% bonus for up to $250 plus a $10 weekly NBA free bet at the TopBet Sportsbook.
Toronto Raptors vs. Oklahoma City Thunder Picks
Bet on the Raptors –9 (-110) vs. OKC
OKC is playing in Brooklyn tonight and then they have to play in Toronto on Tuesday. Kevin Durant and Russell Westbrook are both out with injuries, so I have no idea where OKC will find scoring.
Perry Jones has enjoyed a successful start to the season, as he's averaging 19.3 PPG, 4.7 RPG and 1.7 APG. I doubt he'll sustain those numbers and if he's off his game OKC won't score much.
Toronto's allowing 101.3 PPG (23rd) and the schedule hasn't been tough. The Raptors take a lot of time off on defense and it kills them, as they allow opposing teams to go on big runs far too often.
The Thunder score 93.7 PPG (22nd) and that was with Westbrook. Now that he's out this team will be lucky to break 85+ points each night. Serge Ibaka is good, but he can't lead a team offensively.
This is a big point spread, but the Raptors love playing in front of their home fans. OKC is injured and had to play in Brooklyn tonight. This shouldn't be close enough for a backdoor cover to cost us.
Washington Wizards vs. New York Knicks Picks
Bet on the Wizards +1.5 (-110) vs. NYK
The Wizards and Knicks are both 2-1 this season, but Washington is a much better team. The Knicks have actually done well defensively, as they're only allowing 90.3 PPG (26th) this season.
I'm surprised they've done well defensively, as Tyson Chandler is no longer anchoring the defense and the team lacks size. Carmelo Anthony has gotten off to a good start and is scoring 22.3 PPG.
Amar'e Stoudemire and Iman Shumpert are both averaging in double digits as well. The team lacks depth and the Knicks are only averaging 90.3 PPG (26th) and 36.0 RPG (28th).
Bradley Beal is still out for the Wizards, but this team has a lot of depth. John Wall leads the team in points (21.7 PPG), but five other players on the team are averaging in double digits right now.
Paul Pierce is averaging 11.7 PPG, 4.3 RPG and 3.3 APG. The Wizards rank 10th in scoring (102.7 PPG), 6th in assists (23.3 APG), and 19th in points allowed (100.7 PPG). I'll be on the Wizards to win.
Cleveland Cavaliers vs. Portland Trail Blazers
Bet on the Trail Blazers +2 (-110) vs. CLE
Cleveland is 1-1 with a loss to the NYK and a win over the Bulls in OT. Portland is off to a sluggish 1-2 start this season. They've lost two in a row against the Kings and Warriors, but they beat OKC.
Portland is 1-1 at home after losing to the GSW, but this is a strong team at home. Damian Lillard has started the season slowly, as he's only averaging 13.7 PPG, 5.0 RPG and 4.0 APG.
LaMarcus Aldridge has been a beast as usual and he'll have a big game. Lebron James is comfortable in Cleveland again and he's leading the team in points (26.5 PPG), but four others average 10+ points.
Kyrie Irving averages 22.5 PPG and Kevin Love is averaging 17.5 PPG. The team still lacks a bit of depth although the superstar-laden roster is going to be tough to beat once they build chemistry.
I'm going with the Trail Blazers in this one at home. Most bettors will be on the Cavaliers at such a small point spread, but I don't think they'll win. They haven't looked great as a unit yet.