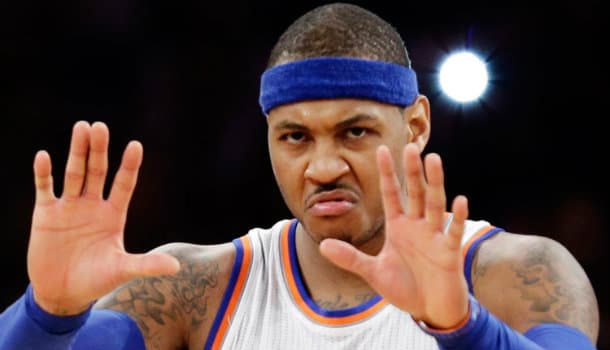 There are twenty teams in action on a busy Wednesday night in the NBA. I have three bets that I like a lot tonight. How about them Raptors? They've now moved to 7-1 to open the regular season.
You can bet on every NBA game this season at the TopBet Sportsbook. Not only do they have a great sign-up bonus ($250), but every active bettor receive a $10 free bet every week.
Orlando Magic vs. New York Knicks Picks
Bet the Knicks –6 (-110) vs. ORL
The New York Knicks 2-6 (2-6 ATS) have been bad to open the season, but they get a chance to host a weak Orlando Magic 2-6 (5-4 ATS) team that just had to play in Toronto last night where they lost.
Orlando is below average in points scored and points against. They held a lead against the Raptors for most of the game, but they were outscored 32-17 in the 4th quarter and lost by four points.
NYK is playing strong defense, but the offense is another story. Carmelo Anthony leads the team with 20.3 PPG, but even that's low for him. J.R. Smith and Dalembert have been disappointing thus far.
The Knicks will cover at MSG if they can be strong on the boards, as the Magic are one of the best rebounding teams and they need to shoot the basketball well against a poor defense that's tired.
Los Angeles Lakers vs. New Orleans Pelicans Picks
Bet the Pelicans –10.5 (-110) vs. LAL
With the point spread this big I believe the public will be on the Lakers (1-6), but I expect this one to get out of hand. The Pelicans (3-3) have had a tough schedule and have done well to be .500 so far.
I watched some of the Lakers game last night. They played great most of the way, but they lost to Memphis (107-102) and now they have no time to rest, which is bad news for a team with no depth.
The Lakers average over 100.0 PPG, but they allow way too many on defense. Kobe Bryant leads the way with 26.5 PPG, but four other players on the team are averaging double-digit points.
New Orleans can rebound, pass, play defense and score points. Anthony Davis averages 24.8 PPG, 13.0 RPG, 2.5 SPG and 4.2 BPG. The Pelicans have nice depth and should take advantage of that.
Houston Rockets vs. Minnesota Timberwolves Picks
Bet the Rockets –6.5 (-110) vs. MIN
I'm a little surprised that the Rockets (6-1) are only –6.5 point favorites against the Timberwolves (2-4) tonight even though the game is in Minnesota. This should be a total mismatch and blowout.
Ricky Rubio is out for Minnesota and that's going to crush this team. He may not be the best shooter, but he's always active on the court and causing havoc plus he's great at dishing out the basketball.
Houston has been off since Saturday, which is when they lost to GSW (98-87). It was the first loss of the year for the Rockets and I'm sure Howard, Harden and the rest of the guys want to play.
The Timberwolves allow over 100.0 PPG and the Rockets offense is scoring over 100.0 PPG. Without Rubio in the line-up Minnesota won't score over 90 points and the Rockets will win by 10+ points.
There are lots of games to bet on tonight. I'll be betting on the three picks above plus I'll also be betting them all together on a parlay. Read the link if you need to learn more about what a parlay bet is.