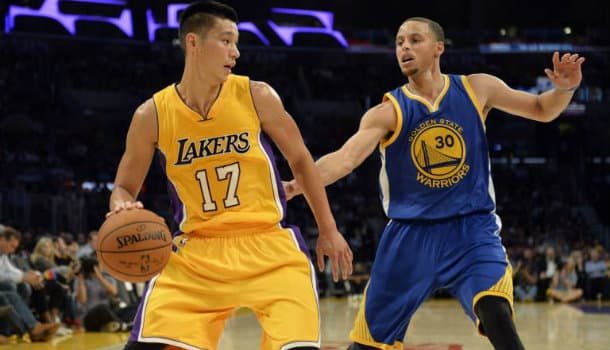 We have seven NBA games on tap tomorrow night (Tuesday, March 3rd 2015). We're still waiting on a few of the betting lines to be released, but I've already locked in a parlay that stands out to me.
I bet on this parlay at BetOnline, as they had the best lines for the games I wanted to target. If you don't have an account at BOL already sign-up today to get a $1k bonus on your first deposit.
Los Angeles Lakers vs. Charlotte Hornets Picks
Best Odds: Lakers +8 (-110)
The Lakers (16-42) have been terrible, but they're 24-30-4 ATS, which isn't too bad. The Hornets (24-33) are in the playoff hunt in the East, but currently on the outside looking in.
LAL have been playing better as of late. They had a 3-game winning streak going before losing to OKC (108-101) on Sunday. Kobe may be out, but the Lakers have scored 100+ points five games in a row.
The offense has been coming from everywhere also, as six players scored in double digits in the loss to the Thunder. With the way the Lakers are playing I'm surprised this spread opened up so high.
Charlotte has a considerable edge on defense, as they rank 6th in points allowed (96.8 PPG), while the Lakers rank 30th (106.1 PPG). However, the Lakers average over 5.0 PPG more than the Hornets.
LAL don't beat many teams these days, but they've had success against Charlotte. The Lakers are 1-0 in the H2H series this season and 6-1 in the last seven H2H meetings. Take the Lakers to cover.
Boston Celtics vs. Cleveland Cavaliers Picks
Best Odds: Cavaliers –12 (-110)
I know what you're thinking – this is a huge point spread to cover in the NBA. You're right, but we've seen tons of blowouts this season. Cleveland (37-24) have lost two in a row heading into this game.
Boston (23-34) are winning some games, but they're pretty bad. Isaiah Thomas and Jared Sullinger are two great NBA players, but the rest of the team are basically journeymen talent.
Cleveland aren't going to mess around at home after losing two in a row. They'll want to take care of business quickly. Irving will also be back in the line-up, which will be a huge boost to the Cavs.
When the Cavaliers win, they often win big. Many of their wins lately have been by double digits and that's unlikely to change. One thing that concerns me is that the Cavs have struggled against Boston.
The Cavs won the lone H2H match-up this season, but only by 1 point. Prior to that the Celtics had won three games in a row in the series. At any rate – James, Irvin and Love will dominate the C's.
Milwaukee Bucks vs. Denver Nuggets Picks
Best Odds: Bucks –6 (-110)
I'm rolling with another favorite, as the Bucks (32-27) take on the Nuggets (20-39). Milwaukee has been terrible lately. They've lost two games in a row to the lowly Jazz and Lakers.
Carter-Williams hasn't fit in well and the Bucks have definitely been missing the production of Knight since being traded. Antetokounmpo and the rest of the Bucks starters have seen their numbers drop.
Milwaukee won the only H2H game against Denver this season by 8 points. Both of these teams are bad, but the Bucks are in the playoffs in the East currently and can't afford to keep on losing games.
The Bucks rank 3rd in points allowed (96.4 PPG), while the Nuggets allow 104.2 PPG (26th). That'll prove to be the difference in this match-up and I'll be betting on the Bucks to cover on my parlay.
NBA Parlay Predictions
Lakers +8, Cavaliers –12 and Bucks –6 (+600)