Wednesday, November 6th, 2013
Los Angeles Clippers at Orlando Magic +7 Total: 208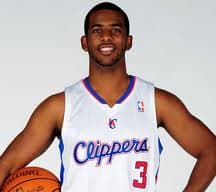 The Clippers are off to a flying start this season as their offense continues to put up monster numbers, but the situation is two-fold with the Clips as their defense has been suspect.
After dropping their opening game to the cross-town L.A. Lakers, they have won three straight games. They are averaging just over 124 points on 50.6 in these games as they head for a fourth straight win against the Magic.
Chris Paul has dominated this season, averaging 26.5 points and a whopping 13.3 assists in the four games and has recorded four straight double-doubles. Newcomer J.J. Redick, who is facing his former team this evening, has been spectacular, as well. He is averaging just over 14 points per game on 50 percent shooting so far this season.
Offensively, the Clippers are the best team in the league at this point, but their defense needs some work. They currently are giving up over 112 points per game and allowing teams to shoot over 48 percent from the field.
The Magic, who come into the game with a 2-2 record, may also be hitting their stride. Projected to be one of the worst teams in the NBA, Orlando has surprised opponents so far.
After handling the New Orleans Hornets on Friday, the Magic beat the new look Brooklyn Nets in a 107-86 rout. Previous 76er castoff Nikola Vucevic scored 19 points, and first round pick Victor Oladipo scored 19. Their current leading scorer is veteran guard Arron Afflalo who is averaging just over 20 points per game.
Their defense has also been impressive. They held the Nets and the Pelicans to just fewer than 37 percent shooting in their two victories.
The Clippers are clearly playing terrific basketball, but the Magic are not the pushovers that everyone thought they would be. Although it seems early to talk about the schedule, I think this may be a decent "look ahead" trap game for L.A. Not only are the Clippers flying across the country, but they face Miami in a primetime matchup on Thursday.
They have shown that they can be scored upon easily, and their frontcourt is not imposing defensively other than DeAndre Jordan. Their backcourt is a mess defensively. I'm looking for the Magic to catch them off guard in this one and put up solid numbers. This team can score, and there is no team right now that is worse defensively than Los Angeles.
Pick: Magic +7 with Topbet.eu
Golden State Warriors at Minnesota Timberwolves pk Total: 208.5
The Warriors began their road trip with a dominant win over a surprising Philadelphia team. As they head to Minneapolis Wednesday, they will try to take care of another team that has been a surprise in the West.
Stacked with talent, Golden State's offseason signing of Andre Iguodala is already paying dividends. "Iggy" hit a career high seven three-pointers in a 110-90 win against his former team, the 76ers. Stephen Curry notched a triple-double in the win and Klay Thompson also added 15 points.
Warriors forward Harrison Barnes could make his season debut in this contest as he nurses back an injured foot. Barnes is a key contributor and will give this already potent team a bigger boost.
At 3-1, the Wolves have shocked some teams this year, and while some may doubt their talent, I think this team is a playoff contender. The offseason signing of Kevin Martin has been massive for the franchise. The veteran guard is shooting over 60 percent from three-point land and has scored over 20 points in three out of their first four games.
Minnesota's first loss of the year looked to be a blowout, but the Wolves rallied late, from a 23-point deficit to lose by just one point. Martin and All-Star Kevin Love have been the key contributors for the Timberwolves so far, but the team will need some help carrying the load offensively. Guard Ricky Rubio, who electrified the league at certain times last season, continues to struggle with his shot. He has gone 3 for 18 in the last two games, scoring just 12 points.
Minnesota's play has been extremely impressive; especially when you consider they had a blowout wins against the Oklahoma City Thunder and New York Knicks, but I think the Warriors are on another level talent wise.
Rubio is no match for Curry's offensive prowess and Igoudala should render Martin useless on the perimeter. Love is impossible to stop, and David Lee is terrible defensively, but he will have a much tougher time grabbing boards with Andrew Bogut controlling the paint.
Golden State still has a lot to prove in this league and won't be overlooking anyone just yet. I like them to get a win in this one.
Pick: Warriors pk at Topbet.eu
Utah Jazz at Boston Celtics -3.5 Total: 185
Both of these teams are winless heading into tonight's contest as the Utah Jazz head to TD Garden to take on the Boston Celtics.
After a flurry of offseason moves that sent Paul Pierce and Kevin Garnett to the Brooklyn Nets, the Celtics have a bunch of fresh faces as they build towards the future. However, there have been some early growing pains. Shooting just 26 percent from three and averaging a league-worst 21 turnovers per game, the Celtics have been killing themselves in recent action.
After leading by six points with nine minutes left at Memphis, the Celtics blew the lead late and allowed the Grizzlies to come from behind and win 95-88. The Celtics hope to get a win behind their home crowd tonight as they seek to avoid their worst start since the 1946-1947 season.
The Jazz, also one of the league's most turnover prone teams with just under 20 have struggled just as mightily. They will also attempt to stave off one of the franchise's worst starts since dropping 11 straight games to start the season over 39 years ago.
After keeping things close with most opponents, Utah was essentially out of the game in the second half and trailed by as many as 26 points. Enes Kanter, of all people has been the team's leading scorer, averaging 17.8 points and 9.5 rebounds so far.
While it is hard to predict much from these two winless teams, someone is going to get a win tonight, and I think it will be the Celtics. The home crowd will be behind them if they can put up even an average effort. The Cs are best at home while Utah has historically struggled on the road. The Celtics have won five straight games in this series, and I expect them to add to that total tonight.
Pick: Celtics -3.5 with Topbet.eu