Wednesday, November 13th, 2013
New York Knicks at Atlanta Hawks -3.5 Total: 200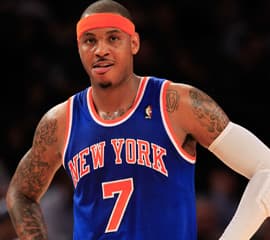 The Atlanta Hawks welcome the New York Knicks this Wednesday evening as Carmelo Anthony and company face off against Al Horford and Paul Millsap.
The Hawks have alternated wins and losses so far this season, but are currently on a two game win streak. They moved to 4-3 on the season after 104-94 win over the Charlotte Bobcats on Monday night.
Atlanta has thrived under new coach Mike Budenholzer so far, especially offensively. His system has benefitted Al Horford and veteran free agent signing Paul Millsap tremendously. They are both averaging more than 18 points and 7 rebounds per game. Horford scored 24 points in the win against Charlotte. The Hawks also lead the East in scoring with just under 105 points per game.
Things have not gone as well for the Knicks. They fell to 2-4 on the season after a rough lopsided loss against San Antonio on Sunday at Madison Square Garden. The Knicks were thoroughly dominated in the contest, losing 120-89.
Defensively, they have been strong through the first three weeks of the season but will be without center Tyson Chandler for 4-6 weeks. This is a massive blow to their defense and rebounding. They just got J.R. Smith back from suspension but looked poor in his debut against the Spurs.
The Knicks performance against the Spurs was terrible, especially so early in the season with the excitement still there for most players. The team, other than Anthony, looked lackadaisical and almost confused.
Horford and Millsap make their money in the paint and that area will be wide open without Chandler. Look for them to dominate inside and win the game by controlling the paint. Jeff Teague's defense on the perimeter and his scoring prowess this season will also help, along with a strong home crowd.
Pick: Hawks -3.5 with TopBet
Brooklyn Nets at Sacramento Kings +3.5 Total: 194
After lots of offseason hype, the Nets have not been living up to expectations so far. A three game west coast trip should give them a chance to bond and perhaps improve their play on the court.
Kevin Garnett and Paul Pierce came over from Boston in the offseason and have yet to make a significant impact. Brooklyn is 0-3 on the road and dropped to 2-4 on the season after a 96-91 defeat to the visiting Indiana Pacers on Saturday.
The Kings are on the few teams worse the Nets so far this year. They sport a 1-5 record on the season and have lost five games in a row. They lost two games in a back-to-back series with Portland over the weekend and lost 105-100 to visiting Atlanta last night.
First year head coach Mike Malone has said he may shake up his starting lineup for tonight's game. The lone bright spot for the Kings franchise is volatile center DeMarcus Cousins. Cousins has drawn the ire of the media and coaching staff but continues to dominate down low. He scored 68 points combined in both losses.
While the Nets haven't quite gotten it together yet, I think they are still leaps and bounds better than the Kings. Sacramento seems to have a black cloud over their franchise since the days of those Lakers vs. Kings battles and I don't think it is gone yet. While they have some talented young players to build around, it is just untapped potential so far.
Two games under .500 is enough to get a veteran team like Brooklyn fired up, who at this point, only care about making the playoffs and winning a title. There are no personal accolades to chase or worries about playing time – they just want to win. I look for the Nets to start off their West Conference trip with a win against the Kings in Sactown.
Pick: Nets -3.5 with TopBet
Oklahoma City Thunder at L.A. Clippers Total: 209.5
In what may be the most exciting game to watch this Wednesday, the Oklahoma City Thunder head to Staples Center to take on L.A. Clippers.
Los Angeles is off to a nice start under new head coach Doc Rivers at 5-3. The biggest part of that has been All-Star point guard Chris Paul. Paul is averaging a double-double with points and assists through the first eight games of the season.
The Clippers have struggled defensively all year but have been better as of late. Their last game was a 109-107 win against visiting Minnesota. The Timberwolves missed several shots in their final possession before time expired.
The Thunder are off to the hottest start in the NBA other than the Indiana Pacers who are still undefeated. At 5-1, they have dominated much of their contests this season but barely pulled out a win against the lowly Washington Wizards on Sunday. They needed Kevin Durant to sink a three-pointer with under 14 seconds left to force overtime. The win was their fourth straight.
Both of these teams have this game circled on their calendars and are ready to show off their talent. That is, offensive talent, the Clippers and the Thunder aren't exactly stalwarts defensively and both score loads of points. Los Angeles leads the NBA in averaging 110 points per game, and the Thunder are 10th with 103 per contest. This game is going to be a track meet. I wouldn't be surprised if this contest was one of the highest scoring this year when it is all said and done.
Pick: Over 209.5 with Bovada