Tuesday, November 12th, 2013
New Orleans Pelicans at Los Angeles Lakers +3.5 Total: 199.5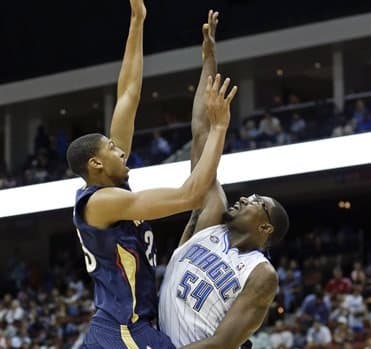 The Lakers and Pelicans face off against in each in the second leg of a back-to-back with the first game coming last Friday, a 96-85 New Orleans win. This is at the Staples Center, where the Lakers home crowd will look for their hometown team to even the season series.
The Pelicans snapped an 11-game franchise losing streak with the win against L.A. on Friday with a big help from Anthony Davis. The second year pro notched a career high 32 points, 12 boards and six blocks in a dominant performance in the win. Point guard Jrue Holiday recorded a triple double with 13 assists and 13 points.
The Pelicans last played Sunday at Phoenix, a 101-94 loss that dropped them to 4-3 on the season. Davis was held in check in that game, scoring just 14 points the lowest output for him so far this season.
The Lakers season has not started off well as the team waits for the return of shooting guard Kobe Bryant who is still sidelined with an Achilles injury. Management does not expect his return within the next two weeks. It is too bad because the team desperately needs their former-MVP.
Sitting at 3-5, L.A. hosts New Orleans losing their last two games. On Sunday, they suffered a blowout loss to the Minnesota Timberwolves at home in a game in which the Wolves scored 47 points in the first quarter.
The Lakers have a multitude of problems including the poor play of Pau Gasol and ranking near the bottom five in defense, averaging 106.5 per game. Steve Nash will now also miss the next two weeks with nerve problem in his back. This is a massive blow to the Lakers offense.
Nash's injury is a crucial reason for my play in this one. While Nash's poor defense leads to more scoring in any given game, his offensive prowess is key to the Lakers doing much of anything offensive side. While Steve Blake has been admirable in Nash's stead and can shoot the three-ball well, the Lakers offense doesn't flow well without Nash on the floor. Also, Blake is an upgrade over Nash defensively.
From a point spread standpoint, I still think this game could go either way but the under 199.5 I think is an excellent play. Neither of these teams is strong defensively, but I expect it will be harder for them both to score tonight.
Pick: Lakers Under 199.5 available with Bovada.lv
Washington Wizards at Dallas Mavericks -5 Total: 207
The Wizards have started off slow for what it seems like every season but have plenty of reason for optimism in the franchise. They take on a tough new-look Mavericks team at home that has yet to lose a season on their home court.
At 2-4, the Wizards have gone 1-3 on the road this season with their last game being a loss at Oklahoma City on Sunday. However, they did take the Thunder to overtime before losing 106-105. Bradley Beal scored a career-high 34 points in the overtime loss. The Wizards also shot themselves in the foot with foul shooting. They made just 13 of 26 attempts and are one of the worst free-throw shooting teams in the league at 68.4 percent.
Like Washington, Dallas has struggled on the road, winning just one game. That was Saturday's win at Milwaukee, 91-83. Monta Ellis led the club in scoring with 18 points and Dirk Nowitzki added 16.
The most telling stat for Dallas this year is how well they played on the road. Their 117.3 points at home are an NBA high. They average 18 points less on the road. While the Wizards have played teams tough this year, they are overmatched heavily in this one.
Dallas -5 seems low for a team that could be easily blown out by the Mavericks. I would happily bet this game -7 or even -8. Washington is just two days removed from a tough overtime game at OKC and the Mavericks are ready pounce on this team at home.
Pick: Mavericks -5 with Bovada.lv