Thursday, November 14th, 2013
Houston Rockets at New York Knicks -5 Total: 203.5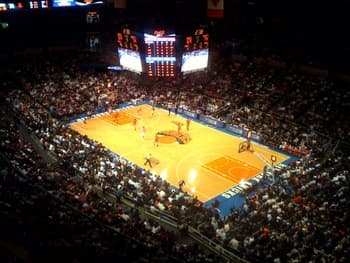 The Houston Rockets head to MSG and the Big Apple to take on the slow starting Knicks as this week's opening game of TNT NBA Thursday.
At 5-4, the Rockets started off the season with a bang but have struggled as of late. After opening the season 4-1 and averaging just over 109 points per game, Houston has scored just under 105 point per game in their last four games, three of which have been losses.
Likely one of the main reasons for the difference in offensive punch is the loss of shooting guard James Harden. Harden, a top five scorer in the league with 24.9 points per game has been out the past few games with a sore ankle injury.
With Harden sidelined, Jeremy Lin has been thrown into a starting role, and he has shined. Lin scored 34 points while dishing out 12 assists in Wednesday's 123-117 overtime loss at Philadelphia. Harden will be a game time decision for tonight's game.
The Knicks come into the game at 3-4 with a win in their last contest, a 95-91 win at the Atlanta Hawks on Wednesday. Strangely, they have struggled at home this year and have not won a game since their season opener against the Milwaukee Bucks.
New York will still be without center Tyson Chandler who is the key man in the paint for the Knicks. Dwight Howard, the Rockets' All-Star center, is averaging almost 15 rebounds per game and will be a tough assignment for the Knicks in the paint.
That is the matchup I'm interested in this one. The Knicks have been Swiss cheese in the paint defensively, and their rebounding has dropped off heavily since Chandler's injury. Still, there's reason to think they get up big for this game especially facing Jeremy Lin for just the second time at Madison Square Garden.
Harden's status will be significant because he is a premier offensive player, but Lin's starting minutes may help even more for my play in this game. Both are massive liabilities defensively, and the Knicks are poor in this area, as well. I love this over 203.5 in this game and would encourage bettors to take it immediately. It is a bit of a public play and should garner a lot more public money (which may move the line) by game time.
Pick: Over 203.5 with TopBet
Oklahoma City Thunder at Golden State Warriors -4.5 Total: 207.5
The Golden State Warriors started off the season with a few hiccups but are now firing on all cylinders as they welcome the OKC Thunder to town.
The 5-3 Warriors are coming off their hottest shooting night of the season in a 113-95 win on Tuesday snapping two game skid. Golden State shot 60 percent in the game and shot .500 from three-point land. Point guard Stephen Curry led the way with 25 points on 7 of 10 shooting.
The Thunder head into this game fresh off a loss last night at Los Angeles, 111-103. Kevin Durant's 33 points were not enough to secure them a victory. The game was feisty and physical and involved a shoving match in the second quarter that had two players ejected, Serge Ibaka and Matt Barnes.
The Thunder have been especially strong since Russell Westbrook returned from injury, but he has shot poorly so far. Though the team is 4-1, he is shooting just above 34 percent on the year.
The first thing to note about this game is that Oklahoma City is coming off a back-to-back while the Warriors have an extra day of rest. The Clippers contest was a tough game, as well as a run and gun affair. This type of game tires out even the youngest and healthiest teams in the NBA. Golden State runs a similar offense to the L.A., and they will not be afraid to push the tempo, especially if they see tired legs on the side of the Thunder.
The Thunder head coach, Scott Brooks also worried me in last night contest with many of his rotations. He took both Westbrook and Durant out of the game at the same time for extended periods and seemed to do nothing when the Clippers went on runs against the inferior team he had out on the floor.
I love Golden State in this matchup at home.
Pick: Golden State -4.5 with TopBet