Sunday, November 25th, 2013
Chicago Bulls at Los Angeles Clippers -6 Total: 193.5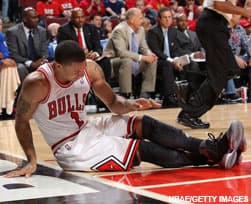 The Bulls head to Los Angeles after a rough past 48 hours. They have again lost their star point guard, Derrick Rose, for the foreseeable future.
After only his 10th game back from ACL surgery, which kept him out for the latter part of two seasons. Rose suffered a medial meniscus tear in his right knee in Friday night's game in Portland. He is expected to go under the knife within the coming days and will be out indefinitely. While there is no clear timetable for his return, it is estimated that he will miss at least half of the 2013-14 season.
The Bulls lost Rose, and they also lost Friday night's game with Portland. In what looked like a sure win for Chicago, the Bulls blew a 21-point lead late and lost 98-95 to the Trailblazers. Rose scored 20 points before leaving late in the third quarter with an injury. As a team overall, Chicago has played poorly their last few games, shooting just under 38 percent and dropped their last three.
Rose's injury will not help the Bulls already thin backcourt and will shift reserve guard Kirk Hinrich into a starting role. Guard Jimmy Butler is out with turf toe and will miss the next six game road trip.
The Clippers come back off the road and are on their second game of a three-game homestead at the Staples Center. Last night, they won a tough game against the Sacramento Kings, 103-102. Point guard Chris Paul hit some clutch free throws to ice the game in the final seconds and finished with 22 points.
L.A. has played excellent at home this season, averaging 114.0 points per game and winning six of seven at Staples Center so far this season.
Both Blake Griffin and Chris Paul expressed sadness in regards to Rose's injury, but I am sure they happy not to be facing him on Sunday. While some bettors might look for the Bulls to rally together as a team and put up a convincing performance, I think their reaction will be the exact opposite. They are a broken team without their leader.
They were not playing exceptional basketball anyway with a 6-5 record, but this makes matters even worse. The Clippers are also a dominant home team, and I think they wipe the floor with the Bulls tomorrow afternoon.
Pick: Clippers -6 available at BetOnline
Utah Jazz at Oklahoma City Thunder -13.5 Total: 196.5
The Western Conference's worst take on the best as the Jazz head to Oklahoma City to take on the Thunder on their home floor, a place they have yet to lose a game.
Kevin Durant looks like the best player in the Western Conference once again. He scored 28 points in the Thunder's Thursday night win against the Clippers, 105-91. The former league MVP is leading the NBA in scoring with 29.5 points per game and is averaging 31 points per game at home.
The Thunder, as a team have not lost on their home floor as they welcome Utah with an 8-3 record. Oklahoma City is averaging over 107 points per game at home and shooting a pristine 46.6 percent.
These numbers are imposing for a Utah team that could be in line for their worst start in franchise history. The Jazz are 0-8 on the road this season and have lost their fifth straight game. They lost 103-93 at Dallas on Friday, and though they shot 50 percent from the field, it was not enough to get the victory.
Few things have worked for Utah this season, and head coach Tyrone Corbin is thinking of shaking things up. Forward Marvin Williams has played great as of late and rookie Trey Burke has looked excellent in limited action. He may lift the Jazz's offense which is one of the worst in the league at 89.6 points.
There's no rhyme or reason to this play, other than the Thunder's dominance at home and the Jazz's continual ineptitude. The Thunder should win convincingly on three days' rest and should dominate every facet of the game. The double-digit spread is high, but the Jazz have been getting blown out of opposing arenas all year long.
Pick: Thunder -13.5 betting with BetOnline
Sacramento Kings at Los Angeles Lakers -4 Total: 202
In a game that was at one time a big interstate rivalry, the Kings head to LA to take on the Lakers in a battle of the bottom two teams in the Pacific Division.
The Lakers have struggled mightily without point guard Steve Nash and guard Kobe Bryant, both former MVPs. Though they are 6-7 on the year, LA has put together back-to-back wins, beating Golden State on Friday 102-95 and Detroit a few days earlier.
The catalyst for their recent surge as been power forward Pau Gasol. After starting the season poorly, Gasol has turned it up recently and leads the Lakers in scoring with 13.8 points.
The Kings, the West's second worse team record-wise other than the Utah Jazz, come into the game with a 4-8 record. Sacramento looks to average their loss last night, a 103-102 loss to the Clippers. The Kings rallied late to crawl back from 20 points down but could not finish the job.
Like Gasol, the Kings are led by another big man, center DeMarcus Cousins. Cousins is averaging 23 points per game and 14.3 rebounds and has notched three straight double-doubles.
The Lakers are tough at home, but their recent play has often been determined of how well Gasol plays, especially in the first half. His matchup against Cousins in this one will be tough, and he will have trouble getting anything done in the paint. Rebounding and paint scoring will be an issue for the Lakers in this matchup. The Kings have played much better opponents to the final buzzer and should have no issues taking care of this LA team on their home floor.
Pick: Kings +4 with BetOnline