Sunday, November 3rd, 2013
Boston Celtics at Detroit Pistons -9.5 Total: 191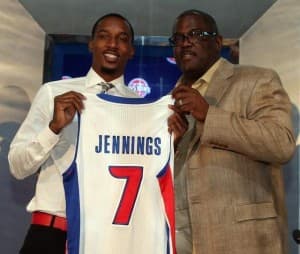 The Celtics head to the Palace of Auburn Hills looking for their first win this year as they look to avoid losing their first three games for the second time in three seasons. Boston opened the season up with two losses, a 93-87 loss at Toronto and a 105-98 loss in overtime against the Milwaukee Bucks at TD Garden.
Their roster changed rapidly in the offseason as Celtic legends Paul Pierce and Kevin Garnett were traded to Brooklyn. Though some familiar faces remain, such as guards Jeff Green and Avery Bradley, along with forward Brandon Bass, this team is still learning to play together.
Franchise point guard and All-Star Rajon Rondo is still recovering from February ACL surgery which has sidelined him indefinitely. However, he is close to suiting up, but the Celtics have not set a date for his return.
The Pistons have looked excellent in their first two games of action and offseason acquisition Josh Smith has fit right into their plans. Brandon Jennings, who was acquired in a sign-and-trade with Milwaukee in the offseason as well, is also expected to make his season debut in tonight's game. However, he is still a game time decision as he recovers from an impacted wisdom tooth and a fractured jaw.
Jennings would be a nice boost to the Pistons backcourt and improve their already stellar shooting percentage through the first two games. Detroit took care of the Washington Wizards at home on Wednesday, winning 133-102 but fell in overtime to Memphis, 111-108.
While I have been impressed with the Celtics so far – especially from an effort perspective – they just don't have the roster to matchup with Detroit, with or without Brandon Jennings. Greg Monroe, Josh Smith and Andrew Drummond should have a field day in the paint. Brandon Bass, and especially rookie center Vitor Faverani will have a tough day getting anything to go in the paint in this one and will have an even harder time pulling down boards. Even from a guard perspective the Pistons have a better lineup, but this game will be won in the paint.
Pick: Detroit Pistons -9.5 available at Bovada.lv.
Minnesota Timberwolves at New York Knicks -3.5 Total: 195
The Wolves are on the brink of having their best start in the past decade plus. 2-0 as they head to Madison Square Garden, Minnesota shut down three-time scoring champion Kevin Durant in a big win on Friday against Oklahoma City.
The 100-81 win was impressive enough, but the defense the Wolves played on KG was even better. Durant hit just four of his 11 shots and went 1 for 5 from downtown. He scored just 13 points. It was a much better showing than their opening game against Orlando, where the Timberwolves gave up 115 points in a 120-115 overtime win.
The Knicks have looked less impressive from the field and have split their first two games this season. They shot just 36 percent from the field against the Bulls, which led to a close, 82-81 loss on against at Chicago on Thursday. Just a day before, they shot over 50 percent from the field in a 90-82 home win against the Milwaukee Bucks.
Amare Stoudemire who has been hampered with injuries over the past two seasons as he looks to make his home debut in this game. He played in the season opener, in a limited role off the bench. Questions about Stoudemire's role will likely surround the Knicks this season. Many are not sure he is the same player he once was after all his injury issues.
I might wait till closer to game time to bet this one because the public is all over the Knicks. This game could easily go to +4 or higher for Wolves backers. I think it is apparent New York does not look too impressive so far, and the exact opposite can be said for the Wolves. Strong in all phases of the game so far, I look for this one to at least be close down the wire but I would not be shocked by a blowout.
Minnesota is the better team right now. I look for them to take care of the Knicks on their home floor.
Pick: Minnesota +3.5 betting with Bovada.lv.
Brooklyn Nets at Orlando Magic +6 Total: 195
I'll make this one short and sweet, the Magic have been lighting up the scoreboard in their first two games of the season, but I suspect that stops today. At 1-2, they have totaled 115 and 110 in their last two games, an overtime loss at Minnesota and against New Orleans, respectively.
Their lowest point total was 87, which they totaled in an opening night loss to the Indian Pacers. Like the Pacers, the Nets are a strong defensive team, unlike New Orleans or Minnesota. They also run a slow paced offense. This game will be played primarily in the half court and will be a gritty affair.
Brooklyn won't push the tempo if they do not need to and will be happy beating the Magic into submission. After an opening night loss to Cleveland, the Nets took care of defending champion Miami, 101-100.
I look for Orlando's scoring numbers to come back down to earth in this contest. Both teams will be slower and more methodical in this game. Even though it is just the third game of the season, I think they Nets are going to come out with a strong defensive effort, keeping this one under the total of 195.
Pick: Under 195 total available with Bovada.lv.