Saturday, November 23rd, 2013
New York Knicks at Washington Wizards -2.5 Total: 193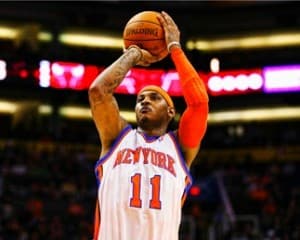 The Knicks have been surprisingly terrible on their home floor this year, and a road trip may be just what the doctor ordered to restart their season. They will get their chance to right the ship on Saturday night at Washington.
New York has extended their losing streak at home to a whopping six games after losing to Indiana on Wednesday night. The Knicks had control for most of regulation, but Indiana rallied late to force overtime. The visiting Pacers dominated the overtime period winning 103-96.
The loss dropped the Knicks to 3-8 on the season, and the franchise is winless at home since their season opener against Milwaukee on Oct. 30th. Other than Carmelo Anthony, New York has had few consistent contributors; J.R. Smith scored 21 points in above loss, second to Melo's 30 points and season-high 18 rebounds.
Strangely, the Knicks have been putting much better defensive efforts on the road rather than at home. New York has allowed over 105 points per game at home but has given up just 89.0 in road contests, going 2-2 in those games.
Washington, not much better at 4-8, ended a two game winning streak with their loss on Friday at the Toronto Raptors, 96-88. John Wall scored 37 points in the game, but it was not enough to get the win.
The Knicks come off three days rest as they head out on a road trip. They have played much better on the road this season and face a Washington team that is coming off a game last night. New York's Achilles heel this season has been their interior defense, which has become much worse without Tyson Chandler.
Washington is ill equipped up front to take advantage of this mismatch. While Nene has been just average this season, the Knicks should be able to at least match the Wizards in rebounding in this one and give themselves a solid chance to win. The Knicks are not an easy team to play on a back-to-back, they are still young and physical on the perimeter. I think New York is the more talented team, and they are much better rested. I think the Knicks grab a big win here on the road.
Knicks +2.5 with Bovada
Boston Celtics at Atlanta Hawks -9 Total: 194
The Celtics have been spoiled in recent years with the Big Three's dominance but with those players gone they have struggled to score points this season. They face another tough road test with a game at Atlanta on Saturday night.
While the Celtics did average over 104 points per game during a four game win streak, Boston has dropped off as of late and now is at the bottom of the league in scoring with 87.8 points per game. The Celtics scored 93 but still lost in San Antonio to the Spurs' 104 points. Last night, they faced a dominant Indiana team that beat them on their home floor 97-82 to drop them to 4-10 on the season.
The Atlanta Hawks are headed in the opposite direction. After giving up over 105 points in their first five games of the year, the Hawks have limited opponents to just over 94 points in the past eight games. Atlanta is averaging 101.8 points and is ranking near the top of the league in field goal percentage at 47 percent.
I love this spot for an Under 194 play. The Celtics are a poor offensive team to being with and to make matters worse they are coming off a game last night and are facing a Hawks team that should easily be able to out-rebound them. Tired legs equal missed jumpers, in what should also be a physical contest down low. I like to Hawks to cover, but not as a much as I like one of these teams to stay in the 80s in terms of scoring. I could easily see this game finishing with both teams scoring under 90 points.
Pick: Under 194 available at Bovada
Minnesota Timberwolves at Houston Rockets -6 Total: -6
The Rockets welcome the Timberwolves for an intriguing early season Western Conference matchup. Houston is out for vengeance after blowing an 18 point lead against Dallas on Wednesday.
The Rockets were in line to win their fourth straight game at Dallas two days ago but blew a lead late to lose 123-120 in regulation. Houston played a complete game for three quarters and dominated the matchup before losing in the final minutes. The Rockets wasted Dwight Howard's best effort of the season in the loss. The All-Star center connected on 12 of 16 shots to score a season-high 33 points. The game dropped Houston to 8-5 on the season, a record similar to the Minnesota's.
The Timberwolves were the talk of the NBA as they rushed out to a 5-2 start at the beginning of the year, but lately, they have dropped four out of their last seven games. However, Minnesota did snap a two game losing streak with a 118-91 blowout win over the Brooklyn Nets on Friday.
While both of these teams have been lighting up the box score in recent weeks, the Rockets frontcourt should be a force in this game. Minnesota does not pride themselves on their defense effort and Dwight Howard should dominate the paint in this game, even with Love's presence. Houston is leaps and bounds better talent wise. Minnesota's win against a terrible Brooklyn proves nothing to me and makes it tougher on them against Houston coming off a back-to-back.
Pick: Rockets -6 got at Bovada