Saturday, November 16th, 2013
Dallas Mavericks at Orlando Magic +2.5 Total: 202.5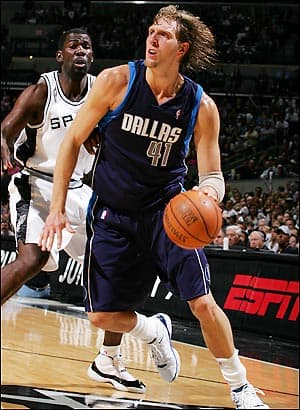 The Mavericks continue to struggle on the road this season, but they are getting an opponent that may help them break their road woes in the Orlando Magic on Saturday night.
Dallas is undefeated at home this year, averaging a whopping 114.3 points per game behind with the support of their home fans. However, on the road it has been a different story. The Mavericks are just 1-4 on the road this season, including last night's loss to the Miami Heat.
Dallas committed 24 turnovers in the game, their most of the season. Nowitzki and Ellis combined for 48 points in the 110-104 loss. Dallas has been poor defensively on both the home and away hardwood but has been worse on the road, allowing opponents to shoot 46 percent or better from the field.
Like the Mavericks, Orlando has struggled on the road but have been stalwarts at home. Boasting 4-5 record, the Magic are 4-1 at the Amway Center. Their last game was a 94-91 win over Milwaukee on Wednesday.
For the Magic, it has been a ragtag cast of veterans and young players who have surprised other franchises this season with their gritty play. Picked to be one of the worst teams in the league, Orlando has played better than most expected. Arron Afflalo has led the Magic in scoring for the first weeks and is having the best year of his career. He scored a career-high 36 points in the win over Milwaukee.
Although, it has been the Magic's defense that has been their bright spot but that dropped off in recent games. They held their first six opponents to under 40 percent shooting while the last three games have seen teams shoot 51 percent against them.
I wrongly predicted that the Mavs and Heat game last night would go under the total, but both teams lit up the box score in a 110-104 Miami win. Running with Miami is tough for any team in the league but for a veteran team like the Mavericks it takes an even bigger toll.
Dallas' turnovers were also a significant issue. The Magic are excellent defensively and will likely benefit from a few Mavericks giveaways in this one. Their also excellent at home and come into this game with three days rest, whereas Dallas is on the second leg of a back-to-back with Miami. This is an excellent spot to take the home dog Magic.
Pick: Orlando +2.5 with Bovada
Miami Heat at Charlotte Bobcats +7.5 Total: 196
After a slow start for reigning champion standards, the Heat have seemingly regained their elite form over the past two weeks. Not shockingly, most of it is because of two-time MVP LeBron James.
Miami boasts a 6-3 record headed to into a game at Charlotte whole leading the league in shooting percentage at 52.3 and a top five scoring pace. The Heat have scored over 100 points in every game this season, despite having several injuries to their roster.
They will again be without shooting guards Ray Allen and starters Dwyane Wade and Udonis Haslem may also not be available for tonight's contest. Last night, Miami won at Dallas 110-104 with many thanks to LeBron James. James scored a season-high 39 points in the win, shooting a staggering 14-18 from the field.
The Bobcats await the clearly dominant Heat but have quietly had a solid season of their own. Defense has been the key for the Bobcats so far. They improved their record to 5-4 on the season with an 86-80 win at Cleveland on Friday. They have given up just 163 points in their last two games.
Offseason signing Al Jefferson has been the big body in the paint holding it down in the paint and altering opponents' shots. However, the center may be sidelined in this contest due to a bum ankle. Jefferson likely will not be a full strength even if he does play.
The Bobcats start to the season has been tremendous. Mostly because this roster doesn't exactly inspire confidence, coupled with the fact they are learning a new system under a new head coach. Even with their improvement from last year, they are way overmatched in this one.
Both teams are coming off a back-to-back, and both have significant injuries. But, I would much rather take a hobbled Heat, but a healthy LeBron James over perhaps a Jefferson-less Charlotte. The Heat should have no issues scoring 100+ in this game, and I can't see the Bobcats hitting 90 points. Also, without Jefferson there to clog the lanes, LeBron will have a clear path to the paint. Miami should win this by a large margin.
Pick: Heat -7.5 at Bovada
Atlanta Hawks at New York Knicks -4 Total: 202
The Knicks have had a poor start to their season, and the strangest part is their inability to get it done at home. They look to stave off their worst at Madison Square Garden in history on Saturday as they welcome the Atlanta Hawks.
Despite a huge performance by Carmelo Anthony in Thursday's game against the Houston Rockets, New York fell 109-106. Anthony scored 45 points in the loss and has not gotten much consistent help from his supporting cast so far this season.
The Knicks have a 3-5 record and haven't lost five home games in a row since February of 2010 when they dropped six games in a row at home. Their defense has been a vital part of this losing skid. In the past four home games, they have allowed an average of 110 points.
The Knick have won just one home game this season against the Milwaukee Bucks, their season opener. Their other wins came at Charlotte and their opponent tonight, the Atlanta Hawks. They teams played this past Wednesday, New York won that game 95-91. Anthony led the team in scoring with 25 points.
The Hawks come into this game on a bit of a roll, winning three out of their last four games. They won 113-103 at Philadelphia on Friday Night mostly on the back of Jeff Teague who scored a career-high 33 points in the win. Teague has been a giant bright spot this season for the Hawks. He is averaging almost 20 points per game and is second in the league in assists with an average 9.9 per contest.
While the matchup on paper looks grim for the Knicks, we have to remember that Atlanta is coming off a tough back-to-back against Philadelphia last night. Horford's presence will be a problem for New York but one that they may be able to overcome. Andrew Bargnani will not be able do much defensively matched up against Horford, but his solid shooting stroke from outside the paint has been falling all season. Horford will have to guard him on the edge of the paint, opening up the lane, or he will let him plenty of uncontested jumpers. Bargnani is playing some of the best basketball of his life early in the young season.
Anthony will get his 30 or so points in this contest, as well. No one can check him on the Hawks, and he is lighting it up offensively. He could easily put this team on his back and win this game himself. This is a perfect spot for the New York to get back to their winning ways at home and take care of Atlanta in front of their home crowd.
Pick: Knicks -4 betting with Bovada