Friday, November 8th, 2013
Toronto Raptors at Indiana Pacers -9 Total: 187.5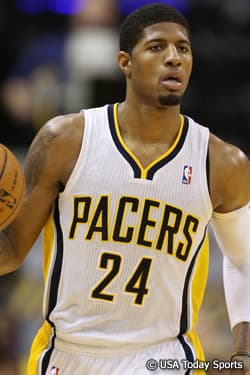 The Pacers host the Toronto Raptors at Bankers Life Fieldhouse on Friday as the NBA's last unbeaten team at 5-0. Toronto, on the other hand, is just looking for a much needed win after their 2-3 start.
Indiana continued to stay perfect Wednesday, after pulling out a victory in a hard fought battle with the visiting Chicago Bulls. Paul George scored 20 or more points for the fifth game in a row, but the run to win the game was spurred by the bench.. Luis Scola, Lance Stephenson and Donald Sloan all contributed to a 12-2 run late that sealed the victory.
The Pacers are not only excellent in terms of their starting lineup, but they have depth, as well. Backup guards C.J. Watson and Donald Sloan have been excellent in relief of starter George Hill who is still questionable to play tonight with a sore hip.
The Raptors, a team many in the league regard as perhaps the NBA's worst franchise this year started off the season 2-0 but have since dropped three straight. Toronto heads into the game after a two point loss on Wednesday at the Charlotte Bobcats.
Despite almost rallying late, the Raptors could not get it done even with 20 points from Rudy Gay and 14 points from DeMar DeRozan, who missed a short jump shot with 28 seconds to tie the game.
Indiana's advantage in this matchup is obvious, but clearly that is not my angle in this game. The Pacers are due for a slip up and not only did they fight hard to win in a physical game at Chicago, but they have a big game tomorrow night against the Brooklyn Nets, providing us with a bit of a look-ahead spot.
Furthermore, Indiana doesn't generally blow teams out due to their slow pace so I could see the Raptors hanging with them in this one till the final minutes. Toronto always seems to find a way to lose, which is suitable for us, as long as they keep it within single digits.
Pick: Raptors +9 available at www.bovada.lv
Cleveland Cavaliers at Philadelphia 76ers +3.5 Total: 203.5
As the Cavs head to Philadelphia to take on the surging Sixers, a larger storyline is in play in this game. Andrew Bynum makes his return to the City of Brotherly Love and to a franchise he was traded to during last year's offseason but failed to play a single second for the club on the court.
Bynum never did suit up for the 76ers, but is ready to play tonight in another uniform after Cleveland signed him to a two-year 24 million dollar deal this offseason. He has played in four of the Cavs' first five games but has come off the bench.
Cleveland has struggled so far this season at 2-3 after losing on the road to Milwaukee Wednesday night by a final score of 109-104. Dion Waiters and Kyrie Irving led the Cavs in scoring, dropping 20 and 29 points, respectively.
The Cavaliers scored 100 points for the first team this season but still lost. They have lost 12 out of their last 13 games away from home dating back to last season as their road struggles have started to become a dangerous trend.
Philadelphia has surprised much of the league this year as many experts picked them to be among the worst teams in the NBA. At 3-2, the 76ers have notable wins over Miami and Chicago.
However, after a 3-0 start, Philadelphia has dropped their next two games while losing to Golden State and Washington. These games were not close either; both losses were by a combined 34 points.
While point guard Michael-Carter Williams has been by far the most impressive rookie so far this season and forward Evan Turner has turned into the primary scorer the franchise needs, the main concern for Philly should be their defense. They are allowing over 108 points per game, a number that needs to come down if they wish to be contenders.
In my mind, there is no doubt this Philadelphia team is much more talented than most thought, but, at best, they are a .500 basketball team. Cleveland is much improved this year, even though we haven't seen it in the results yet and I see a statement game coming from the Cavaliers.
The boo-birds will be out tonight for Bynum, if he plays, but this should only focus Cleveland more. Teams seem to rally when one player is attacked or singled out, and I expect this to happen in tonight's game.
Pick: Cavaliers -3.5 which is best priced at Bovada.lv
Oklahoma City Thunder at Detroit Pistons +3.5 Total: 196
The Thunder head into Detroit Friday night to face the Pistons at the Palace at Auburn Hills, a place where the OKC has dominated in recent years. The Thunder have won eight straight games in the Motor City.
Oklahoma City is coming off a 107-93 win over Dallas, which improved their record to 3-1. All-Star Russell Westbrook has returned ahead of schedule from his ankle injury and has seemingly not missed a beat. However, it was Serge Ibaka who dominated in the victory against Dallas. The big man scored 17 points, grabbed 13 boards and notched three blocks.
After an offseason of change, which saw the franchise sign Josh Smith via free agency and acquire point guard Brandon Jennings in a sign and trade, the Pistons sport a 2-2 record heading into this contest.
Their last game was a 99-91 loss to the Indiana Pacers last Tuesday, the NBA's final unbeaten team. The Pistons were out muscled in the loss but still sport potentially one of the best defensive rosters in the league, especially up front. Andre Drummond and Josh Smith are monsters defensively and on the glass, and Greg Monroe isn't too shoddy either.
It is tough to love a public play as heavily bet as the Thunder on this one. Most estimates suggest 90% of betting action is on OKC, but for me, it is impossible to layoff. The signs aren't there for me in regards to a look-ahead spot or let-down spot, and the matchup is excellent, especially from a backcourt perspective. The Pistons will control the paint somewhat, but no one will be able to check Durant or Westbrook. When they have free reign and put up gargantuan numbers, there is no stopping the Thunder, and that is exactly what they will do tonight.
Pick: Go to www.bovada.lv and back Thunder -3.5