Friday, November 29th, 2013
Miami Heat at Toronto Raptors +6 Total: 196.5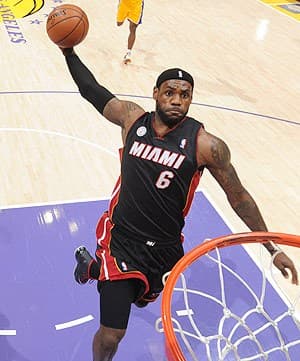 The Heat just keep on winning on the back of LeBron James and excellent defense. The franchise goes for their ninth win in a row when they head north of the border on Friday night.
After starting the season with a 4-3 record, Miami has won eight games in a row. One of the main reasons for their turnaround is their championship level defense over this run. After giving up over 100 points per game during their first seven games of the season, the Heat tightened up their defense allowing opponents just 91.9 points per game.
Miami stifled the Cavaliers defensively on Wednesday, holding them to under 35 percent shooting in a 95-84 win at Cleveland. Miami started the game slow with Cleveland scoring 28 points in the first quarter, but they turned it on in the second half. James finished with 28 points with eight rebounds and eight assists.
At 6-8, the Raptors have played better basketball as of late, winning two out of their last three games, but have been poor on their home floor. They have dropped three out of their last three home games at the Air Canada Centre, including a 102-100 to a horrible Brooklyn Nets team on Tuesday night.
This is a big-time public play which already makes me a little nervous, but I do not think I can stay away. These "too-good-to-be-true" lines are ones that I am normally skeptical about from but given the Heat's current dominance and the Raptors' struggles at home, this looks like a prime play.
I would take this one immediately if you are considering backing the Heat like me. The line opened at Heat -5 and has moved to at least -5.5 and -6 at most sportsbooks. It may move even further because there will be a lot more money coming in on Miami.
Pick: Heat -6 with Bovada
San Antonio Spurs at Orlando Magic +9 Total: 197
After one of their worst shooting performances of the year, the Spurs will head to Orlando looking to bounce back after a loss.
San Antonio had an 11-game win streak ended in a 94-88 loss at Oklahoma City. The Spurs shot their lowest percentage of the season in the loss at 39.1 percent from the field in the defeat. San Antonio shot just 7 for 27 from three-point range in the loss. The defeat put the Spurs at 13-2 on the year, the best record in the Western Conference.
Orlando welcomes the best of the West to south Florida in this matchup. At 6-9, the Magic have been much better than most thought this season. They opened the season strong but went on a streak of losing seven of eight, but have followed that up with back-to-back wins.
The Magic defeated the Philadelphia 76ers on Wednesday 105-94 in a game where they shot 50 percent from the field. While they lack star power, Orlando plays excellent team basketball and has gotten solid contributions from a number of players. Center Nikola Vucevic scored 21 points and notched 18 rebounds in the win and rookie Victor Oladipo scored 18 points in just 11 shots.
The Spurs had their worst shooting game of the year in the loss to OKC, and I look them to rebound in a big away against the lowly Magic. Offensively, the Spurs played well but settled for too many perimeter jump shots. They failed to do what they do best, which is moving the ball around and attacking the basketball through open lanes. Gregg Popovich will have his team focused and ready to dominate in this one. They should be able to limit Orlando's little offensive capabilities and win big.
Pick: Spurs -9 betting at Bovada
Dallas Mavericks at Atlanta Hawks -1 Total: 202
The Mavs and the Hawks will meet for the second time this season, this time in Atlanta after playing in their season opener. Dallas won that game – their home opener – 118 to 109.
Dallas improved their record to 10-6 in a 103-99 victory against the Golden State Warriors on Wednesday evening. Nowitzki led the Mavericks in scoring with 22 points, and they got the victory despite a subpar night from leading scorer Monta Ellis. Ellis missed 14 of 16 shots from the field but did contribute 10 assists.
The Hawks lost on Wednesday, dropping their record to 8-8 on the year. They were dominated at Houston in a 118-84 loss. They are currently mired in a four game losing streak. Atlanta has two nagging injuries.
Kyle Korver may be back from his rib injury after missing Wednesday's contest. The Hawks may also have Lou Williams available after he missed the game in Houston, as well. Williams should be a valuable contributor of the bench but is still being eased into action after coming off a torn ACL.
Dallas should dominate this contest due to the Hawks recent injury woes. Atlanta has been forced to play the likes of Cartier Martin and DeMarre Carroll and even worse. The Mavericks have had a much tougher schedule so far, especially on the road. They have played primarily out West so far this year and have faced a much tougher schedule than the Hawks.
Pick: Mavericks -1 while betting with Bovada