Tuesday, November 19th, 2013
Atlanta Hawks at Miami Heat -9.5 Total: 206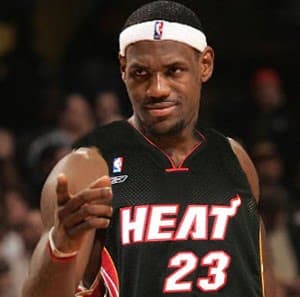 The Hawks will face a tough test on Tuesday night as they head back to South Beach to take on the red hot Miami Heat at American Airlines Arena.
Miami rides a four game win streak into tonight's game and the reigning league MVP has not surprisingly been a prominent part of that. LeBron James has been unstoppable this season. He scored 30 points on 13-18 shooting in the Heat's 87-81 victory at Charlotte on Saturday and is averaging 27.3 points per game.
James currently has a ridiculous field goal percentage at 62.2 on the season and is hitting shots at a 70 percent clip during their current run. Their win at Charlotte gave them the second best record in the Eastern Conference at 7-3 with only the Indiana Pacers sporting a better mark at 9-1.
Atlanta has been on a run of their own. The Hawks look for their third win in a row and fifth in their last six games as they head into Miami. Their last game was a dominant, team-effort win, a 110-90 victory at the New York Knicks.
After struggling for the past few weeks, Paul Millsap exploded for 14 points, and 13 rebounds and backup guard Shelvin Mack scored 12 points with 12 assists in the victory. The win improved the Hawks' record to 6-4 on the season.
The public is heavily on the Heat tonight, and I can't blame with the endless LeBron James highlight montages all over TV. James is the league's best player, and he is a force every single night. However, the Heat have not exactly played terrific defense this year, and are giving up just over 98 points per game.
Horford and Millsap will have a plus matchup in the paint, against a Heat frontline that isn't exactly imposing defensively. We know no one can stop LeBron from getting to the rack, but Horford is a big body down low and he can do better than most. I think there is a lot of value in Atlanta tonight at +9.5.
Pick: Hawks +9.5 available at Bovada.lv
Phoenix Suns at Sacramento Kings -2 Total: 193.5
The Phoenix Suns come into tonight's contest after back-to-back losses but are still encouraged by their strong start. A trip to visit the slumping Sacramento Kings may be just what they need to get back on track.
The Suns started the season off with a bang, winning five of their first seven games before losing their last two in heartbreaking fashion. They lost via a game winning layup with seven seconds left in Wednesday's 90-89 loss at the Portland Trailblazers. They followed that up with a Friday night overtime loss against the Brooklyn Nets. A game that was also decided at the final buzzer with Phoenix losing 100-98. The loss dropped them to 5-4 on the season.
The Suns have more than exceeded expectations so far this season after finishing with a 25-57 record last season. Goran Dragic has been excellent at point guard and shooting guard Eric Bledsoe leads the team with 20.4 points per game.
Only the Utah Jazz have a worse record than the Sacramento Kings, a franchise that seems to struggle every year as of late. The Kings fell to 2-7 after a 97-86 loss to Memphis on Sunday. They were outrebounded 49-35 and played horrible defense in the loss. Sacramento has had few reasons to celebrate this year. Their 93 points per game are among the lowest in the NBA.
The lone bright spot has been the play of DeMarcus Cousins, who was signed to a large contract in the offseason. Cousins is averaging over 21 points per game and 9.4 boards per contest. However, even he has been prone to foul trouble and disagreements within the coaching staff. He was benched with several other players in the loss to Memphis.
This seems like one of those wagers that is too good to be true, but I can't lay off it. The Suns have looked tremendous this year and have had to battle through a tough schedule so far. The one note is their poor road record of 1-3, but their competition on the road has been fierce.
However, they haven't played since Friday and should be well rested against a team they are already much better than. The Suns believe in themselves, are focused and will not drop a game to this lowly Kings squad.
Pick: Suns +2 betting at www.bovada.lv
Boston Celtics at Houston Rockets -10.5 Total: 205
The Celtics head to Houston to take on Rockets in an inter-conference affair that will be an extremely tough matchup for Boston.
The Rockets look for their third straight victory in a row as Boston comes to town. They improved their record to 7-4 after a 122-11 victory against Denver on Saturday. Dwight Howard was key down the stretch for the Rockets in the victory, making 17 of 24 free throws and notching 25 points.
The Celtics have lost three in a row, including a 106-88 loss at Minnesota on Saturday. Jeff Green who leads the Celtics in scoring with 15.5 points per contest was held to a season-low two points in the loss. The true problem for Boston in this game were the 22 turnovers which the Wolves converted into 28 points.
Over 10 points are a lot to give against the Celtics, a team that is 4-7 but is gritty defensive and fights to the end of games but I think in this spot Houston makes an excellent bet. Dwight Howard will have free reign in the paint in this game, and his recent free throw shooting is a positive sign for Houston backers. Sure, it was just one game, but the Rockets' roster is already leaps and bounds ahead of Boston's.
Houston doesn't normally blow teams out due to their poor defense, but Dwight's matchup will leave remarkably few second chance opportunities for Boston and loads of offensive boards for Houston. The Rockets will win the battle on the boards by a large margin and they should coast to victory.
Pick: Rockets -10.5 at Bovada