Saturday, November 30th, 2013
Minnesota Timberwolves at Dallas Mavericks +1 Total: 207.5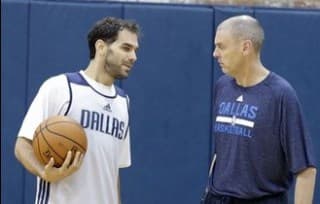 Minnesota got in some practice during the holiday break and is well rested as they head to Dallas to take on the Dallas Mavericks. This game will be the second leg in Dallas' of a back-to-back for the Mavericks who lost to Atlanta Hawks last night 88-87.
The 87 points a season-low for Dallas who has struggled on the road this season. They are just 2-6 on the road while they are 8-1 on their home floor. The Mavs shot a season low 37.7 percent in the loss but did play solid defense limiting the Hawks to just 88 points.
The game also brought on a significant injury, starting point guard Jose Calderon went down in the third quarter with a sprained ankle and did not return. His status is up in the air for Saturday's game.
Fresh off a nice break from game action, the Timberwolves resume their campaign with a subpar 8-9 record. After a hot start to the year, Minnesota began slumping and is currently sporting a three game losing streak and have lost five of their last six games.
Defensive struggles have been a problem so far this year. The Wolves are giving up 109 points per game over their last three contests. They gave up 117 points on Wednesday's 117-110 loss to the Denver Nuggets, which tied a season-high for points allowed.
The Timberwolves were miserable before the break, but we can't forget how great they looked the first few weeks of the season. They have clearly come back down to earth but are facing a Mavericks team that is reeling. Older teams are notoriously worse playing two games in two nights and the fatigue of last night's physical game will surely have an effect on them. Calderon is also likely out, giving them one less body and a key playmaker on offense.
Rick Adelman will have his team prepared coming out of their three-day break, and they will put up a strong performance tonight. They also won a previous meeting on Nov. 8th in Minnesota 116-108. Kevin Love and Kevin Martin both scored 32 points in the win.
Pick: Minnesota -1 with BetOnline
Houston Rockets at San Antonio Spurs -6 Total: 205.5
The Rockets head into San Antonio to face the Spurs and finally have shooting guard James Harden back. Although, his last performance has me sure he is not at 100 percent.
Houston defeated the Brooklyn Nets on Friday evening in a 114-95 win at home. Harden played just 25 minutes in the win, scoring nine points and dishing out seven assists. He would have likely been held out if Jeremy Lin was not sidelined for two weeks with a knee injury.
Still, the Rockets seem to be cruising now with minimal contributions from their stars. They boast a 12-5 record and are currently on a four-game winning streak. Center Dwight Howard has been surprisingly quiet over the run, averaging just 12.3 points and 8.8 rebounds in the past three games.
San Antonio boasts the Western Conference's best record and are coming off a 109-91 away win against Orlando last night. They coasted to a win on the shoulder of Tim Duncan and Marco Belinelli who each had 19 points. The Spurs were without starting point guard Tony Parker who sat out with a sprained ankle. His status for tonight's game is uncertain, but there's a better chance he suits up tonight.
I love the Spurs in this matchup against a hobbled Houston team, especially on their home floor. Even if Parker doesn't play, San Antonio is deep enough to forgo his loss. Of course, he is their best player, but the fact that I like San Antonio whether he plays not is more of a compliment to this team. The Spurs play such strong team basketball and move the ball extraordinarily well every night. They have not lost a game yet this season on their home floor and should win by double-digits tonight.
Pick: Spurs -6 available with BetOnline
Chicago Bulls at Cleveland Cavaliers +5 Total: 182
The Bulls head to Cleveland in a battle of two franchises that are reeling for different reasons. For Chicago, it is the loss of point guard Derek Rose for the rest of the year and for the Cavaliers it is their miserable start to year, despite such high hopes in the preseason.
Chicago ended a four game slide with a 99-79 win on Friday to improve their record to .500 at 7-7. The game was the Bulls third without a win and their first win without the superstar whose season is over due to a torn meniscus in his right knee. Luol Deng has asserted himself the number one option offensively for Chicago and has exploded since the injury to Rose. He is averaging over 24.3 points and shooting just over 52 percent in the three games without Rose.
Cleveland's struggles have been season-long with the Cavaliers struggling to fill up the box score enough to be competitive. They lost their fifth game in a row in a 103-88 loss at Boston on Friday night. They have averaged just 90.7 points over their last nine games and have gone 1-8 over that stretch.
From Andre Bynum's inefficient and injury plagued outings to Kyrie Irving's inconsistent play, it has been a disaster for Cleveland on the past few weeks. They look so out of sorts on offense and turn the ball over constantly. Chicago is a defense first squad, and they force mistakes out of this inexperienced team all-night long. They finally have regained their confidence and are moving on without Rose. This was a playoff team without him last year, and the roster is still chalked full of talented players. They should easily handle this inferior Cavaliers team tonight.
Pick: Bulls -5 betting at BetOnline