Monday, November 26th, 2013
Los Angeles Lakers at Washington Wizards -4.5 Total: 199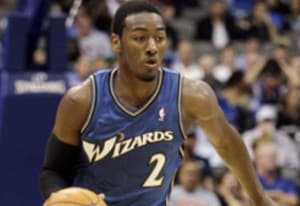 The Lakers welcome the red-hot John Wall and the Washington Wizards to town a night after they inked Kobe Bryant for two more seasons. The former MVP guard may also make his season debut at Staples Centre this evening.
John Wall has played up to his billing as the top pick in the 2010 draft and is quickly becoming one of the league's best guards. Wall is coming off his two highest scoring games of the year, scoring 37 points in a 96-88 loss at Toronto and following that game up with 31 points in a 98-89 victory against New York.
Washington's start to the year was poor, but they are finally starting to gel. At 5-8, they are still much in the thick of it in the Eastern Conference. They will play a back-to-back starting with the Lakers before heading to Milwaukee tomorrow evening.
The Lakers are sitting at 7-7 in a tough Western Conference but are playing their best basketball of the season so far, winning three games in a row. Los Angeles took care of Sacramento on Sunday thanks to 21 points from Xavier Henry and a double-double, 20 and 10 performances from Pau Gasol.
The leading news coming into this game is the availability of Kobe Bryant. He has been practicing, and there are rumors he may suit up tonight. Many sportsbooks have pulled this game off the board temporarily as his status becomes known. I like the Wizards either way in this game, whether Bryant suits up or not. It is best to wait for the line to go in Washington's favor if it is announced that he will be active in tonight's game.
Washington is playing fantastic basketball lately, winning their last four games and have a better roster than Los Angeles. This team was average at best last season with a fully healthy Kobe and this will be his first game back. His minutes may be limited, and he may not be 100 percent. I love Washington in this spot, but I would wait closer to game time to possible get a better price.
Pick: Wizards -4.5 at Topbet.eu
Golden State Warriors at New Orleans Pelicans +3 Total: 204
The Warriors head to New Orleans on three days' rest but without two key pieces to their starting lineup. Andrew Bogut and Andre Igoudala will both be sidelined in this matchup.
It has been a season of runs for Golden State. After winning four games in a row, they are now mired in a three game losing streak. Without Bogut and Igoudala, the Warriors have had to rely on their offensive and rebounding punch elsewhere.
Though Curry scored 22 and added 11 assists in Saturday's game against Portland, the Warriors fell 113-101. They lost a large lead in the fourth quarter, when they held a 70-56 margin on the Trailblazers. Center Andrew Bogut received a suspension for getting into a fight with Blazers center Joel Freeland. He is serving that suspension in tonight's game. Igoudala and backup center Jermaine O'Neal may also not play in tonight's contest.
The Warriors have not been good on the road this season and are currently 1-3 over their past four games. They average just 89.3 points on the road, compared with 101.4 points per game overall.
New Orleans has won three-straight games, all on their home floor before losing 112-93 at the San Antonio Spurs on Monday night. Second year forward Anthony Davis was held to a season low 10 points in the contest and the Pelicans were essentially blown out by halftime.
At 6-7, New Orleans is a better team than most give them credit for and Golden State are missing some key contributors on both offense and defense. The Pelicans have played terrible on the road, losing all five of their games, but they are a different team at home. I love them in this spot, especially with a 4-2 record at home on the year and a four game winning streak on their home floor.
Pick: Pelicans +3 available at Topbet.eu