Monday, November 11th, 2013
Memphis Grizzlies at Indiana Pacers -6.5 Total: 183.5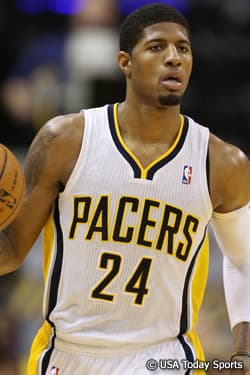 Both the Pacers and Grizzlies made it to the conference finals last season, but Indiana has started off their season in historic fashion. The Pacers look to add-on to their best start in franchise history this week against Memphis. Indiana is the only undefeated team still left in the NBA.
The Pacers won a tough game against the new-look Brooklyn Nets Saturday at home, winning the game 96-91. Paul George, who has to be the early leader for MVP, continued his assault on opposing defenses. He scored 24 points and has scored over 20 in every game this year. David West added 18.
So far, the Grizzlies season has been a mixed bag with a 3-3 record. However, based on their recent performance they seem to be trending upward. On Saturday, they won a handily against the Golden State Warriors in a 108-90 victory. Zach Randolph had his best game of the year, scoring 23 points and grabbing 11 boards.
No team has looked better than the Pacers this season, and while it is hard to go against them, even with the point spread, let alone straight up – I love this spot for the Memphis. The Pacers played four games in five days last week, and while they had Sunday off, they have been through the rigmarole in the last week.
Memphis comes into this game with a bit of a chip on their shoulder and with something to prove to the nation: That they are still championship contenders. Also, the slow pace of this game should keep it close. Memphis is physical inside, like the Pacers, and their perimeter defense is among the best in the NBA. I think they come out focused in this one and cover the 6.5 number. The money line might not be a bad play either.
Pick: Grizzlies +6.5 – Best odds available with Bovada
San Antonio Spurs at Philadelphia 76ers +6.5 Total: 205
Besides Indiana, there hasn't been a more impressive team this year than the Spurs. Seemingly ageless, San Antonio has started off the season in dominant fashion with a 6-1 record and looks primed to make another appearance in the NBA Finals.
Still, Popovich thinks his team can do better. Despite leading by 37 points in a 120-89 rout of the New York Knicks at Madison Square Garden, the famous head coach said that his team is playing "C+ or B-" basketball.
Danny Green scored 24 points in the win and added a career-high 10 rebounds as they blew out the Knicks at home. They opened the game on a 21-4 run, a lead they never relinquished, winning the game 120-89.
Greg Popovich disciple Brett Brown is head coach of the 76ers due to the successful years he had at San Antonio. The first year coach has a done a tremendous job in Philadelphia so far this year guiding the Sixers to a 4-3 record. Many in the NBA thought that Philadelphia would be among the league's worst franchises this season.
The 76ers last played Saturday in a tough 127-125 overtime loss against the Cleveland Cavaliers. Philadelphia played them in back-to-back games, winning by double digits on Friday night, 94-79.
It is always tough taking a team off a back-to-back, especially one as old as the Spurs. Popovich plays these situations well though, giving extended minutes to his bench and preserving his starters. Few teams play better in these situations, and that is a testament to Pop's genius as a head coach.
Athletically, Philadelphia is much better than we all thought, but I think they will be out schemed in this one. Popovich is the teacher, and he knows Brett Brown better than any other coach in the NBA. He is already in his head, and likely knows his gameplan. After all, he taught him almost everything he knows.
Look for the Spurs to come out with a strong effort on the road and take care of the 76ers at Wells Fargo Arena.
Pick: 76ers -6.5 betting at www.bovada.lv
Orlando Magic at Boston Celtics -3 Total: 186.5
After starting off the season 0-4, Boston has rattled off three straight wins as they take on the Orlando Magic for the second time in four days.
The Celtics won a thriller against the NBA Champion Miami Heat at American Airlines Arena on Saturday. As a team, they shot a season-best 51.7 percent, winning 111-110 on a last second three-pointer from Jeff Green. In recent games, Boston has shot much better from the field and from downtown. After entering the game on Friday with a porous 26.3 percentage from long range, the Celtics hit 10 of 21 three-pointers.
The Magic look to break a 15-game road losing streak as they fell to 0-3 on the road this year, after a 104-94 loss at Atlanta on Saturday. Orlando rallied from 17 points down in the second half only to falter again.
In Friday's game between these two teams, a 91-89 Celtics' win, Boston shot just 35.8 percent in the loss. However, the Cs got contributions from much of their roster and six players put up double digit point totals.
Despite the pedestrian lines that these two teams put up during their meeting on Friday, I expect this game to be a much higher scoring affair. The Magic's road ineptitude has become a trend, and though they can put up points in bunches; their defense on the road always seems to be terrible. Both of these teams allow opponents to score over 100 points per contest and have no insides presence that can alter and block shots consistently. I look for this game to be a up-tempo full court run and gun contest that turns into a track meet.
Pick: Over 186.5 with Bovada