Monday, December 2nd, 2013
Orlando Magic at Washington Wizards -6.5 Total: 196.5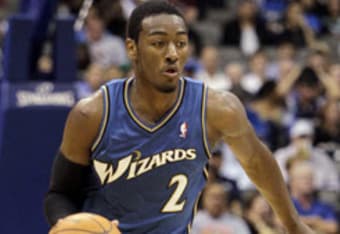 Orlando heads to Washington in a battle of downtrodden Eastern Conference franchises. However, both teams have reason for guarded optimism with some young pieces to build for the future.
The East has 13 teams under .500, and the Magic and Wizards are two of them. Washington has been hit hard with injuries as of late, losing guard Bradley Beal for two weeks and Al Harrington for three weeks with a knee injury. Also, their no. 3 overall pick, Otto Porter has yet to suit for a game this season due to injury.
Washington opened a four-game homestand this past weekend. They won their first matchup against the Atlanta Hawks, winning 108-101 and pushing their record to 8-9 this year. Few point guards have been as good as John Wall this season. He is averaging over 25 points per game and 9 assists per game. At this point, he has to be regarded as one of the NBA's best point guards.
The Magic have also had their injuries woes. Point guard Jameer Nelson continues to be sidelined with a foot injury and forward Tobias Harris may be ready to contribute again after missing 15 of the first 16 games.
Orlando's record fell to 6-10 after 109-91 loss to San Antonio on Friday, dropping their record to 6-10 on the year. The game was their fifth game in seven nights, part of a tough early season stretch for the Magic.
It is nice to see both of these teams get a little rest, which should help with the scoring numbers in this one. Neither of these teams play defense and the last five road games the Magic have played have seen an average of 211 points per contest. The Wizards should have no issues scoring the rock either. I like both the Wizards as the favorite and the over in tonight's matchup.
Pick: Wizards -6.5 and Over 196.5 with TopBet
Indiana Pacers at Portland Trailblazers +2 Total: 190.5
The Pacers have been one of the NBA's most impressive teams this month, and the same could be said for Trailblazers. The Eastern Conference meets the Western Conference tonight as two young, upstart teams face off.
At 16-1, Indiana is off to their best start in team history. They continued their winning ways with a 105-100 win over the Los Angeles Clippers on Sunday. The Pacers start his been impressive for sure, but the Clippers are the only team they have beaten with a record above .500. This is partly due to the Eastern Conference's generally poor play this year as we discussed above, but it is worth noting.
Defensively, they have been a powerhouse and lead the league in both points allowed with 86.5 and field goal percentage against at 39.0 percent. They have only allowed two teams to reach 100 points this season.
The Blazers are coming off a 114-108 road win over the Lakers at the Staples Center, a game that was played a few hours after Indiana beat the Clippers. The win improved their record to 14-3. They have been playing lights out in November, earning 12 victories in their 13 contests.
LaMarcus Aldridge has become a dominant player in the paint with a solid supporting cast. He is almost averaging a double-double with just over 22 points and 9.5 rebounds per game.
This is my favorite game on the board tonight, and I have a play for both the side and the total. I am leaning towards the under heavily in this one. Not just because the Pacers play stifling defense but because they had a tough game against the Clippers last night and are probably a bit fatigued. They always seem to start off games slow from a scoring perspective anyway, but I think it will be twofold tonight.
Portland has an excellent chance to beat the Pacers tonight. They are a premier team, but their schedule has been easy so far. I like the Blazers and the under tonight.
Pick: Portland +2 and Under 190.5 available at TopBet