Monday, November 4th, 2013
Odds provided by Bovada.lv
Minnesota Timberwolves at Cleveland Cavaliers -2 Total: 196.5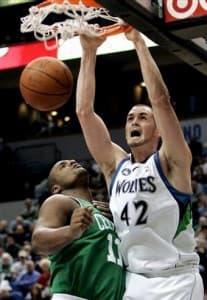 The Minnesota Timberwolves head into Cleveland in the midst of their best start in 12 years. At 3-0, the Wolves are off to their best start since winning the first six games of their 2001 season.
Minnesota won a tough game in New York yesterday, where they dominated for much of the game, winning 109-100. The Timberwolves have been shooting lights out from the field and have totaled more than 100 points in each of their first three games.
Kevin Love seems to be back to his All-Star self after he was limited by injuries last season. The forward is averaging just less than 30 points per game and 14.7 rebounds. He is shooting 50 percent from the floor and is 8 for 21 on 3-point attempts this season. Kevin Martin, a free agent signing formerly of the Thunder also is making an impact. He scored 30 points in the win against the Knicks on Sunday, hitting all five of his 3-pointers.
The Cavaliers have been going the other direction, but the season is still young. At 1-2, Cleveland looks to break their two game losing streak after an opening season win against the Brooklyn Nets.
Their last game was on Saturday, an 89-74 loss at Indiana. It was their offensive performance of the season. They shot under 35 from the floor and were a woeful 3 of 15 from 3-point range. Third year point guard Kyrie Irving is also off to a slow start, after earning All-Star honors last season. He is averaging just over 15 points and 7 assists per game, compared to last year's 22.5 and 5.9 assists.
Some bettors might like Cleveland in this spot, especially because they have two days rest and the Timberwolves are coming off a back-to-back, but I don't see it that way. The Cavaliers look out of sorts, and no one is currently playing better basketball than Minnesota. With Love fully healthy and Kevin Martin lighting it up from downtown, this game should be a cakewalk for the much better Timberwolves.
Pick: Minnesota +2 betting at Bovada.lv
Boston Celtics at Memphis Grizzlies -11.5 Total: 186
Boston is one of the few winless teams this season with first year Celtics' coach Brad Stevens still looking for his first win. Bordering on a historically poor start, another loss to 0-4 would match the franchise's worst start since the 1969 season.
Despite rallying late against Detroit in Sunday's game, the Cs still lost the game 88-77. They overcame a 15-point halftime deficit and to come within two points but then the Pistons scored 10 straight points getting a lead they would not relinquish.
The Celtics have looked lost on offense without point guard Rajon Rondo and lead the league in average turnovers per game with 21. There are different names filling up the stat sheet every night with no true number one option yet. Rookie center Kelly Olynyk led the Celtics in scoring in the loss against the Pistons.
The Grizzlies take on the Celtics with a 1-2 record after a 111-99 loss on Saturday at Dallas. Though they ultimately lost the game, they battled back from a 21 point deficit with a 17-2 run but could not convert enough baskets or match the Mavericks.
The scoring for the most part has been centered around Memphis' core pieces. That is point guard Mike Conley, forward Zach Randolph and center Marc Gasol. But, they need some help. The trio scored 68 of the team's 99 points in the loss to Dallas.
The Grizz seem to be in a bit of a slump to start the season, but Boston coming to town may be all they need to get out their funk. This is a massive mismatch and a game I could easily see this game being over at halftime. Not only is Memphis much better, but their rebounding advantage in this game will be too much to overcome.
The Celtics don't have perimeter players who can do damage from distance, and they are facing two excellent guards in Conley and Tony Allen that will lock the perimeter down defensively. Inside, it is even worse. Marc Gasol is the best defensive center in the league and the Celtics have already been outrebounded 55-13 in their first three games. This game has blowout written all over it.
Pick: Grizzlies -11.5 taking the odds at Bovada
Golden State Warriors at Philadelphia 79ers +7 Total: 212
I'm going to go less in depth on this one, but I think the Warriors are a premier play against the 76ers. With wins over Washington and Chicago, Philadelphia is riding high at this point, and I think it is clear everyone underestimated this team. However, they still probably are not a playoff caliber team and are facing one of the best teams in the West in the Warriors.
Golden State rested on Saturday and is now focused as they start a long road trip. The Sixers are no longer just a game on the schedule for the Warriors. They are ready and motivated to embarrass this team on their home floor. Their roster is oozing with talent, and they are going to knock Philly back to reality in this one.
Pick: I'm on the Warriors -7 found at Bovada