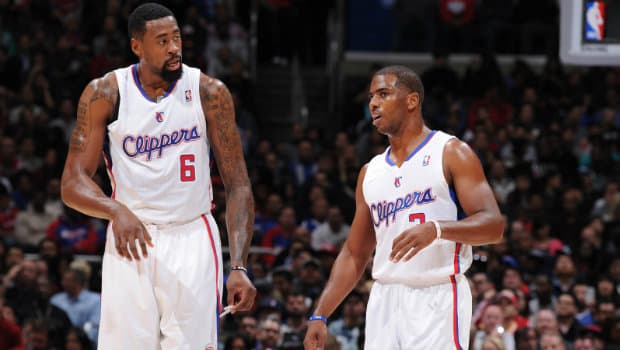 The Atlanta Hawks and Los Angeles Clippers are two favorites that I'll be betting on tonight in NBA action. There are twelve games on the schedule tonight (Wednesday, February 11th 2015).
We're still waiting on the opening lines for a few of the games though.
Need an online bookie to bet on the NBA? You can't beat the TopBet Sportsbook and they even cater to US players. When you join you'll receive a $250 cash bonus on your first deposit plus on top of that your account will be credited with a $10 weekly free bet.
Atlanta Hawks vs. Boston Celtics Picks
Best Bet: Hawks –7 (-110)
If the Atlanta Hawks (43-10) can stay healthy they could end up making it to the NBA Finals – they're that good. The Boston Celtics (19-31) are fighting for a playoff spot, but on the outside looking in.
Atlanta ranks inside of the top 6 in scoring and points allowed. The Hawks are scoring 103.7 PPG (6th) while giving up 97.0 PPG (5th). The only area where they're bad is rebounding (40.8 RPG – 27th).
Jeff Teague is having a career year and is averaging 17.2 PPG, 2.6 RPG, 7.5 APG and 1.71 SPG. Lately, the big men have been coming on the Hawks as well. Millsap and Horford are both playing great.
The Celtics offense has been fine this season, but they don't play defense. Boston is scoring 101.0 PPG (11th), but they allow 102.6 PPG (25th). Giving up over 100+ PPG is a not a recipe for winning in the NBA.
Boston is 5-5 in their last 10, but this team is in free fall mode. Rondo and Green are both gone from the team and now the younger players have taken over including Sullinger and Smart.
Atlanta is 2-0 against Boston this season, but 1-1 ATS. Last month the Hawks went into Boston and won 105-91, which easily covered the –5.5 point spread. I expect a similar result this time around.
Houston Rockets vs. Los Angeles Clippers Picks
Best Bet: Clippers –3.5 (-110)
The Rockets (36-16) just beat the Suns (127-118) last night on the road and now they have to travel to play the Clippers (34-19) in a B2B. The spread is so small because Blake Griffin is injured.
Dwight Howard is out for the Rockets still, so the paint will be open for Jordan to do what he does. I expect Jordan to have a monster game, as Motiejunas, Dorsey or Smith won't be able to stop him.
He'll have to play well because Chris Paul is going to have his hands full. Beverley is a defensive-minded PG that will shadow Paul all game. The only good thing is that Beverley just played big minutes.
Los Angeles is one of the highest scoring teams (106.7 PPG – 3rd), but they allow 100.8 PPG (21st). The Rockets don't score as many points (102.8 PPG – 7th), but they only give up 99.2 PPG (13th).
Harden is the only chance that the Rockets have in this game. He's coming off a monster game, as he put his team on his back last night. I doubt he'll be able to mustard the same level of intensity.
If the Clippers were on the road I'd have second thoughts about this bet, but the Clippers are at home where they have a 20-7 record. This is a big game for LAC to maintain their spot in the West.
There are plenty of other games to bet on tonight at TopBet. Good luck everyone!