Monday, December 9th, 2013
Golden State Warriors at Charlotte Bobcats +6 Total: 194.5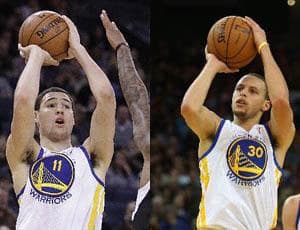 One of the NBA's highest scoring teams will meet the lowest scoring team tonight as the Warriors head to Charlotte to take on the Bobcats.
After a lull in play earlier in the year, the Warriors will look to get their fourth win in their past five contests on Monday Night. After getting beaten by Houston handily, 105-83 on Friday, Golden State bounced back in a powerful way beating Memphis 108-82 on Saturday. Stephen Curry and Klay Thompson led the team in scoring with 22 and 30, respectively.
The above win put them at 12-9 on the year in a tough Western Conference. The Warriors are one of the higher scoring teams in the league but have often been faulted for their defense. The club's defense has been much better as of late. They have held their opponents under 46 percent shooting for their past seven contests.
While their defense has improved, they may not need it against the Charlotte Bobcats. Charlotte is the league's lowest scoring team. One of the few teams to average fewer than 90 points per contest, the Bobcats have been poor in field-goal percentage with 41.2 and from downtown. They are shooting 28.7 percent from three.
With that said, they are coming off their best performance of the year offensively. They shot over 46 percent as a team against the 76ers on Friday, winning 105-88 putting their record at 9-11 on the season.
I may suggest bettors wait on this pick closer to game time because I think it moves to +6.5 or even possibly +7 before tip. This would make the game an absolute must play. I like Charlotte in this matchup, especially at home. They have played much better at home this year and do have a size advantage against the Warriors' frontcourt. Golden State may not be as motivated to take care of Charlotte tonight after knocking off their nemesis Memphis the other night.
Pick: Bobcats +6 with Bovada.lv
Los Angeles Clippers at Philadelphia 76ers +8.5 Total: 207
As LA is about mid-way through their east coast road trip, they have struggled. They will get another chance to get back on track Monday as they take on Sixers in the City of Brotherly Love.
The Clippers have started out their seven games road trip with a 1-2 record after losses against Atlanta and Cleveland but with a victory at Memphis. Their last game was on Saturday, a rather low scoring 88-82 loss against the Cavaliers. Los Angeles had their worst offensive game of the season in the contest, scoring under 90 points for the first team this year.
Bouncing back from their rough start to their road trip may be easier against the 76ers who have lost six out of their last seven games. At 7-14, Philadelphia has come back down to earth after an unbelievable start to the season. Despite leading by four points against Denver on Saturday, Philly was beaten soundly in the second half of the 103-92 loss.
The 76ers will be without rookie guard Michael Carter-Williams who has been outstanding this year. He was released from the hospital with a knee infection today and has rejoined the team, but probably will not return tonight. Philadelphia is just 1-5 in games without Carter-Williams this year.
While it is hard to like the 76ers at all with their recent play, and even more-so without Carter-Williams, 8.5 is a lot of points. The Clippers seem to play dominant basketball for weeks at a time but then lose motivation for a week or two before they start turning it out again. This number is just too high for my liking, and I think there is a lot of value with Philly at home.
There is also a look-ahead spot in this one to consider. Doc Rivers makes his homecoming to Boston on Wednesday, a game that both sides are already thinking about. There's a chance they look past Philadelphia in anticipation of Wednesday's matchup.
Pick: 76ers +8.5 available with Bovada.lv