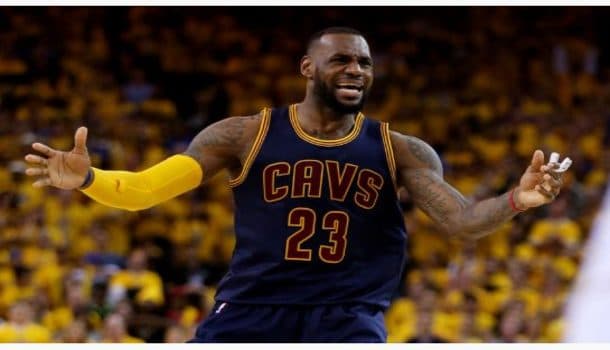 Date: Sunday, June 7th 2015 at 8:00pm ET
Well, we're only heading into game 2 of the NBA Finals, but the Cleveland Cavaliers are in big trouble, as it has been announced that Kyrie Irving will be out for the rest of the series with a fractured knee cap.
Kevin Love and Irving are now out, so Lebron James is on his own.
The Golden State Warriors needed OT in game 1, but they won 108-100, after outscoring the Cavaliers 10-2 in the OT frame. It actually looked like the Cavs were going to win late in the 4th quarter, but they fell apart.
James has said "bring on game 2", but he must feel worse about his chances. However, if he could pull off the incredible and win the NBA Championship at this point – he'd truly be the "King".
Game 2: CLE @ GSW Odds
Golden State come into game 2 on Sunday as -8 point favorites. That's a big point spread to cover and you can bet the Cavs will give it everything they can in this game, as going down 2-0 would really put them in a hole.
I'm more interested in the over/under in this game, which is currently at 200.5 points.
Cavaliers vs. Warriors Preview for Game 2
James had a great game to start the series, as he finished with 44 points, 8 rebounds and 6 assists. He easily led all scorers. Stephen Curry led the Warriors in scoring with 26 points on 50% shooting from the field (10-20).
Cleveland will need to shoot better from deep and from the charity stripe. They only shot 29% (9-31) on 3-point attempts and 68.4% (13-19) on FT's. They also should focus on attacking the paint more now without Irving.
J.R. Smith (3-10) and James (2-8) were both terrible on 3-pointers in the opener.
Irving played the majority of game 1 and finished with 23 points, 7 rebounds and 6 assists. That production isn't going to be made up by Matthew Dellavedova. In fact, Dellavedova struggled to get anything going in the opener.
Players like Iman Shumpert and Tristan Thompson will need to step up in game 2.
Both players struggled in game 1, but they've had success in the playoffs this year. Both players are capable of putting up big numbers, although I believe Thompson has the best chance against Draymond Green.
Green is a menace to play against, but he isn't that big for a PF, so Thompson can bang low.
Shumpert has Klay Thompson covering him, which isn't going to be easy throughout the series. Thompson plays great defense, plus he's always moving on offense, which makes the player covering him expend a lot of energy.
I was impressed with Timofey Mozgov, as he had 16 points and 7 rebounds. I figured he'd struggle with Andrew Bogut covering him, but that wasn't the case in the opening game.
Cavaliers vs. Warriors Predictions
Bet on over 200.5 points (-110) at TopBet
It's tough going against the Warriors at home, especially now with Irving out for the Cavs.
They dominated OT and won by 8 points in game 1, so I believe they'll be able to cover the point spread after a full game with no Irving. Curry is absolutely going to destroy anyone the Cavs throw on the court at PG.
My best bet is on the over 200.5 points. James is likely going to drop 50+ points on his own, plus Curry is going to score more than he did in the opener. I can see this game being wide open with plenty of scoring.