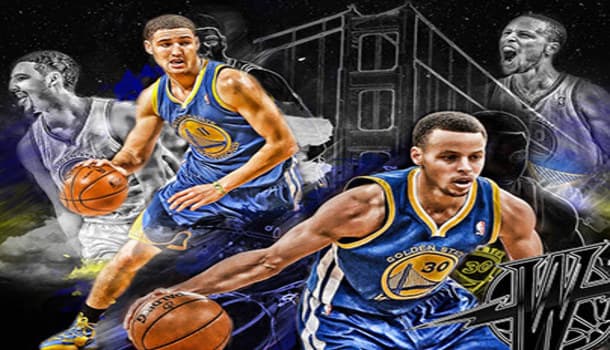 Date: Thursday, June 11th 2015 at 9:00pm ET
The Cleveland Cavaliers host the Golden State Warriors tomorrow night at the Quicken Loans Arena in Ohio. The Cavs have a 2-1 series lead, after winning two games in a row without Kyrie Irving.
I know I wasn't the only one who counted the Cavaliers out when Irving went down.
However, Lebron James, Matthew Dellavedova and the rest of the Cleveland roster have stepped up and put the best team in the NBA on the ropes. A win in game 4 would practically seal it up.
I have no idea what's wrong with the Warriors offense, but they've been getting worse as the series has progressed. They showed some life in the 4th quarter of G3 and will need to build upon that.
Warriors vs. Cavaliers Game 4 Odds
Golden State opened up at -2 and has been bet up to -2.5 or -3 at most shops. You can still get them at -2.5 at BetOnline. The over/under is 193 points and available at GTBets.
We're not going to see much more movement, if any, before tip-off in 22 hours.
Warriors vs. Cavaliers Game 4 Picks
I hate to say it, but this is do or die time for the Warriors.
Confidence continues to build for the Cavaliers and if they go up 3-1 – there's no way the Warriors will be able to comeback. I expected game 3 to play out differently, but I'm stubborn.
Golden State has too much talent to lose again. Stephen Curry has to start playing like a MVP and hit his shot consistently. He ended up posting a good line in game 3, but he wasn't on his game at all.
Curry led his team with 27 points – the only other starter to score in double-digits was Klay Thompson (14). Bogut, Green and Barnes were all terrible offensively and that can't happen again either.
The splash brothers can't do everything by themselves – they need production from everywhere. One player that needs to step up on offense is Green – he's only 8-30 from the field in the series.
Allowing Dellavedova to score 20 points is unacceptable too. Dellavedova has been playing great since replacing Irving, but Curry needs to lock him down and not allow him to roam all over the court.
The Warriors are going to cover the point spread and here's how they're going to do it:
They're going to make it rain threes in Cleveland tomorrow night. So far in the series – the Warriors have shot 37% (10-27) in G1, 22.9% (8-35) in G2 and 35.3% (12-34) on 3-pointers.
That's way below their season average and I expect some of those shots to start dropping.
My next bet in game 4 is on a 3-pointer prop market. I'm betting on over 20.5 3-pointers being made in the game at -120 odds, which you can wager on at GTBets.
It would be the second time in the series that these teams exceeded that total. Game 1 had 19 made 3-pointers, game 2 had 17 made 3-pointers and game 3 had 21 made 3-pointers.
The last game had 21 3-pointers and that's with the Warriors only going 12-34 from deep.
Thompson and Curry are going to throw up a ton of 3-pointers and they're finally due for a big game. I believe this prop will easily hit – Curry, Thompson and James alone could hit the total.
J.R. Smith has quietly knocked down 2, 2 and 3 3-pointers in the series so far. He's always capable of knocking down a handful or more when he's hot. There's a lot of 3-point specialists on both teams.