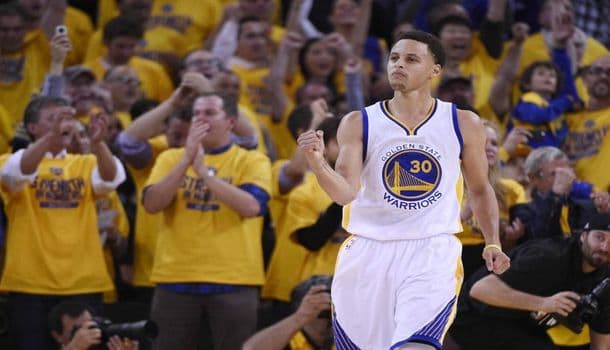 Date: Tuesday, June 16th 2015 at 9:00pm ET
The Golden State Warriors have won two games in a row and now have a 3-2 lead in the series. It would take a miraculous comeback by Lebron James and the Cavs to win the 2015 NBA Finals.
Cleveland is 1-1 at home in the series – winning the first game 96-91 (G3) and losing the second game 103-82 (G4). The Warriors are 3-0 in the series when they've scored more than 100 points.
Warriors vs. Cavaliers Game 6 Odds
Warriors -3.5 (-110) vs. Cavaliers +3.5 (-110)
Over 194 Points (-110) vs. Under 194 Points (-110)
The public is split on the point spread in this match-up so far, but there has been heavy action coming in on the under, which is rare. I'll definitely be going contrarian and betting on the over in this game.
Sure, defense has the won Warriors the last two games, but the Cavaliers are on the ropes and will be looking to push the tempo in this one. Look for both teams to exceed 100+ points.
It would be the first time since game 1 that both teams exceeded 100+ points.
Warriors vs. Cavaliers Predictions for Game 6
Bet on the Cavaliers +3.5 (-110) at TopBet
Bet on Over 194 Points at GTBets
James was the best player in game 5, as he finished with another triple-double (40 Points, 14 Rebounds and 11 Assists), but Stephen Curry had his best game of the series (37 Points, 7 Rebounds and 4 Assists).
Curry stepped up when it counted – scoring 17 points in the final quarter.
The last two wins have come without Andrew Bogut on the floor for any extended time. He played just 2:46 off the bench in game 4 and he didn't play at all in game 5, which is a bit surprising.
Bogut has been getting crushed in the series, so Andre Iguodala has been starting and defending James for most of the game. It has clearly worked, as the Warriors have won both games with Iggy starting.
James has had some insane stat lines, but that's because he always has the basketball. He only shot 31.8% from the field in G4 and 44.1% in G5 – you can bet Iguodala will be tasked with covering James again.
Playing small hasn't hurt the Warriors in the paint either too much yet.
Timofey Mozgov exploded for 28 points (9-16 from the field) in G4, but he followed that up with a dud (0 Points in 9 Minutes). The Cavs decided to play small and it clearly didn't work out.
Mozgov should have played way more minutes and been a force in the paint.
I believe the Cavaliers will be able to force a game 7 or at the very least this game will come down to the wire and getting +3.5 points on a team on the ropes is something I can't pass up.
The total seems low too and I'm surprised the public has been betting the under so far.
Golden State is rolling offensively and should eclipse 100+ points again. They're playing small on defense, but the offense has been quick and everyone has been dishing it out very well.
Bogut isn't much of an offensive threat, so him not playing is ideal for over bettors.
Matthew Dellavedova has really struggled the last two games, but I believe we'll get a better game out of him. J.R. Smith is slowly coming around too and he's capable of dropping a lot of points.