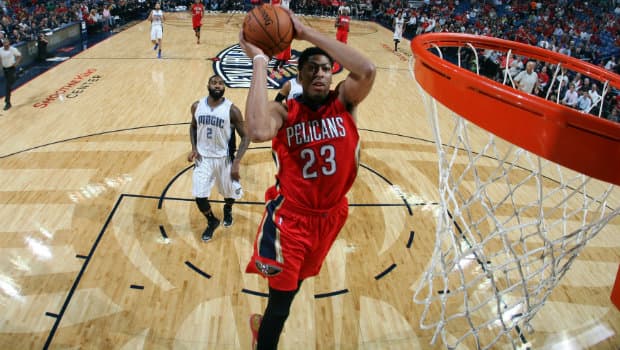 Tonight was quiet in the NBA with just two games, but Wednesday has a jam-packed schedule and I'm going to share my best bets. A total of thirteen games are on the schedule, so there is lots of action.
If you need a place to bet on the NBA we recommend TopBet here at SBO. TopBet has a 50% bonus for up to $250 cash plus active bettors receive a $10 free bet for the NBA every Thursday.
New Orleans Pelicans vs. Charlotte Hornets Picks
Best Bet: Pelicans –4 (-110)
New Orleans (17-17) lost their last game and they're just 6-12 on the road, but this is a game NO has to win to keep pace in the West. They're ninth in the West and 2.5 GB of a playoff spot right now.
The Bobcats (12-24) are on a 2-game winning streak, but the wins have come against the Celtics and Magic. This Pelicans team is much better than those two and I expect that to show in this match-up.
I like targeting Western Conference teams against Eastern Conference teams when I can. NO comes into this game averaging 101.4 PPG (15th), 43.4 RPG (11th) and 21.4 APG (14th) so far this season.
They're better than Charlotte in each of those categories. Al Jefferson is also out for Charlotte, so look for Anthony Davis to dominate the paint. He should easily put up 25+ points and 10+ rebounds.
Phoenix Suns vs. Minnesota Timberwolves Picks
Best Bet: Timberwolves +8 (-110)
Minnesota (5-28) has now lost 12 in a row and they're in last place in the West. The Suns (21-16) just won tonight over the Bucks in Milwaukee and now they have to travel tonight for tomorrow's game.
That's going to be tough on this Suns team and they're not really a team that blows anyone out, so I'll gladly jump on the Timberwolves ATS. I've been watching Minnesota and they've been improving.
Andrew Wiggins now leads the team with 13.9 PPG, but his numbers have been up big over the last few weeks. Dieng and Muhammad are also playing well lately, but the Timberwolves still can't seem to win.
Phoenix will likely win, but it wouldn't surprise me if it were only by 2-3 points. Minnesota can score with most teams in the NBA, but the problems are on defense. They keep this close and cover ATS.
Los Angeles Clippers vs. Los Angeles Lakers Picks
Best Bet: Clippers –10.5 (-110)
These big spreads are always tough in the NBA, but we've been seeing them a lot the past couple years due to disparity. I expect the Clippers (23-12) to want nothing more than to beat the Lakers (11-24).
The Clippers are just 5-5 in their L10, but the Lakers are even worse 3-7 in their L10. LAC score 106.3 PPG (5th) and give up 100.2 PPG (19th) while LAL score 102.0 PPG (12th) and allow 108.1 PPG (29th).
Blake Griffin and DeAndre Jordan are both playing like beasts and they'll have a field day in the paint against this weak Lakers interior. Chris Paul will dominate at PG and the only hope for LAL is Bryant.
However, Bryant throws up a ton of shots and his shooting is down this season. He clearly can't lead this team on his own. It wouldn't surprise me if the Clips pull the starters after 3 quarters in this one.
The money line odds aren't out yet, but I may be putting a ½ unit on the 76ers ML, as they host the Bucks. The Bucks played tonight and now have to travel, so it could take a lot of them.