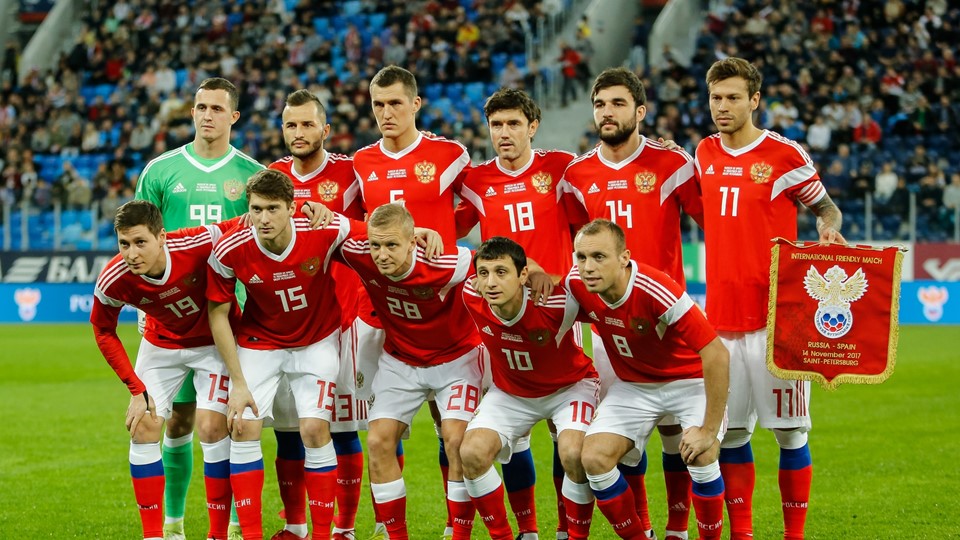 Russia is set to host the World Cup this summer for the first time in their history, but how does the host nation usually fare in big tournaments? Playing in front of passionate home fans is often seen as a distinct advantage but is the effect overstated or can it really carry a side to overachievement? As part of our World Cup betting guide, it's time to look at the host nation and their fate in group A alongside Uruguay, Saudi Arabia, and Egypt.
Host Nation History
The first statistic that jumps out when comparing the relative success of home nations, is that South Africa was the first and only host to fail for the knockout rounds when they staged the 2010 World Cup. Even then, despite being one of the lowest-ranked nations to host the tournament, they were a whisker away from reaching the next stage. The Bafana Bafana were given a tough task against Uruguay, Mexico, and France, but started well with a 1-1 draw against the Mexican side. A 3-0 defeat at the hands of Uruguay followed, and South Africa entered the final group game against France needing a win and a sizable Uruguay defeat of Mexico to progress. A surprise 2-1 win over France helped them uphold their side of the bargain, but combined with Uruguay's slender 1-0 win over Mexico, it wasn't quite enough to get them over the line. However, they finished 3rd in the group, ahead of France, and were only eliminated on goal difference.
In other World Cup's since 1990, Italy, France, Germany and Brazil have all progressed beyond the group stage in tournament's they hosted. Two other renewals which bear more relevant comparison with Russia 2018, were those held by the USA in 1994 and South Korea & Japan in 2002. The USA squeezed through as one of the best third-placed sides (at a time when the tournament consisted of only 24 teams). Both South Korea and Japan topped their groups in 2002 to reach the knockout rounds, with South Korea going on to compete in the semi-final.
The evidence suggests that home advantage gives the host nation a significant boost, at least in terms of making it through to the second phase of the competition.
Team Russia Profile
One of the difficulties of assessing a host nation is that by qualifying automatically, they have a long period without competitive games while others are going through the qualification process. Looking at Russia's recent history in FIFA and UEFA tournaments, there are reasons to believe they have more than a fighting chance in 2018.
A side featuring Andrey Arshavin qualified for Euro 2012 and were considered dark horse in the build-up after going on a fifteen-game unbeaten run prior to the tournament. A shock 1-0 defeat to Greece in the final group game saw them eliminated at the first hurdle, resulting in a hostile reaction from home fans and media and costing manager Dick Advocaat his job.
Fabio Capello replaced Advocaat as boss and led Russia to the top of their qualification group for the 2014 World Cup. However, it was a disastrous effort on Brazil which saw them eliminated at the group stage again. Legendary goalkeeper and captain, Igor Akinfeev, committed an uncharacteristic mistake to hand a lead to South Korea in the first group match, Russia coming back to earn a 1-1 draw. They went on to hold Belgium for 88 minutes before conceding a late goal to lose the second group game. A 1-0 defeat to Algeria was shrouded in controversy as a green laser light was shone in Akinfeev's eyes as he conceded the winning free kick. Both the 'keeper and Capello blamed the laser for Russia's defeat.
The Russian side qualified for Euro 2016 in France but had a tournament to forget after losing to Wales and Slovakia, and claiming just one point from a 1-1 draw with England. Since then, Russia has played 16 friendly internationals with a record of W5-D5-L6. However, their most recent international – a 3-3 draw with Spain – provided a boost in national confidence and belief.
The Squad
Head coach Stanislav Cherchesov is a former USSR international goalkeeper and has managed, among others, Amkar Perm, Spartak Moscow, and Polish side Legia Warsaw. He took over as manager of the national side in August 2016 and was given a lofty target of reaching the semi-finals of the World Cup.
The squad is made up almost exclusively of players from the Russian Premier League, with only two current members plying their trade elsewhere. Players to watch include experienced goalkeeper Igor Akinfeev who has been a fixture of the side for over a decade, CSKA Moscow's star playmaker Alan Dzagoev, highly experienced wing-back Yuri Zhirkov, and Krasnodar striker Fyodor Smolov, who has been linked with a move to both Everton and West Ham in the English Premier League.
Group A
Saudi Arabia is considered a huge outsider for the World Cup and is roundly expected to struggle in the group matches. At the other end of the scale, Uruguay is favorite to win group A and are certainly the side with the most international pedigree in the section. Egypt is the other team taking on Russia in the group, and the African side arguably presents the biggest challenge to the host nation in terms of group qualification.
Comparisons are equally difficult for punters and bookmakers alike. Official FIFA rankings list Russia as 62nd in the world and Egypt as the 30th best side in the world. However, ELO international football rankings tell a different story, with Russia rated 43rd and Egypt rated 50th.
Liverpool's Mohamed Salah is the standout player in the Egyptian side, with a large contingent of the squad plying their trade in their home country or Saudi Arabia. Those playing further afield are spread out across Europe and America but most are playing at 'second-tier' clubs. Egypt is a very well-organized team which concedes few goals, attributes which served them well as they finished 2nd in the 2017 Africa Cup of Nations.
In Summary
Russian manager Cherchesov has wound down expectations slightly but has made clear that their target is to qualify for the knockout stages and then see what happens. They will begin the campaign with an opening match against Saudi Arabia, followed by the tie against Egypt, with the final group match against Uruguay. Cherchesov noted that having the games in that order is an advantage, and with the benefit of home nations status, there looks to be a bit of value about quotes of 2/1 with BetVictor for the Uruguay/Russia straight forecast in group A.