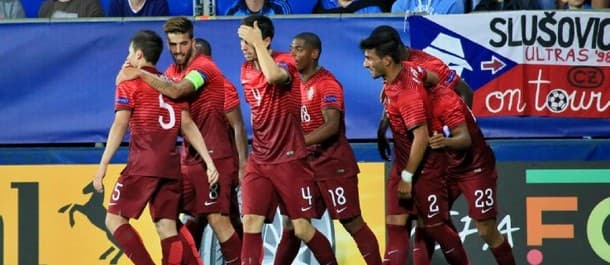 The UEFA European under-21 Championship is underway in the Czech Republic, with eight teams competing for the international trophy. England began their campaign with a 1-0 reverse to Portugal, and they face Sweden in what has become a must-win match on Sunday. The Portuguese take on Italy, who also suffered defeat in the first game, going down 2-1 to 10-man Sweden.
In the other group Czech Republic were beaten 2-1 by Denmark in the tournament opener, while Serbia and competition favourites, Germany, shared a 1-1 draw. The hosts face Serbia in the next round of matches, with Germany set to take on Denmark. The two teams that really stand out at the prices are Portugal and Serbia, while England can also be given another chance when they meet Sweden.
Saturday 20th June
Group A will get the weekend proceedings underway on Saturday, with Serbia and the Czech Republic to kick off first, followed by Germany and Denmark later in the evening. The Danes lead the way with three points after their come-from-behind victory against the hosts, while Germany and Serbia have a point apiece after they finished all square.
Serbia U21 v Czech Republic U21 5:00pm
The Czech Republic have much work to do to qualify after that opening match reverse. Denmark were considered their best chance of getting three points, and they have tough games to come versus Germany and Serbia. The Germans are the favourites to take the entire competition, while Serbia are many people's dark horse this year due to the abundance of young talent in the their squad. Here are the current odds for the match:
Serbia – 2.50Bet €100 to win €2503/2Bet £100 to win £250+150Bet $100 to win $2501.50Bet HK$100 to win HK$2501.50Bet Rp100 to win Rp250-0.6667Bet RM100 to win RM250 with William Hill
Czech Republic – 3.10Bet €100 to win €31021/10Bet £100 to win £310+210Bet $100 to win $3102.10Bet HK$100 to win HK$3102.10Bet Rp100 to win Rp310-0.4762Bet RM100 to win RM310 with Totesport, Betfred and Betfair
Draw – 3.40Bet €100 to win €34012/5Bet £100 to win £340+240Bet $100 to win $3402.40Bet HK$100 to win HK$3402.40Bet Rp100 to win Rp340-0.4167Bet RM100 to win RM340 with Totesport, Betfred and Betfair
At first glance Serbia look massively overpriced, and one suspects that the bookmakers are paying too much heed to the Czech's home advantage. It all started so well for the Czech's after taking a 35th minute lead against Denmark, but a much improved second half display from the Danes saw them fashion two goals to leave the hosts pointless.
They qualified for the competition automatically as hosts, while the other seven teams had to go through a grueling qualification campaign and a two-legged play-off to get here. Serbia knocked out the current holders, Spain, in that play-off, bringing to an end a 35-match unbeaten Spanish run. They held Germany to a 1-1 draw in their first match, taking the lead in the 8th minute, only to be pegged back in the 17th. Germany had a man sent off with 20 minutes to go, and the game petered out into a stalemate. That was an excellent start for the Serbs in their toughest group match, and victory here would see them in a great position to qualify as one of the top two in the group.
Germany U21 v Denmark U21 7:45pm
Germany need to get their tournament up and running after what they will see as a disappointing result against Serbia. Denmark are a solid organized side though, and have put themselves in a great position after grabbing three points from the Czech Republic.
Germany – 1.75Bet €100 to win €1753/4Bet £100 to win £175-133Bet $100 to win $1750.75Bet HK$100 to win HK$175-1.33Bet Rp100 to win Rp1750.7500Bet RM100 to win RM175 with William Hill, Totesport and Betfred
Denmark – 5.00Bet €100 to win €5004/1Bet £100 to win £500+400Bet $100 to win $5004.00Bet HK$100 to win HK$5004.00Bet Rp100 to win Rp500-0.2500Bet RM100 to win RM500 with Ladbrokes, William Hill and Betfair
Draw – 4.00Bet €100 to win €4003/1Bet £100 to win £400+300Bet $100 to win $4003.00Bet HK$100 to win HK$4003.00Bet Rp100 to win Rp400-0.3333Bet RM100 to win RM400 with Betfair
Although Germany are fancied to win this, they are short enough at the odds and one is inclined to leave this game alone.
Sunday 21st June
Group B matches are set for Sunday, and England have it all to do after the 1-0 reverse to Portugal.
Sweden U21 v England U21 5:00pm
Sweden – 4.75Bet €100 to win €47515/4Bet £100 to win £475+375Bet $100 to win $4753.75Bet HK$100 to win HK$4753.75Bet Rp100 to win Rp475-0.2667Bet RM100 to win RM475 with Paddy Power and Skybet
England – 1.87Bet €100 to win €18787/100Bet £100 to win £187-115Bet $100 to win $1870.87Bet HK$100 to win HK$187-1.15Bet Rp100 to win Rp1870.8700Bet RM100 to win RM187 with Boylesports
Draw – 3.75Bet €100 to win €37511/4Bet £100 to win £375+275Bet $100 to win $3752.75Bet HK$100 to win HK$3752.75Bet Rp100 to win Rp375-0.3636Bet RM100 to win RM375 with Ladbrokes
They are worth giving another chance though, against a Sweden side who should be less defensively sound that the Portuguese. England started with Harry Kane and Danny Ings up front, who have both had excellent seasons in the Premier League, with Kane winning PFA Young Player of the Year and Ings' form earning him a summer move to Liverpool. The under-21's have been superb under Gareth Southgate, winning 15 of 17 competitive matches prior to the tournament, and they will not want to go out without a fight.
Sweden pulled of something of a shock against Italy in their opening game, winning 2-1 despite playing the majority of the match with ten men. Milosevic was sent off after 27 minutes and Italy scored from the resulting penalty to make it 1-0. However, the ten men fought back and having equalized in the 56th minute, Italy's Sturaro was sent off with ten minutes left. This was the only invitation the Swedes needed and they secured a penalty of their own in the 86th minute to win the match.
This will be a great game to watch, and England are often best when their backs are against the wall. They are taken to come out firing and take control of the game.
Italy U21 v Portugal U21 7:45pm
The other side that stands out immensely at the odds is Portugal. They had an excellent record in qualification, and beat England 1-0 in the opener to sit top of the group with three points. Italy are pointless after their opening game defeat, and the pressure is on them to win this game. Unlike England, this may play against the Italians and the more they push on, the more the canny Portuguese will hit them on the break.
Italy – 3.30Bet €100 to win €33023/10Bet £100 to win £330+230Bet $100 to win $3302.30Bet HK$100 to win HK$3302.30Bet Rp100 to win Rp330-0.4348Bet RM100 to win RM330 with Boylesports, Unibet and 888Sport
Portugal – 2.45Bet €100 to win €24529/20Bet £100 to win £245+145Bet $100 to win $2451.45Bet HK$100 to win HK$2451.45Bet Rp100 to win Rp245-0.6897Bet RM100 to win RM245 with Betfair
Draw – 3.30Bet €100 to win €33023/10Bet £100 to win £330+230Bet $100 to win $3302.30Bet HK$100 to win HK$3302.30Bet Rp100 to win Rp330-0.4348Bet RM100 to win RM330 with Ladbrokes
Portugal could effectively tie up qualification with a win here, and that fact will not be lost on the coach who would relish the opportunity to rest players for the final group game against Sweden. Italy have some good quality in their ranks, but as they showed against Sweden, they can be vulnerable at the back. Portugal are a top class side at this level, and they will exploit any Italian weakness.
Tips Summary
UEFA European under-21 Matches, Saturday 20th June:
Serbia – 2.50Bet €100 to win €2503/2Bet £100 to win £250+150Bet $100 to win $2501.50Bet HK$100 to win HK$2501.50Bet Rp100 to win Rp250-0.6667Bet RM100 to win RM250 with William Hill
Sunday 21st June:
England – 1.87Bet €100 to win €18787/100Bet £100 to win £187-115Bet $100 to win $1870.87Bet HK$100 to win HK$187-1.15Bet Rp100 to win Rp1870.8700Bet RM100 to win RM187 with Boylesports
Portugal – 2.45Bet €100 to win €24529/20Bet £100 to win £245+145Bet $100 to win $2451.45Bet HK$100 to win HK$2451.45Bet Rp100 to win Rp245-0.6897Bet RM100 to win RM245 with Betfair
England
European under-21 championship
Portugal
Serbia