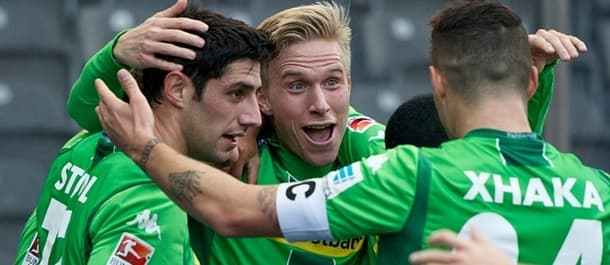 Saturday's match between the division's most in-form team and its lowest scoring side throws two of the best three bets in the 12th round of German Bundesliga matches.
One will start with the simple wager and that is a bet on high-flying Monchengladbach to beat Ingolstadt, an option that is available at odds of 1.67Bet €100 to win €16767/100Bet £100 to win £167-149Bet $100 to win $1670.67Bet HK$100 to win HK$167-1.49Bet Rp100 to win Rp1670.6700Bet RM100 to win RM167 with the good chaps at Betfred. Monchengladbach has performed the greatest comeback since Lazarus – acknowledgments to the late, great darts commentator Sid Waddell for that one – since former manager Lucien Favre conceded defeat, issuing his shock resignation five rounds and five losses into the German Bundesliga season. Monchengladbach has won each of its subsequent six German Bundesliga games, although the Foals have continued to toil in what one rates as the toughest of the eight UEFA Champions League groups.
Many good judges – Racing Post football writer Mark Langdon was one of the most vocal – thought that Monchengladbach's bronze medal in last term's German Bundesliga was somewhat flattering. One agreed with that viewpoint and one is not about to go overboard about Monchengladbach, which has got up to fifth on this season's German Bundesliga ladder, but the Foals have more going for them than an Ingolstadt team that is destined to slide down the rankings until it can find a way to boost its scoring without being porous at the back. Only twice has Ingolstadt scored more than one goal in its 11 German Bundesliga matches, with its seven goals being good enough for four wins, three draws and four losses – that rate of return on goals for points cannot continue.
Backing Monchengladbach to beat Ingolstadt is the best way to play on the latest round of German Bundesliga games and the other bet regarding Saturday's match that appeals is under 10 and a half corner kicks, an option that will be available with Bet365 and other bookmakers later this week.
Monchengladbach's 11 German Bundesliga games have had a total of 80 corner kicks – 41 for the Foals and 39 against them – which is the division's lowest by six corners from Dortmund and Wolfsburg, both of which are level on 86. Also, Monchengladbach's five German Bundesliga home matches have had an average of 6.20 corner kicks, which is the lowest in the top flight ahead of Dortmund's mean of 7.20 corners. All five of Monchengladbach's German Bundesliga home games have gone under 10 and a half corner kicks and four of its six away matches have landed underneath that line as well.
Inglostadt's 11 German Bundesliga games have had a total of 99 corner kicks – 46 for the Schanzer and 53 against them – with its six German Bundesliga away matches having had a mean of 9.50 corners. Seven of Ingolstadt's 11 German Bundesliga games have gone under 10 and a half corner kicks, including three of its six matches when it has travelled.
Finally, the glamour game of the German Bundesliga card is Sunday's derby between Dortmund and Schalke for which BVB are trading at odds of 1.40Bet €100 to win €1402/5Bet £100 to win £140-250Bet $100 to win $1400.40Bet HK$100 to win HK$140-2.50Bet Rp100 to win Rp1400.4000Bet RM100 to win RM140 with Coral. Dortmund and Schalke go into the 12th round of German Bundesliga matches second and fourth respectively but one thinks that the latter has a lot to prove that it is worthy of such a lofty position.
Schalke's goal difference is 18 goals inferior to that of Dortmund and the Royal Blues have feasted on the division's lesser lights – Bremen, Frankfurt, Hamburg, Hertha, Mainz and Stuttgart – while failing against Monchengladbach and Wolfsburg. Schalke's most recent German Bundesliga game resulted in a 1-1 home draw with Ingolstadt and that does not strike one as the right domestic form line for a visit to a Dortmund team that has won each of its last four matches versus German opposition and convincingly so.
Tips Summary
Monchengladbach to beat Ingolstadt
7th November 14:30 GMT
Odds: 1.67Bet €100 to win €16767/100Bet £100 to win £167-149Bet $100 to win $1670.67Bet HK$100 to win HK$167-1.49Bet Rp100 to win Rp1670.6700Bet RM100 to win RM167
Monchengladbach v Ingolstadt – Under 10.5 corners
7th November 14:30 GMT
Odds: TBC
Dortmund to beat Schalke
8th November 14:30 GMT
Odds: 1.40Bet €100 to win €1402/5Bet £100 to win £140-250Bet $100 to win $1400.40Bet HK$100 to win HK$140-2.50Bet Rp100 to win Rp1400.4000Bet RM100 to win RM140
Bundesliga
BVB
dortmund
Ingolstadt
Mark Langdon
Monchengladbach
Schalke