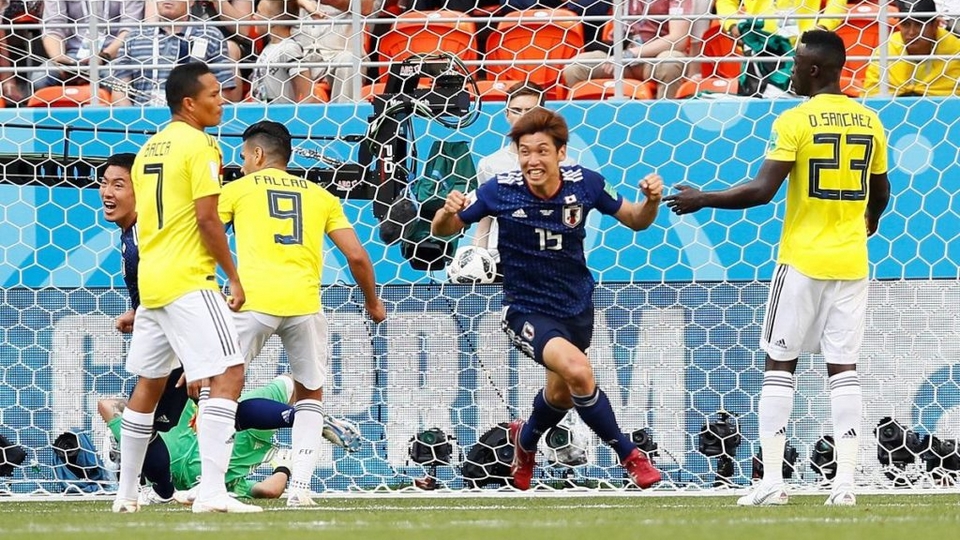 Much like yesterdays roster, not many were expecting a huge amount from these games. Hard, direct football with a smattering of skill from some player's, yes but not much in terms of quality. Whilst that's a fair enough assessment of what went down, it doesn't take into account the unforeseen nature of events. The first thing to say is, if we're honest, most of us didn't see a lot of these results coming; any bookmaker would have been delighted to see you walk in and boldly back a double for Japan and Senegal to win but that is exactly what happened.
Both games were defined to a notable extent by some calamitous, circus-like defending by those who were the favourites in both ties. In Colombia's case, they were massively hindered by an early dismissal for Carlos Sanchez but you always run the risk of a red when you take over goalkeeping duties from your goalkeeper. Poland, on the other hand, were anaemic, nearly to the point of being lifeless, and had a huge say in both Senegal's goals.
The big news of the day didn't take place in any of the games, however. The boy prince, Neymar, hobbled off the training pitch for treatment on his right ankle and Brazil have linked the knock to his treatment at the hands/feet of Switzerland in their opening game. While the stats say that he was fouled 10 times in that encounter, it's fair to say that some were on the soft side of foul. That's not to say that he didn't take some hard knocks – he did – but his 'style' of play is such that he nearly dares opponents to take a pop at him. There's an arrogance to it that is not at all pleasant and actually just detracts from his effectiveness and the speed of Brazil's attacks. For the sake of the tournament, one hopes he gets over it and, to a degree, his image of himself.
Colombia 1-2 Japan
Early drama befell the opening game of Group H. Not five minutes had passed on the clock when some truly awful defending allowed Japan to get off a strike. The Colombian 'keeper, David Ospina, got a block on it but the rebound was again blasted toward goal whereupon Carlos Sanchez stuck out an arm to block it but the referee was well positioned to spot it. He had little option but to signal for a penalty and reach for a red card. Disaster for Colombia but early joy for Japan as Shinji Kagawa coolly slotted the resultant spot kick home.
Colombia, as one might expect, were severely rattled but Japan, whether they were shocked themselves or because they didn't know how to seize the opportunity afforded them, decided to let Colombia get over the early disaster and work their way back into the game. In essence, they were more than happy to look this particular gift horse in the mouth.
Jose Pekerman then made a surprising substitution after 30 minutes when taking off Juan Cuadrado for Wilmar Barrios, a young Boca Juniors midfielder. Cuadrado can be a frustrating player to watch especially with his fondness for taking tumbles at the slightest touch but as an outlet for a 10 man Colombia who were also without James Rodriguez, he was second to none. Any doubts about the manager's move were put to the side less than 10 minutes later when Colombia levelled. Falcao engineered a free-kick just outside Japan's penalty area which Juan Quintero deftly and cleverly kicked under the wall, fooling the 85 times capped Eiji Kawashima who was very slow to get across.
Japan were properly punished for their lackadaisical attitude and in truth, it looked as if it were the Colombians who enjoyed the numerical advantage. The referee sent them in at the break with honours even but it was Colombia's 20 legs that had the pep in their step. If they could keep that going in the final 45 minutes, the match would surely be theirs.
Instead, Japan began the second half in the manner they should have been playing after five minutes of the first – by keeping the pressure on Colombia and forcing them back. They created more chances, took more shots and generally made Colombia scramble and repel in a sustained rearguard action. With half an hour to go, Pekerman made another big call and took off his goal scorer for James Rodriguez. The problem was that Colombia could not get up the field so couldn't get the best use from their star turn. Carlos Bacca came on 10 minutes later to offer a physical option when they could get it forward.
But they just could not lift the siege and the pressure eventually told. Keisuke Honda, fresh to the pitch, whipped in a corner and Yuya Osako headed it home. This stung Colombia and they sprang into action, firing off a number of shots which came close to levelling matters yet again but the time wasn't for stopping and, with 10 minutes, left, it looked as if we were in for another surprise result from Round 1 of this World Cup.
From a first half in which they were the epitome of meek and mild, Japan found the necessary strength of character to give a good account of themselves and make their advantage pay in the second. Perhaps it was the efforts of the first half but Colombia couldn't sustain any meaningful possession in the second which saw them largely confined around to the back third for most of the half. Another match done, another World Cup upset confirmed.
Can Japan upset the odds and qualify from the group? Join our top-rated bookmakers for the best prices:
Poland 1-2 Senegal
It had bad news for African teams in the opening round of the World Cup. Four had played and four had been beaten. In order to change that record, Senegal were going to have to beat Robert Lewandowski-led team; the big man came into this game with 55 international goals to his name. Kalidou Koulobaly, coming into this tournament after an excellent season marshaling the defence for Napoli, was in for a battle.
It was a fast, physical start with both teams willing to run at their opponents and attack at every opportunity. Sadio Mane was preferred wide left (rather than through the centre where he might have offered more to his team) and it demanded more of him defensively than he has become accustomed to at Liverpool. The match was more physical than many we had seen up until this point but mercifully, both sets of players decided to keep their legs and ride tackles rather than fall at every opportunity. Poland, however, weren't being unduly troubled by Poland from open play.
Neither side overcommitted their players to attack, content to charge on the break. Coming up to 40 minutes, the complexion of the game changed as Senegal took the lead by way of a deflected goal; on the balance of play, it was a fair reflection of their respective efforts. Senegal had their breakthrough and the onus was on their European opponents to match them but they were curiously listless in the first half and were generally second best in terms of attitude and intent.
The second half saw an increase in tempo from Poland and it was badly needed. Gradually they began to create opportunities for themselves, drawing encouragement from their adventure. And then they were rightly punished for what can only generously be called outright stupidity. A nothing ball was hooked back toward the Polish goal and somehow or other, the last defender didn't see M'Baye Niang charging up outside him and so left it be for Wojciech Szczesny, who had decided to come charging out his goal like a chicken bereft of its head. Niang prodded the ball past him and coolly finished the chance. With under half an hour left on the clock, it looked like Poland were sunk.
The drama hadn't finished yet; With less than five minutes left, Poland scrambled a lovely headed goal that they scarcely deserved but, as the saying goes, they all count. With only minutes left, Poland found the urgency that had escaped them all match but they couldn't find a time machine nor, as it turned out, the goal they so desperately wanted.
An own goal and a lucky goal, created largely through comedic ineptitude, were enough for Senegal but they were the better team and deserved it. Poland played without spirit or ideas and will be massively disappointed with their efforts throughout the 90 minutes.
Russia 3-1 Egypt
Russia went for this game from the kick-off. For a host nation that was so widely derided as awful both within and without their country prior to the tournament beginning, the pace and aggression with which they played in the face of a slightly stunned Egypt was impressive. Buoyed by their 5-0 win against Saudi Arabia in the tournament's first tie, they buzzed with menace against an Egypt side now replete with a Mo Salah.
The African team enjoyed some assaults but they were occasional and disjointed. They struggled to get Salah into the game but when they did, his input was lively and positive. The trouble was that those sporadic sorties were the punctuations of relatively constant Russia pressure. The pace began to settle a bit as the half wore on with Russia the dominant team, the hosts content to get ball directly to the big man up front, Artem Dzyuba. Salah had his first real moment after 40 minutes but he curled the ball wide of the post. The first half drew to a close without a goal to mark down. Egypt were certainly more adventurous in this game than they were against Uruguay; they'd need that and more in the second half if they were to get the win they so desperately needed.
Minutes into the second half and it was Russia who took the lead. The ball was hoofed back into the box after the 'keeper had punched it clear and Egypt defender Fathi clearly inspired by the Polish defensive howler in the previous match, decided that the best thing to do was hit the deck and knee the ball at the same time for a daft own goal. By 62 minutes, that scoreline had stretched to 3-0. For the second goal, Denis Cheryshev finished off a wonderful move that came in from the right flank before it reached his foot 6 yards out. Three minutes later it was that man Dzyuba who dispossessed a defender before showing great composure to slot the ball home. It seemed for all the world as if Egypt were boned.
And then, with 18 minutes left, it happened – Salah scored. A foul that was initially given as a free-kick outside the box was upgraded to a penalty after a word in the ear from the boys in the van and Egypt's no. 10 did the needful. A crackle of excitement could be felt coursing through Egypt's fans as the embers of their hope burst back into flame. Unfortunately for them, they just didn't have the necessary guile or composure to fashion the chances Salah (or anyone else) needed to score. Russia managed the closing stages well and had a couple of opportunities on the break; the fact that they missed them didn't matter a jot. Russia were through and Egypt, barring supernatural intervention (which would surely be against the rules), were toast.