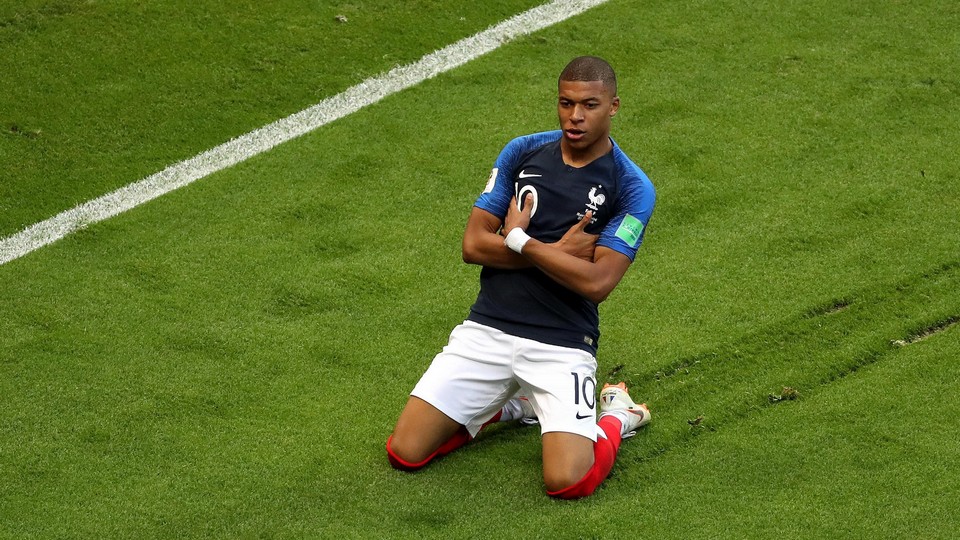 Is it churlish to ask whether the two best teams from this World Cup have reached the final? We've seen so many of the pre-tournament favourites fall away early on: current European Champions, Portugal, were stopped in the round of 16, the same for Argentina and Spain; outright favourites Brazil met their match in the quarter-finals and reigning World Champions, Germany, couldn't even make it out of their group. It's been a wild ride that has seen many of the established empires crumble beneath the weight of expectation and a blind devotion to Hubris, the god of comic/tragic self-destruction.
Emerging from all this destruction came the champions of 20 years past, the team of Zinedine Zidane, Marcel Desailly and, current France manager, Didier Deschamps. Although France were responsible for one of the worst games of this tournament – and possibly one of the worst football has ever seen, that interminable 0-0 with Denmark in the Group Stage made this column die a little inside – they have taken out Argentina, Uruguay and Belgium en route to the final and that is a formidable letter of commendation for their place in the final.
Croatia were many people's dark horse pre-tournament (this column included) but didn't really have the pedigree to be considered up there with the best in a traditional sense. This summer, one could argue that a couple of teams have indeed been 'better' than them but their performance against Argentina in the Group Stages still ranks with the best seen overall, in the eyes of this column at any rate. They had the good fortune to find themselves in the much-ballyhooed "easier side of the draw" but they still had to fight their way through three gruelling 120-minute encounters in the knock-out stages before finally reaching the promised land of a World Cup final.
Going back to 1998 once again, we see that Croatia reached the semi-final of the competition against all expectations at the time; until their victory over England, it remained their crowning achievement in international football. That day they faced the hosts and about-to-be-crowned champions, France. The goings on in that match may add a hint of spice to this encounter. Although Croatia took the lead in the second half, France responded with two goals from Lilian Thuram which sealed their victory but it was the actions of Slaven Bilic toward the end which saw Laurent Blanc miss the final through suspension. Precisely what happened between the pair isn't important now but let's just say that Neymar didn't invent or even perfect the art of skullduggery on the pitch. It's not a stretch of the imagination to assume that Deschamps hasn't forgotten that incident.
Speaking of 1998, the current favourite for the Golden Ball, Kylian Mbappe, wasn't even born yet. The young forward hasn't exactly dominated games from beginning to end but he has been Bubonic lethal at times, utterly terrifying backpedalling defences, e.g. who can forget the hilarious sight of him charging through an Argentina midfield that couldn't lay a glove on him only to encounter a Marcos Rojo who saw him coming from miles off but still didn't know how to deal with him and subsequently tackled him to the ground in the penalty area? It's not just that he's the Roadrunner, he is also physically strong and has a fine eye for a goal. None of this was a surprise to anyone coming into the tournament but for a man of 19 years to be so effective at the first time of asking on the world stage is an incredible achievement.
Against tired legs, it's impossible to think that he will not prosper. Croatia's left back, Ivan Strinic, looked absolutely shattered when he came off toward the end of the England game and the very last thing he needs is Mbappe running at him all evening. Ahead of him on the left wing is Ivan Perisic and, unfortunately for Strinic, defensive cover isn't a strong point of his. Play too high a line when in possession and that space behind Strinic and his centre-backs becomes a Mbappe magnet – there lies danger. The young striker is a tasty 2/1 to find the net at any time during the match.
Croatia Can Contain French Threat Over 90 Minutes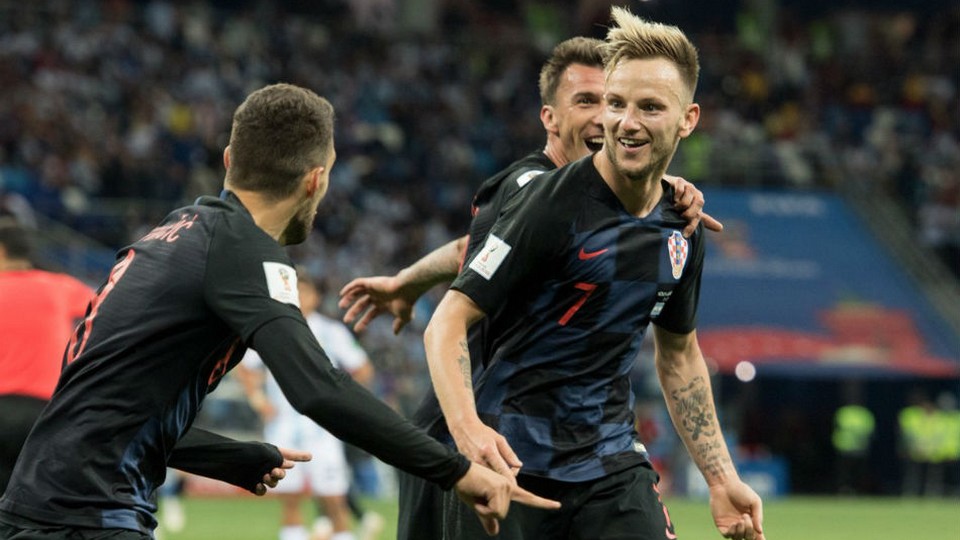 Whilst we're talking about Perisic, it's worth recalling the problems that Eden Hazard caused for France's right back, Benjamin Pavard. A converted centre-back, Pavard has been a real surprise in this France team as most expected that Djibril Sidibe would have taken the slot when fit but he is not without his positional weaknesses. Perisic will have taken note of his struggles to contain Hazard and, being a nuisance par excellence himself, will look to make the young defender panic. Allied to his nose for goal, the Croatian winger can be a source of considerable concern for France.
On Croatia's other flank, Sime Vrsaljko has been in outstanding form. It was he who provided the cross for Perisic's equalizing goal against England and also cleared John Stones' goal-ward bound header off the line late on to keep Croatia in the game. Vrsaljko could be a major influence in this match as, although he will be running into the channel of one of France's most tactically disciplined players, Blaise Matuidi, his presence there may free up space inside for Luka Modric to prosper in.
Modric has been outstanding for Croatia throughout this tournament; nobody in his team has run more, scored more, played more passes or through-balls. France's tactic of soaking up pressure could well play right into his hands as if he is given the time and space to dictate affairs, he can punish them severely. However, against this French defence, we can't say for certain that he will do so. France's defence has been nothing short of resolute with Raphael Varane putting in the kind of performances that will see his transfer fee pushed into the nine-figure zone, should Real Madrid ever feel the need to sell.
Roaming in front of him is the peerless N'Golo Knate. The diminutive dynamo has, along with Modric, been the best midfielder of the tournament and showcases a talent that few, if any, players can come close to equaling. His quantum presence has been a boon to the fortunes of Paul Pogba who has played with a discipline borne of the fact that he knows that he doesn't have to try and do everything himself and instead can settle into a role of largely pragmatic midfield dominance.
One of the complaints about this France team is that very pragmatic streak which runs throughout; they are, essentially, the embodiment of their creator, Deschamps. A defensive midfielder by trade, the manager is risk averse and knows that he can rely on a sound defensive structure to keep other teams out whilst always retaining the rapier-like element which Mbappe and Antoine Griezmann provide. It has gotten them this far so he is unlikely to change now.
This approach let them down two years ago when, as hosts, they lost in the European Championship final to a Portugal side, shorn of Cristiano Ronaldo early on, who were even more stodgy and dour than their hosts. It's difficult to say that they have learned much tactically since then but a lot of these players have experienced the bitter taste of defeat and their performances to date appear to indicate something of a steelier resolve. The feeling persists, however, that there is another gear in this team, a depth that hasn't yet been tapped but whether or not they find that should they need it is a question that hasn't needed to be answered as of yet.
In contrast, Croatia have just about played to their limit throughout. Not for them the questions of 'what if we were to try this or do that?' – they know full well what they are capable of and, crucially, how to go about doing it. They do not possess the talent of their opponents but they do understand their potential. In a street fight, that is a crucial weapon in one's armoury. Ivan Rakitic has stated that Croatia will have 4.5 million players on the pitch with them in the final. Quite apart from the logistical issues involved, we're fairly sure that is cheating but the point stands – there is fierce national pride at the heart of what this Croatia team are doing and, although they were unloved by many supporters as a result of chicanery between their F.A. and some players, their journey to the final has bridged that chasm and represents a chance for them to write their own history.
France are heavy favourites to be crowned World Champions and it's obvious why this is so. A defence that has kept four clean sheets from six is mean business in any tournament and will generally see that team go far. Their main man up top, Olivier Giroud, hasn't scored once but that hardly matters when there are so many other players to pick up the slack. Besides, his agricultural style dovetails well with the H.D. of Mbappe and Griezmann. They'll be up against a Dejan Lovren who, post-England victory, decided to loudly boast that he was one of the best defenders in the world – what did we say about Hubris earlier? As much as this column would love Croatia to win (we have them backed from a while back, after all!), theirs is the weaker of the two defences by some distance and, in a game of inches and snatched opportunities, that is likely to be the difference between the two. Croatia have it in them to get to full time but extra-time might be their undoing. The best price for the draw at full time is 23/10 and that represents a decent value bet.