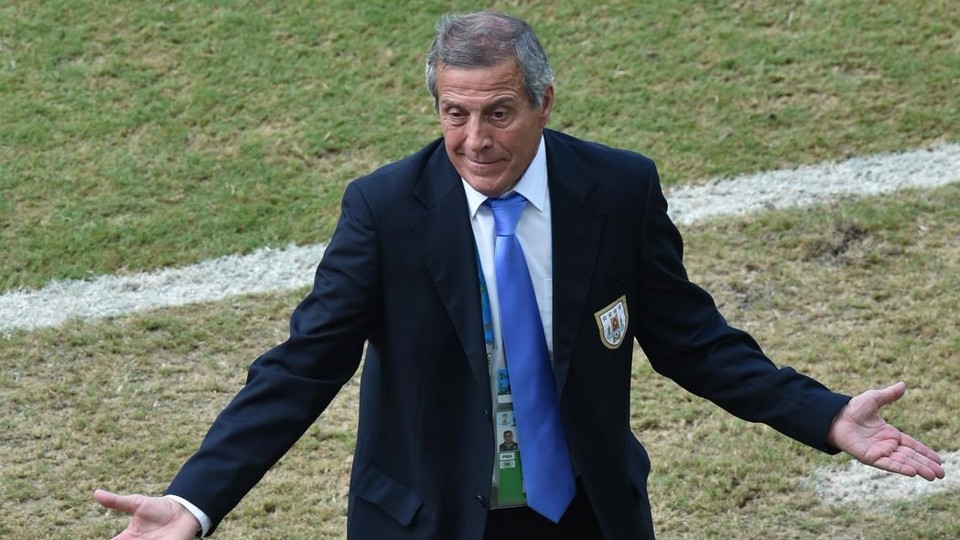 We begin the quarter finals with two teams who differ wildly in approach and style. Didier Deschamp's six years in charge of France seems an age, especially relative to the lifespan of most domestic club managers, but Uruguay's Oscar Tabarez puts him in the ha'penny place with 12 consecutive years as Uruguay boss in this, his second term in charge. It is often considered to be a truism that longevity lends itself toward consistency and in this respect, as in so many others, the two countries and managers differ.
For Uruguay it is certainly true that a dozen years under the steadying hand of Tabarez has effected a uniform vision for what can be expected from his national team – how could it be otherwise given that he holds the record for most games in charge of one national team? El Maestro has facilitated the development of successive generations of Uruguay's finest players, moulding them into something resembling a near-perfect tournament team. Do you want consistency? This is his fourth World Cup in charge of Uruguay and also the fourth time that he has steered them through the group stages and into the knock-out rounds. None of which is to say that he can't change things up if and when he thinks it's required.
This summer, he set up in a 4-4-2 for the opening pair of matches before going for something of a tactical rejig. He switched Martin Caceres to right back and brought the naturally left-footed Diego Laxalt in at left back, immediately giving more balance to their width going forward. In addition, he set his midfield into a diamond with Rodrigo Bentancur at the tip in order to facilitate a greater link up with Luis Suarez and Edinson Cavani up front. The re-ordering worked a treat and saw them knock Portugal all the way back to Iberia.
The question is whether he will revert to a more compact formation in order to afford more protection to Laxalt; sterling performances notwithstanding, it will hardly do the left back's confidence any good to see Kylian Mbappe getting free runs at him all day long so the diamond formation may need to be sacrificed for greater security on the flanks. That won't be a problem for this team, however, so thoroughly have they been coached by Tabarez down the years.
Looking at the French team, it can be sometimes difficult to see whether they have been coached at all. Tactical shimmying aside, you always know what you are going to get with Uruguay but few know what is coming from France. Half a dozen years in charge and it looks for all the world as if Deschamps is still searching for his ideal set-up. Their opening game saw them line up in a tremendously ineffective 4-3-3 before reverting to a 4-2-3-1/4-4-1-1 in the next with Olivier Giroud re-introduced to lead the line. You might say chapeau to Deschamps for not throwing good money after bad and changing it up but, promising first half aside, the players very quickly looked lost again. The less said about the 0-0 draw with Denmark, the better.
The strangeness continued when they lined up against Argentina but, this time, the weird worked. A perennial favourite of the manager, Blaise Matuidi, France's answer to Marouane Fellaini, started somewhere left of midfield, often drifting to the flanks to smother Messi and cut off passing angles. His unorthodox but tactically sound approach added an element of asymmetry, which really worked for France as they put in their performance of the tournament. The context in which this gambit worked must be reiterated – this was against a slow Argentina team who had neither the legs nor the mind to defend competently.
The problem for France here is two-fold: Uruguay's defence is anything but incompetent, as evidenced by their solitary goal against and Deschamp's Swiss Army knife, Matuidi, is suspended for this game. Their successfully unorthodox set-up against Argentina worked in large part because of what Matuidi allowed other players to do. Without him, it's very difficult to predict what fix Deschamps might come up with.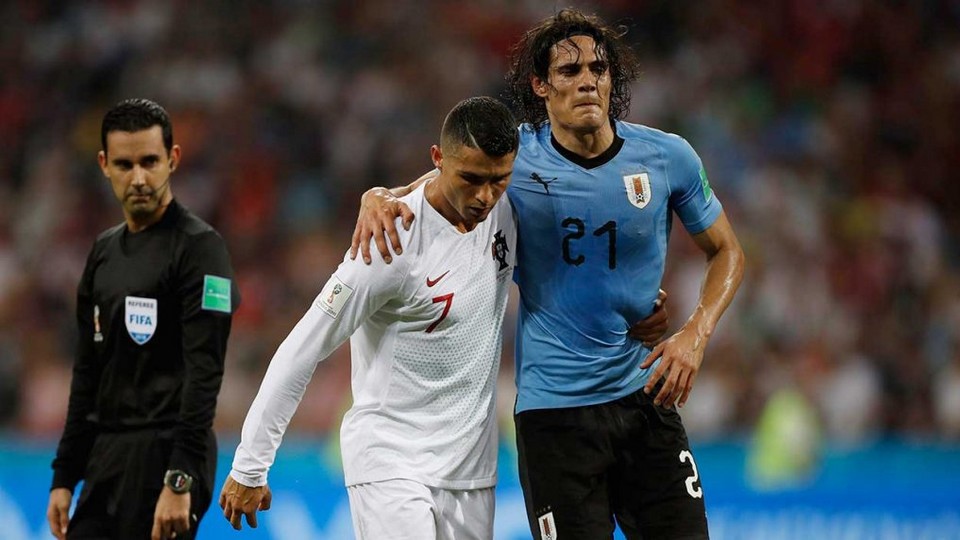 So there you have it – consistency for Taberez and Uruguay whilst still allowing for the odd tweak if required whereas France appeared to happen upon a system that brought the best out of a number of their freakishly talented players but which may now require an overhaul as a result of their Matuidi's absence. It seems silly to say it but their £100 million-plus Barcelona forward, Ousmane Dembele, hasn't looked good and his presence affects the balance of the team yet he might be the one the manager turns to.
Installed as one of the pre-tournament favourites, France are now considered to be joint second-favourite (with England, if you can believe it) to lift the trophy on the 15th of this month. That probably says more about the teams that aren't there than it does about France but they are where they are. Electric at times in their Round of 16 win, they also let the poorest Argentina side many had ever seen put three past them. For a defence that had been quite strong to become so porous must be a cause of concern. As we highlighted above, Uruguay have conceded just a single goal, having arguably the best centre back pairing in world football.
The big concern for La Celeste revolves around the fitness of Edinson Cavani. The chisel-cheeked forward put in a performance for the ages against Portugal but had to come off with a calf injury before the end. Even without official word from the Uruguay camp, the sounds on the wire aren't encouraging. His absence would be a massive blow, especially as Suarez hasn't looked to be at this sharpest and the back-up in that position, whilst serviceable, have nothing like his quality. Tabarez is nothing if not resourceful, however, and will have a plan in hand to deal with it – can the same be said of Deschamps?
The pricing for this tie heavily favours a France win, bang-on evens seems to be the best offer from most bookies. This column has had a hankering for Uruguay for a while now but, should it come to pass, the loss of Cavani might be a game changer. However, for all that, their sheer bloody-minded resolve, discipline and work rate could just give them the edge over a more talented France team. The price of 18/5 about Uruguay winning is enough to to make up the mind.