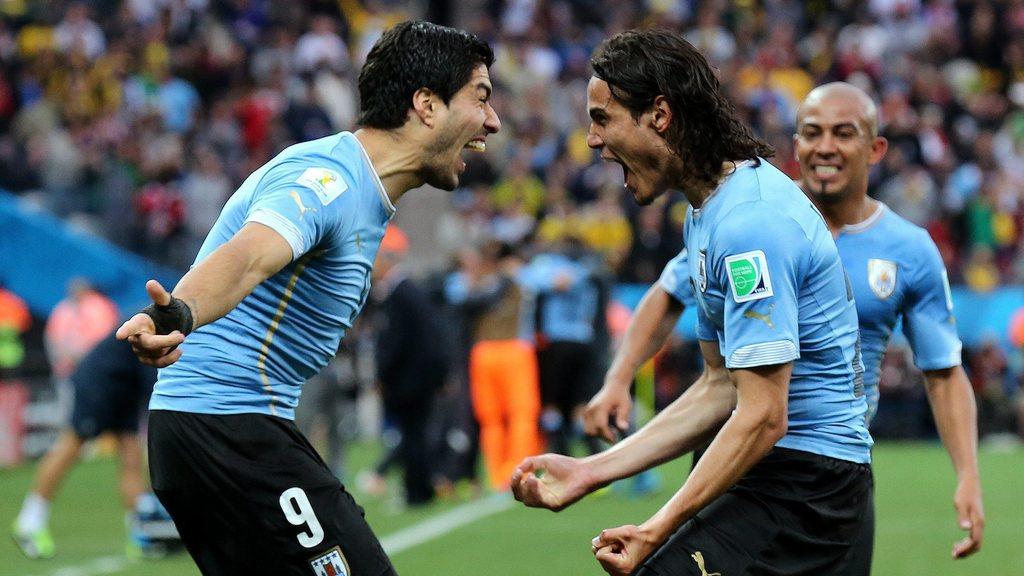 No-one has scored more goals for Uruguay than Edinson Cavani and Luis Suarez and their internal battle to be their team's FIFA World Cup top scorer has captured the attention of the odds-setting fraternity, which is struggling to split them.
Punters are able to almost write their own ticket on anyone except Cavani or Suarez scoring the most Uruguay goals in the FIFA World Cup even though only one of them has topped their side's chart in the last four major tournaments – the 2013 FIFA Confederations Cup, the 2014 FIFA World Cup, the 2015 Copa America and the 2016 Copa America Centenario.
One thinks that bookmakers are correct to quote big prices about everyone except Cavani and Suarez, however, because Uruguay's team is set up to servi ce the two 31-year-old strikers, the former who plays for Paris Saint-Germain and the latter who struts his stuff for Barcelona. Plenty has changed since Diego Forlan retired from international football in 2015, thereby removing the headache that Oscar Tabarez endured whenever he tried to come up with a way to incorporate Cavani, Suarez and Forlan in the same side.
Uruguay played 18 matches to qualify for the FIFA World Cup, finishing second on the ladder behind Brazil with a 9-4-5 record and 32 goals scored. There are no easy games in the 10-team CONMEBOL region so the results of those matches are meaningful and goals are earned both at home and away.
The statistics out of the CONMEBOL qualifying competition for the FIFA World Cup are enlightening with regards to having a bet on Uruguay's top goal scorer in Russia, with one fancying Cavani to get the better of Suarez. Cavani scored 10 goals in the FIFA World Cup preliminaries, more than any other CONMEBOL player. Cavani made 15 appearances for Uruguay in his side's 18-game FIFA World Cup qualifying campaign for nine goals from open play and one penalty kick.
Suarez netted five goals for Uruguay in his 12 matches for his team during the same period, converting four chances in open play and scoring one penalty kick. Crucially, Cavani and Suarez were paired up in a dozen of Uruguay's 18 FIFA World Cup preliminary games and, in those matches, the Paris Saint-Germain forward outscored the Barcelona man 8-5 and that was in spite of the latter notching a penalty kick.
Uruguay's Easy Ride in Group A
Some FIFA World Cup top goalscorer markets for individual sides are unattractive because one goal may be sufficient to top the chart. But one is unafraid of getting stuck into Cavani because the FIFA World Cup was kind to Uruguay, pitching the two-time champion into group A with Russia, Egypt and Saudi Arabia.
Trawl through the FIFA World Cup history books and you will struggle to find a weaker pool than the one in which Uruguay will commence its campaign – the Russians would have struggled to qualify if they had not been the hosts, the Egyptians are reliant upon Liverpool star Mohamed Salah and the Saudis lost their coach, Bert van Marwijk, after sealing their qualification. According to the World Football Elo Ratings, Russia, Egypt and Saudi Arabia are three of the weakest seven sides in the FIFA World Cup, with Uruguay ranked 30 or more places above each of them.
Uruguay prepared for the FIFA World Cup by taking part in the China Cup in March, beating Czech Republic 2-0 and Wales 1-0 in the friendly tournament. Cavani and Suarez started up front together in both games but it was our man who stole the show. They scored a goal each in the victory over the Czech Republic, and Cavani notched the only goal of the game against Wales, outscoring his international teammate once again.