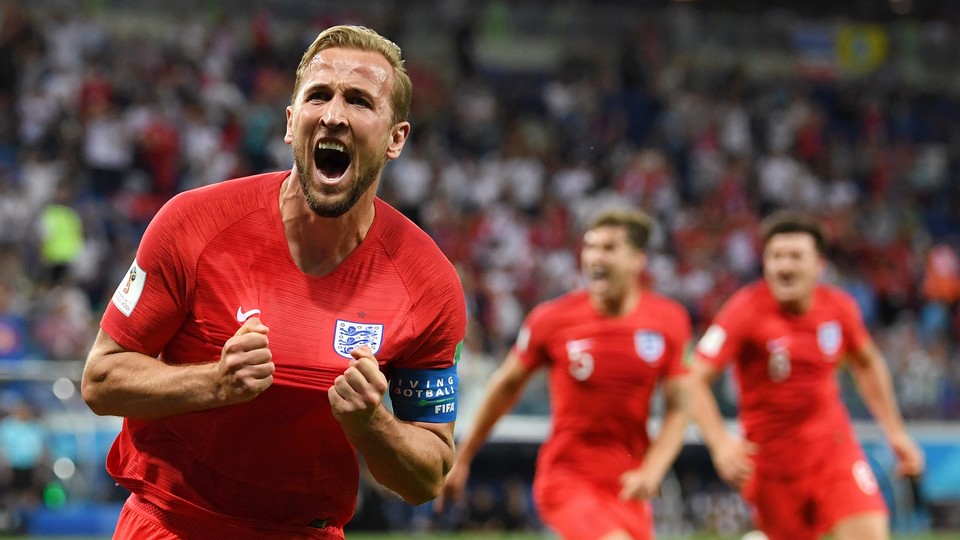 According to some sections of the media, England are winning the meme World Cup. Owing to age and an unwillingness to do any research on it (i.e. click the link), this column isn't sure what that means, if it means anything at all, or if it really is a sanctioned trophy. However, we are sharp enough to deduce that it's probably a fair indication that the national mood there is one of giddy joy and hope in the face of the unknown; in other words, a shared state of euphoria which exists in stark contrast to the mood which settled upon the land post-Brexit. And they say football is just a game.
Of course, it is just that for the players when they take to the field but what a game! Imagine for one second, if you can, being in their position and knowing full well that to win three matches on the bounce would see you crowned World Champions. The well-trodden mantra in football and just about any other code you care to mention at the moment is the "we're just taking it one game at a time" malarkey. Brilliant in its simplicity and inarguable in its intent, one suspects that on this count it fails the candour test. Keeping a lid on those most human of thoughts will be paramount – Hope needs Myopia to keep it in check for the time being.
The very same thing applies to Sweden's players, of course. They too are human and, you'll be shocked to learn, subject to the same emotions and ability to do the maths as England are. They know the 'Rule of 3 More Wins' but one suspects, and we're reaching for crass generalisations here, that focusing solely on the game ahead comes a touch easier to them than it does England. If this column knows anything thing about the national character of Sweden, and it doesn't, then it is that keeping emotions in check and coolly assessing the task that lies before them is an advantage they have over their opponents in the lead up to the tie.
It's worth recalling, should any reader think this Sweden team will be a push-over, that the Nordic outfit kept the Netherlands from the World Cup (probably did them a favour, in fairness), beat Italy over two legs to qualify (same brackets apply) before finishing top of Group F ahead of Germany and Mexico. To quote from an unpublished piece of Shakespeare prose, they are no mugs. They weren't expected to beat Switzerland but they made those opponents look both clueless and desperate without ever seeming all that ruffled themselves. In short, they are deserving of their place in the last eight.
An issue that can work against them is their lack of firepower up front. Including this tournament, they have played 10 matches in 2018 and, 3-0 win over Mexico apart, have never scored more than one goal per game and in fact, failed to score at all in three. The Mexico game was an outlier, the scoreline greatly aided by a penalty and an own goal in their favour. Of course, it goes without saying that the ability to score a goal, any kind of goal, by hook or by crook without conceding one yourself will give you the perfect score line every time and in this regard, the Swedes are darn close to perfection. Only Germany have breached their defence so far this summer but a horse of a different colour is coming straight at them.
We speak of course about Harry Kane. England's everyman superman is leading the charge for the Golden Boot with six goals to his name already, the first England player to do so since Gary Lineker back in Mexico '86. Kane put his hand out to be slapped in advance of the tournament by stating his desire to finish the tournament as the top goal-scoring dog but he has been true to his word and has scored in the three games in which he has featured (he was rested for the Belgium game).
If one must be churlish, then it behoves us to point out that fully half of his goals have come from the penalty spot, another one he knew nothing about when a shot ricocheted off his heel but the final two were classic poacher goals, finishing with aplomb from close range. None of which matters a jot to him, his team or his country and nor should it. Whilst not literally on fire, his is a hot streak that must be the envy of all other teams. Furthermore, the sheer regularity with which he scores transmits confidence to his teammates – they don't create many chances from open play but when it needs to be put away, they know that Harry is the man for the job.
Swedish Defensive Discipline Makes for a Tight Game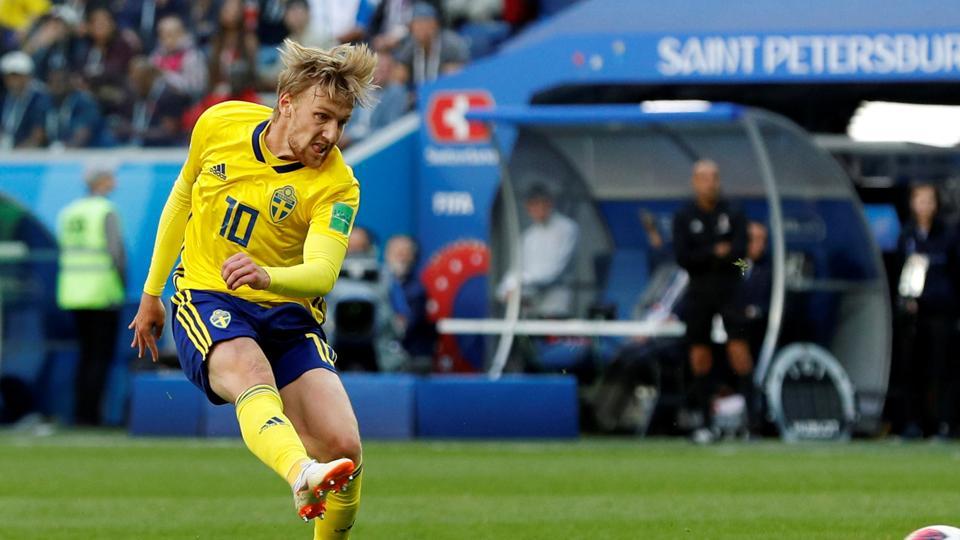 Speaking of creativity, we would suggest that you shouldn't expect much from either team on that count. England have scored nine goals but only two of them have come from open play – Jesse Lingard's wonder strike and the aforementioned Kane heel of which he was unaware – the rest have come as a result of set pieces and penalties. There is absolutely nothing wrong with this, of course! It's just that it points to difficulties in breaking down and through teams from general play. It's much the same for Sweden who have scored six goals of which two were penalties and two were own goals (the winner against Switzerland has been credited to Emil Forsberg but his shot was going nowhere until the unwitting intervention of a Swiss leg). Of their starting two forwards, only Ola Toivonen has managed to get on the score sheet.
In previous pieces, we have mentioned that Sweden resemble a really good version of Iceland. They will line up in a flat 4-4-2 with little space between the lines and few gaps to exploit vertically. Familiarity with the system and each other has seen them develop into a tactically astute unit and they are experts at anticipating and then cutting off the passing angles of opponents. Singularly difficult to break down and a pain to play against, if they had someone like, say, Jamie Vardy up front, capable of breaking at speed and making the most of their counter-attacks, they might at this point be considered genuine contenders to win the World Cup outright. That they don't possess that kind of searing pace does limit what they are ultimately capable of achieving.
England are not too dissimilar to Sweden insofar as they too employ a system which suits their strengths and within whose confines they are well-suited to prosper. To them goes the lion's share of talent between the sides but they don't, to plunder another Bard-ism, play like no Big Time Charlie. Previous England teams have done so and failed each time; this iteration are not short of self-belief but neither are they the plaything of Hubris.
One aspect of Swedish strength which we haven't really touched on is their defensive discipline; not just in terms of the nuts and bolts of positional play and situational awareness but mentally they remain calm under pressure and are unlikely to sell themselves short by doing something stupid in the box – a real asset in this penalty-mad World Cup. England's defence is always a cause for concern but their main threat is not Sweden's forwards but rather the aforementioned Forsberg; get him into the game and he can make things happen.
This column finds this tie a difficult one to call. England will have the plurality of possession but aren't blessed with many, if any, players creative enough to prise open a stubborn Sweden defence that has seen it all before. Sweden, for their part, like to counter but don't have the players to hurt England that way. Get their foot on the ball for a while and let Forsberg do his thing; sure, they'll have a better chance of creating something meaningful then but Jordan Henderson has had a quietly impressive tournament so far as England's deep-lying midfielder and won't let Sweden's playmaker have it his own way. In terms of which team will make it to the semi-final, we're inclined to think that England just edge it, maybe, but, in regulation time, we can easily imagine this one being a draw. At the time of writing, the best price is 23/10 for that very outcome.