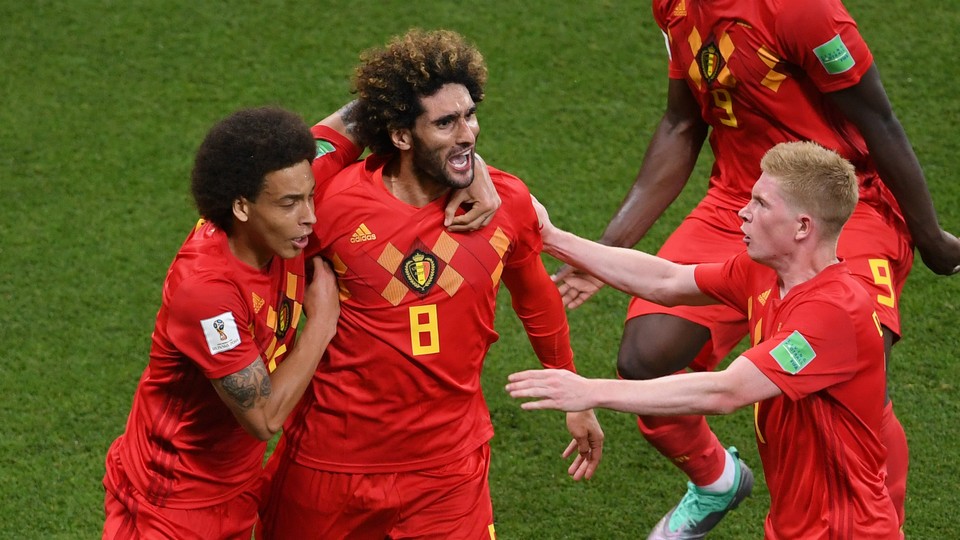 Brazil and Belgium started the tournament ranked two and three respectively in the FIFA world rankings. With Germany – who were ranked one – already back home courtesy of their group stage disaster, this tie has matched up two heavyweight contenders; both now vying for a shot at the vacant title.
The Brazilians, who are still struggling to shake off the effects of that infamous 7-1 semi-final defeat by Germany four years ago, have approached this tournament with vigour and energy, and manager Tite has reinstalled belief in his talented squad. But Belgium will offer them a stern test.
Led by Roberto Martinez, the Belgians have been moulded into a cohesive unit – something previous managers had failed to do – and for almost the first time, their wide array of talent is threatening to have an impact at the very highest level. Martinez has discovered a way of uniting a bunch of talented firebrands who have been notoriously difficult to galvanise into a unit and has developed a shape that brings out the best in its individuals.
Romelu Lukaku now looks as dangerous and menacing as he has done at any time of his international career, and has pushed Harry Kane all the way in the battle for the Golden Boot. The creative juices of Eden Hazard and Kevin De Bruyne have also been given a platform on which to flourish and, together with Dries Mertens, they offer creativity up there with the best sides in the tournament.
On that basis, they will back themselves to create chances, even with the Brazilians' fine defensive record (which we'll come to later). Therefore, much will depend on how Belgium's England-based big-name defenders can handle the attacking thrust of the South Americans, with Vincent Kompany (Man City), Toby Alderweireld and Jan Vertonghen (both Tottenham) all playing key roles in quelling the obvious threat.
Interestingly, in their thrilling 3-2 quarter-final win over Japan, which saw them come back from being 2-0 down after 52 minutes, the Belgians veered from their traditional patient, passing style as the minutes ticked away and their World Cup looked to be nearing its conclusion. Instead, Martinez made a double substitution – throwing Marouane Fellaini and Nacer Chadli into the fray on 65 minutes – and asked his team to play more direct and with more dynamism. The rest, as the saying goes, is history with both players chipping in with a goal in one of the great World Cup comebacks.
Given the success of this tactic, it's conceivable that on this occasion Martinez may dispense with his preferred style and use Fellaini as a 'battering ram' to unsettle the Brazilians, something he has in fact alluded to in his post-Japan interviews.
Either way, expect to see Fellaini make an appearance at some stage and don't put him past him to find his way into the referee's book.
Brazil Playmakers Neymar and Coutinho Can Make the Difference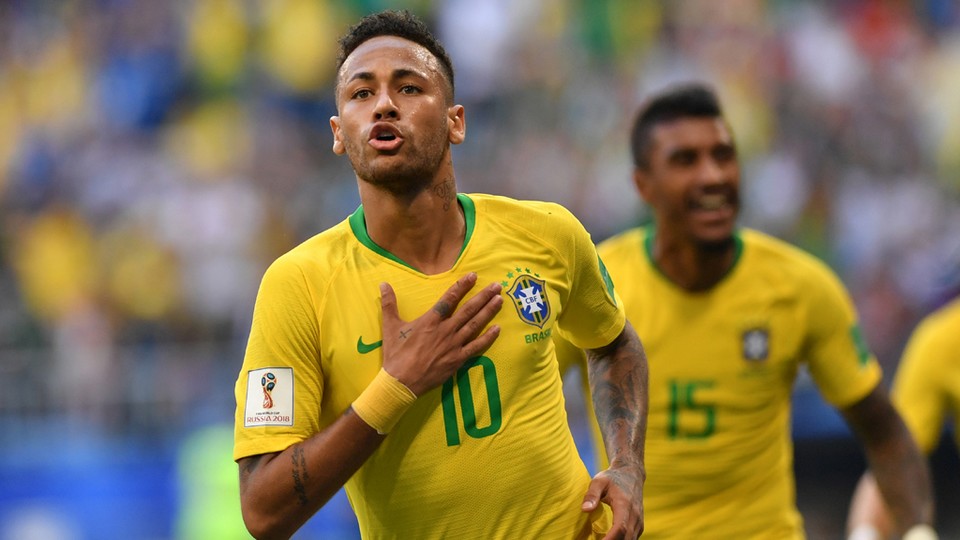 The Brazilians meanwhile know only one way to play: pass and move. They won't, at any stage and under no circumstances, stray from their own definitive version of how the game should be played. They are, after all, the nation that put 'beautiful' in the beautiful game. And, therefore, there will be no mind games and Martinez will know precisely how they will go about their business. The big question is does he have the players to stop them? Can the aforementioned defence contain sufficiently the threat of Neymar, Philippe Coutinho and co?
Neymar came into the tournament as possibly the only serious contender for the Messi/Ronaldo crown but, ironically, despite having lasted longer in the tournament than both, he's so far been as notable for his histrionics off the ball as he has for his skills on it.
But, and it's a crucial but, as the tournament has progressed he has been getting incrementally more influential with each passing game. His slow start, in part due to the injuries he picked up at PSG at the back end of last season, served to blow away the cobwebs, and with the ball at his feet we are now seeing more than a few flashes of the real Neymar; the one that carried his side almost single-handedly to the semi-final of Brazil 2014 and who has skills and pace that mere mortals can only dream of.
Where it has fallen down for him over the last three weeks is the diving and simulating when subjected to even the slightest bit of contact. A once great reputation is in danger of being sullied and 'doing a Neymar' will very soon be a metaphor for the game's dark arts, unless he can find a way of reining it in. Referees and opponents are now attuned to the fact Neymar will 'go down easily' and this offers a different dynamic to every encounter in which he is involved. Martinez's troops will be well briefed.
It does, of course, make for an enthralling spectacle and with Belgium's defenders being of the classy but, equally, no-nonsense variety, Kompany and co will be keen that if Neymar is going to go down it will be with good reason rather than merely him trying to 'buy' a free-kick. It's an interesting little sub-plot that's worth keeping an eye open for.
Coutinho, meanwhile, is a different character and will be well versed in the way most of the Belgium side play, given his years at Liverpool. But he's a very real and present danger and to ignore his threat at the expense of quelling that of Neymar will be a mistake, even inadvertently.
Key will be Brazil's ability to carve out chances even in their fallow periods. They are not a side that needs to build up a head of steam; they can turn a game on its head in an instant. Belgium, for all their talent, are more methodical in their approach, although De Bruyne's energy is a vital component for them as he proved in those thrilling closing minutes of the Japan game.
With so many match winners on the pitch, this is a tricky one to call, even though the bookmakers make Brazil clear favourites. Belgium displayed a hitherto unseen steel to overcome adversity against the Japanese and will have taken great strength and confidence from that result. They won't be overcome by the occasion or the Brazilian aura.
For Brazil, this is the seventh consecutive World Cup tournament where they have made it to the quarter-final stage – they have only been eliminated twice at this stage in that time (v France in 2006 and v Netherlands in 2010) – but interestingly have been knocked out by European sides in each of the last three (v France in 2006, v Netherlands in 2010 and v Germany in 2014).
One key stat that may well be the deciding factor (which we alluded to earlier) is that the South Americans have conceded just a single goal in this tournament – in their opening game against Switzerland. So, for all of the attacking threat mentioned above, it may well be Brazil's miserly defence that seals the deal. In terms of betting, this is one stat that cannot be ignored.