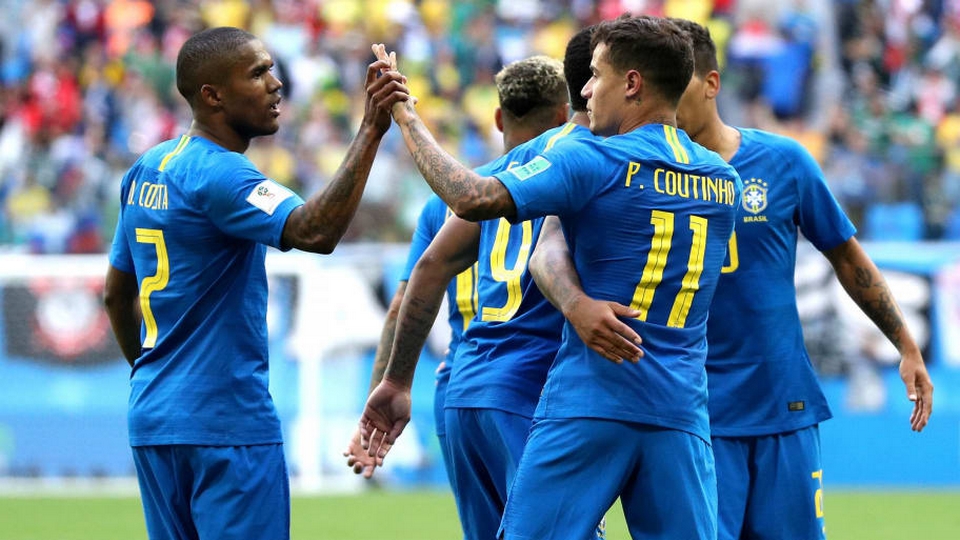 Mon Dieu, what a day of drama that was. The afternoon started with a match which ended with Neymar crying his eyes out, shoulders heaving in a display of histrionics not seen since Brazil marched out to face Germany four years ago. The thing was that Brazil had actually won this match, Neymar himself applying the coup de grace to a result that they'd only changed from a draw in the 92nd minute.
Nigeria took up where they left off in their first match against Croatia, which is to say listless, directionless and plum out of ideas – Iceland were in control. Cue the second half and an early goal for the Super Eagles by way of a piece of individual brilliance from Ahmed Musa. The goal and the heat in the stadium seemed to get to Iceland who began to fall off, discipline draining from their legs and minds, the system coming apart. Nigeria discovered themselves in the cracks of Iceland's previously unshakable façade and shook down all that was left of them of them.
Political and historical ramifications are never far from the plate when Switzerland and Serbia face off. As it transpired, the battle between two teams of men was all the spice that was needed to elevate this tie way beyond the average fare. The bookies had a slight favour for Switzerland, everyone else felt the same for Serbia and in the end, as is so often the case, the bookies got the result right but they couldn't possibly have foretold how the story would take us there. An utterly pulsating contest with bite, fight and VAR controversy – this game had it all.
Brazil 2-0 Costa Rica
Brazil began this game much as they played much of their second half against Switzerland – ponderous, predictable and dare we say with an air of pomposity. That's all well and good if you're doing the business but for the most of the first half, they did no such thing. Costa Rica were initially comfortable sitting back and soaking the pressure but their occasional attacks began to become more regular as they moved closer to their initially isolated striker. Brazil's openness on the flanks is no secret and Costa Rica started to exploit those spaces.
On 25 minutes, we were treated to the sight of a bulging onion bag but Jesus was offside. The disallowed goal seemed to galvanize Brazil and, as if by magic, the passes became crisper, the runs sharper, the threat so much greater. For all that, it was Costa Rica who could claim the best chance of the half when, on 13 minutes, Celso Borges drilled wide from 12 yards out; in the face of sustained pressure, they kept their cool throughout the first half.
There was plenty of talk in the papers about unrest in the Costa Rica camp – cliques, in-fighting that was caught on tape and all the usual hobgoblins of unrest – but you would never be able to tell from a first 45 that was disciplined and organized throughout. Brazil just weren't at it. Plenty of excellent players but none who really affected the game and they looked increasingly individualistic as the half drew to a close.
The second half began with Brazil deciding a change was needed and so the largely ineffective Willian was substituted for Douglas Costa. Brazil exploded out of the blocks and went straight at Costa Rica who scrambled and cleared successive chances. Brazil decided that the best way forward was to forgo ineffectual faffing and replace it with crosses into the box, a tactic that proved surprisingly effective. Costa Rica managed to survive the opening 20 minutes but Brazil were now playing at a higher tempo and Costa was giving them more oomph down the right wing.
With a little over 20 minutes left, Roberto Firminho was introduced for Paulinho, adding a huge amount of guile and craft to Brazil's attack. Costa Rica's players cannot have been happy to see the Liverpool player come on. With just over 10 minutes left, Neymar's tendency to hit the ground finally worked in his favour as he was awarded a penalty. Or had he been? After initially awarding it, the referee went and had a look at the VAR and, much to the horror of Brazil, revoked his decision. Brazil were incensed and Neymar got a yellow card for dissent not long after. Brazil's players began to fall like leaves in the autumn but the ref was not for turning. With little over five minutes left, it wasn't looking good for them.
And then, in the 92nd minute, Coutinho struck after a knockdown from Firminho was touched on by Jesus which afforded him the space to poke home through the legs of Navas. It was heartbreak for Costa Rica who, up until that point, had been extremely diligent and disciplined in front of their goal. That was it for Costa Rica. With no time left at all, Neymar helped himself to a goal that added to the sheen of the final scoreline. Brazil were worth their win, of course, but Costa Rica were unlucky they didn't hold out in the end. Fully deserved win but great credit to Costa Rica's defensive effort.
Can Brazil go on to lift the World Cup? Get the best odds and bonuses with our top five bookies below.
Nigeria 2-0 Iceland
This was a match that Nigeria really had to win following their opening defeat to Croatia. Iceland, for their part, already had a point on the board but a win would have most welcome too, thank you very much. There were personnel and tactical changes for Nigeria after their uninspired performance in the first round of matches but Iceland, organized and disciplined, set up as before. That the Mexican Wave started up after about five minutes only to be quickly followed by Iceland's Thunderclap tells you all you need to know about the opening stanza.
Even in their tournament infancy, Iceland are something of a gatekeeper team. They do all the basics very well in terms of position, possession, planning and performance. Teams who are off their game, even the very good ones, will have tremendous difficulty rattling them to any degree. If a team manages to beat them, they'll be well set to take on the bigger names but it is much easier said than done. In the first half, Nigeria didn't have a clue how to get the ball to players between the lines or to do anything at all to upset a solid and stubborn Iceland team who were, as always, brimming with calm and quiet confidence.
After failing to register a shot in the first half, Nigeria took the lead after just four minutes of the second with a stunning strike on the half-volley from Ahmed Musa. Nigeria, for once making their pace count, broke down the wing in numbers before the ball was squared for Musa, whose first touch with the outside of his right boot stumped his marker. With the time afforded by that touch, he kept his eye on the ball as it made its way down before striking it sweet from 10 yards out, leaving the 'keeper with no chance. Suddenly we had a match on our hands.
Nigeria began to have a little more time on the ball as Iceland's work rate fell off to a degree. Whether it had something to do with temperatures in the stadium topping 30 Celsius or not, they were noticeably slower to press and Nigeria took advantage. Fatigue is possibly the greatest enemy this Iceland team can face because if they are not operating to the fullest of their physical ability, their system suffers severely. All the signs were there that Nigeria were in the ascendancy whilst the legs were going from Iceland and that thought was confirmed with 15 minutes left when, with a simple ball down the line which took out Iceland's full-back, Musa outran his marker, rounded the 'keeper and stuck it into the net past two despairing Iceland players.
It was looking bad for Iceland but they were gifted a penalty in the 81st minute after some needlessly sloppy defending by Nigeria. The ref didn't give it initially but as is rapidly becoming custom, VAR stepped in and it was awarded. It was the right call and Iceland had their lifeline. Francis Uzoho, the 19-year-old goalkeeper faced Gylfi Sigurdsson, the doyen of Icelandic football – the outcome seemed predetermined but, unbelievably, Sigurdsson managed to scoop the penalty over the bar. With that, Iceland's hope of getting anything from the match effectively disappeared. They huffed and puffed but nothing stuck and the legs were largely gone. Euphoria for Nigeria, deflation for Iceland – the World Cup rolls on.
Serbia 1-2 Switzerland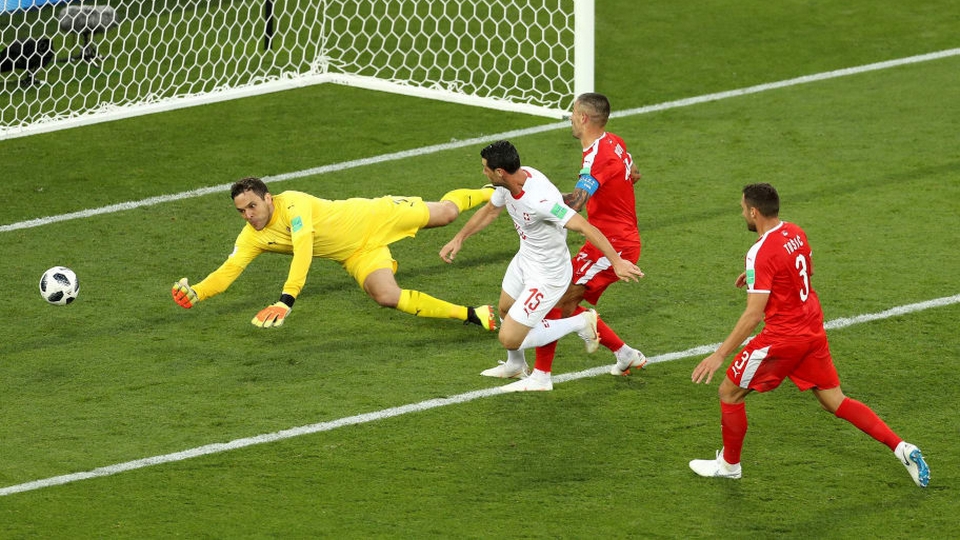 Serbia took off like a rabbit out of the trap and blitzed Switzerland with aggression and pace. The Swiss looked like that much-ballyhooed bunny, caught square in the headlights. They were blinking even more following Serbia's opening goal in the 5th minute. They couldn't say that they hadn't been warned as, just moments before Aleksandar Mitrovic scored with a muscular header, the same man had forced a save from Switzerland 'keeper, Yann Summor, which he pushed out for a corner.
Mitrovic was ravenous, unapologetically one-eyed in his quest for another bite of that bag bulging action, snapping at an overhead outside the box when others were in better positions. Serbia looked all the better for it. Switzerland did their best to fight their way back but they lacked that firepower up front to finish and couldn't make their attacks count. That didn't deter them, however, as they dominated possession and kept forcing the issue. It wasn't enough to draw them level before the break, though, and that will have worried their manager at half time. The question for Serbia was the age-old one: stick or twist, press for the second or hold what they have.
If they were entertaining thoughts of the latter sentiment then those notions were quickly disabused. Switzerland continued the pressure they had applied for most of the first half and it paid off seven minutes into the second 45 when Granit Xhaka blasted the ball home from outside the box with such swazz that neither the defenders in front of him nor the 'keeper stood any chance of stopping it. The game was level with the best part of 40 minutes left to play.
Xherdan Shaqiri began to impose himself on the game, probing from deep and wide and seeing a shot that would have been a contender for goal of the tournament bounce of the upright. Serbia, in the face of the equalizer, upped their threat levels and the match became a proper back and forth between the two. Like two prize fighters they swung and rolled but as the fight wore on, it was Switzerland who gained the competitive advantage. The clock was ticking down but there was only one team who looked like scoring and it wasn't Serbia.
In the 90th minute, a cute ball was put through to Shaqiri as he broke from the halfway line with only one Serbian defender with him. A poor first touch was quickly corrected as he drove the ball ahead of him, out of reach of his marker. Just as 'keeper and defender were about to converge on him, he coolly slotted ball beneath Stojkovic's legs, composure personified. With time running out, there was nothing a shell-shocked Serbia could do to level matters.
Although Switzerland's overall play deserved the win, Serbia will be hugely aggrieved that they didn't get a penalty in the second half when Mitrovic was plainly caught in a Swiss sandwich when trying to head from eight yards out. It's hard to imagine a more obvious penalty not being given, by the ref who appeared to be looking straight at the incident or by the boys in the VAR van back in Moscow. A win for Switzerland, a loss for Serbia and own goal by VAR.
Brazil
Costa Rica
Iceland
Nigeria
Serbia
Switzerland