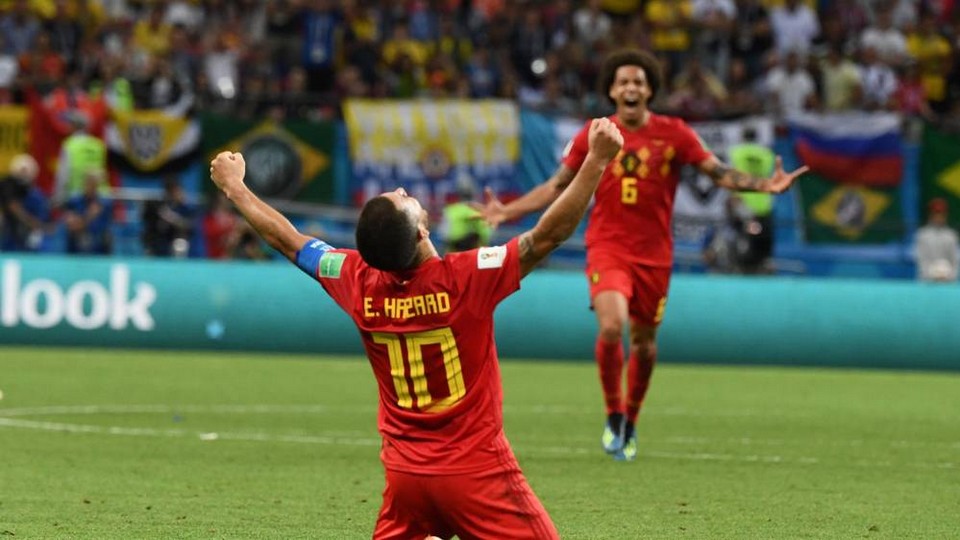 Friday night's showstopper was hotly anticipated by neutrals as the World Cup that keeps on giving served up another potential thriller. Brazil v Belgium pitted two of the most potent attacking sides in the tournament against one another and fireworks were roundly expected. Fans of the beautiful game were not disappointed as the two teams went toe-to-toe and produced a tense match with goals, drama, tension and a nail-biting finish.
It was Belgium who emerged victorious from this titanic battle after putting in a superb performance to power ahead in the first half and showing grit and determination to hang onto the lead in the second. Brazil huffed and puffed throughout but never produced the sort of free-flowing football usually associated with their national psyche. Neymar further muddied his own reputation with yet another performance marred by the play-acting that has seen him come in for sharp criticism during the tournament. Such has been the publicity around his repeated attempts to hoodwink officials, that even the referee treated him with contempt every time he went down in the box. In fact, the histrionics may have worked to deny Brazil a vital penalty in the second half, but more of that later.
The first half was all about Belgium and although there was a large slice of fortune about the opening goal, it was fully deserved. The match was only 13 minutes old when the Belgians earned a corner and Nacer Chadli swung the ball in. Two Brazilian defenders rose in unison to try and head it away, but Vincent Kompany's slight flick in front of them redirected the ball onto the unfortunate Fernandinho's shoulder and the ball flew into the net. Brazil had already missed a not dissimilar chance when Thiago Silva directed Neymar's corner onto the Belgium post – on such fine margins are games won and lost.
As Brazil tried to build up a head of steam and find a way back into the game, Manchester City's Kevin de Bruyne fired a killer blow to put Belgium 2-0 ahead after 31 minutes. Romelu Lukaku picked up the ball just inside his own half, and after a powerful run, laid the ball off to de Bruyne in the inside right channel. The talented midfielder was allowed to advance unchallenged to the edge of the Brazil area from where he powered a fine drilled strike low into the corner of the net.
Having created a couple of late first-half chances, Brazil were expected to come out all guns blazing but the siege never really arrived. the game drifted and Neymar was guilty of theatrics as he attempted to win a penalty to get Brazil back in it. Referee Milorad Mazic was having absolutely none of it and seemed to take Neymar's attempts to con him personally as he waved for the powderpuff striker to get back on his feet. Neymar's actions might well have back-fired because, later in the half, Jesus was brought down by Kompany inside the box and VAR was called upon to decide the outcome. the ball was running out over the goal line, but it appeared to be clear that Kompany made significant contact with Jesus and brought him down before the ball had left the field of play. However, the video refs called a goal kick for Belgium and it was clear that Brazil were going to get no easy route back into the match.
Roberto Firminho had been introduced at half time to beef up the attack but it was Renato Augusto who hauled his side back into the game with a deft header from Coutinho's cross on 74 minutes. The same player had a chance to write his name into folklore when he was put clean through the middle by Neymar but he stroked a shot narrowly wide of the post. Two more big chances came the way of Brazil as a tense final ten minutes played out. First, good work from Neymar down the left saw him slide an inviting pass into the path of Coutinho as the Barcelona playmaker strode into the box at speed. Most would have put money on the diminutive forward finishing from around 12 yards out slightly to the left of goal but he tried to place it with his right foot and only succeeded in shanking it wide. The last chance fell to the much-maligned Neymar but his dipping, swerving shot was tipped over by the imperious Courtois and it was enough to see Belgium into the last four.
A semi final with France awaits and there is a feeling that Belgium's golden generation could go all the way. Get the best odds on Belgium lifting the World Cup here:
Uruguay 0-2 France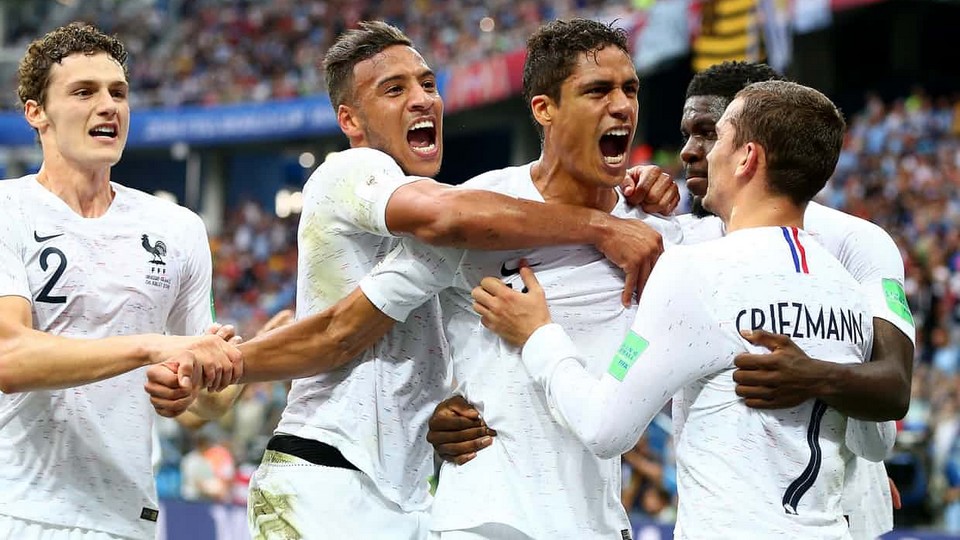 The first of the quarter finals got underway as two former Champions went toe-to-toe. Both teams suffered significant blows to their line-ups: Uruguay without the injured Edinson Cavani and France the suspended Blaise Matuidi. In their stead came Cristhian Stuani and Corentin Tolisso, respectively. Stuani, for all his attributes, represented a significant drop-off in talent from Cavani whereas Tolisso's skill set varies dramatically to that of Matuidi; it remained to be seen which team would suffer most even if the suspicion was that Uruguay would be most discommoded.
The game was relatively scrappy from the off but it was Uruguay who showed the greater threat at first, bombing down the flanks and delivering into France's box. Nothing came of these chances and France quickly established their dominance in possession, which is what most people expected would happen. A quarter of an hour into game and Kylian Mbappe had the clearest chance for either side; Olivier Giroud headed back across the box to the young man who, unaware of how much space he was in, looped a harmless header over the bar.
A needless foul by Rodrigo Bentancur gave France a free kick from a wide position just outside the box. Antoine Griezmann curled a beautiful ball in and, rising highest, Raphael Varane deftly applied the touch with his head to send it past Fernando Muslera in Uruguay's goal. With just five minutes to go until half time, the goal was wonderfully timed. Uruguay had a chance to even matters up when Martin Caceres headed a free kick toward the bottom corner but Hugo Lloris pulled off a beautiful save to keep it out. Diego Godin pounced on the parry but only succeeded in blazing over.
Going in at half time, France hadn't been all that impressive but they had the lead and with Mbappe looking bright throughout the first half, they could reasonably expect similar fare in the second half. Uruguay didn't keep possession well enough for most of the first half, as is their wont, but their response to going behind to Varane's goal was swift and served to remind France of the dangers they could face in the second half.
Tabarez made two substitutions after 10 minutes of the second half to effect some change in Uruguay's fortunes but alas, events were about to take a turn for the worse. Paul Pogba strode forward from midfield before laying off to Tolisso who in turn passed across to Griezmann, 25 yards out from goal. The forward fired it toward Uruguay's goal for what looked like a regulation save for Muslera but the 'keeper had his position all wrong and let the ball bounce off his hands and into the net. It was an awful goal to give away and even Griezmann seemed sheepish in his celebration. Uruguay were two goals down and had just half an hour to save their World Cup.
Tempers boiled over soon after when Mbappe went down claiming he'd been punched but once the handbags were put down, the referee issued a couple of yellow cards and play resumed. Any hope that this fracas would serve to enliven and empower Uruguay were sadly misplaced as they looked frantic rather than focused, dejection writ large on the faces of the players. Cavani was obviously a huge miss to the team but they were sorely lacking creativity and ideas in the middle of the field. Before the end, Jose Giminez was already in tears, knowing as well as everyone else that this match was beyond them; it's a strange, sad thing to see a central defender behave so.
France never showed the pizazz or attacking flair that defined their win over Argentina but you have had to tip your hat to them as they were effective and showed a resolve to see the game out. For all that, with the players they have at their disposal, France still seem to be struggling to get the most out of all that talent. N'Golo Kante was once again brilliant and his consistency has been the bedrock of their journey to the semi-finals. Paul Pogba, however, for all of his talent and skills, had the look of a fish out of water and continues to give fuel to the fire of those who consider him to be something of a charlatan. Whilst a lot of the criticism is over the top, he frustrates at times with careless passing and can seem laboured in possession. He will surely benefit should Matuidi come back into the team as he picks up a lot of the slack for him.
It was a shame that such an awful goal knocked the wind out of Uruguay to the extent that it did and ultimately settled the tie in France's favour. Uruguay are a team designed for battle but they were missing one of their finest soldiers. Cavani's presence would not have guaranteed Uruguay a win but it may have seen them take to the field with more confidence that they could take the game to France – there are few teams who can suffer the loss of a world-class player. The tournament will miss Uruguay and their manager Oscar Tabarez. El Maestro will probably retire after giving the last 12 years of his life to this team and Uruguayan football in general. And the chances of seeing Suarez or Cavani at another World Cup are slim to none. World Cup exits don't just mean tickets home for the losers, they are often the graveyard for glorious international careers too.