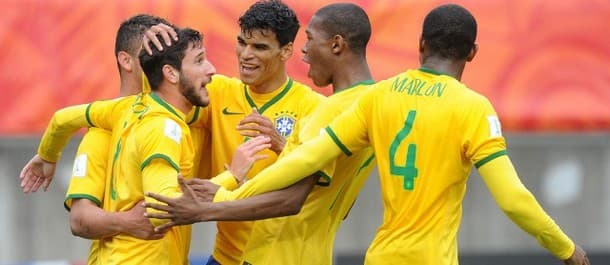 The FIFA under-20 World Cup has reached the knockout stage, with 16 teams set to compete for 8 quarter-final spots. It's already been a tournament filled with action and excitement, with plenty of high-scoring matches. The biggest shock so far has been the elimination of Argentina – the current South American Champions – who could only finish third in their group with two points, after losing to Ghana and drawing with Panama and Austria.
In other groups, Ukraine have posted a faultless record, winning all three group matches, scoring nine goals and keeping three clean sheets. Portugal also have a 100% record, scoring ten goals in their group games and conceding just one. Germany and Brazil are the other two sides to win all three games, with Germany scoring an incredible 16 goals over the matches, including 8-1 and 5-1 thrashings of Fiji and Honduras.
Second Round Fixtures
The full set of second round fixtures (with UK kick off times) is as follows:
Wednesday 10th June
05:00am Ghana U20 v Mali U20
05:00am Serbia U20 v Hungary U20
08:30am USA U20 v Colombia U20
08:30am Ukraine U20 v Senegal U20
Thursday 11th June
05:00am Austria U20 v Uzbekistan U20
08:30 Brazil U20 v Uruguay U20
08:30 Germany U20 v Nigeria U20
08:30 Portugal U20 v New Zealand U20
Ghana v Mali
The first match that catches the eye is the early-morning all-African affair between Ghana and Mali. With the tournament being played in New Zealand, it's important to keep a close eye on kick off times. Ghana play Mali at 5am BST, and they are fancied to be one of the first sides to book their place in the quarter-finals. They finished top of a tough group which included Argentina, Austria and Panama. They drew with Austria in the opener, before recording an excellent 3-2 victory over Argentina, and a 1-0 win over Panama. That put them top of the group with 7 points, and set up this tie with Mali.
Mali finished as one of the best third-placed group sides, finishing with 4 points in group D. Serbia finished top with 6 points, and Uruguay came in second, also with 4 points. Mali beat Mexico 2-0 before going down by the same scoreline to Serbia. They drew 1-1 with Uruguay in the final group game – a result that saw both teams qualify – and as their records were identical, lots were drawn to decide who finished 2nd and 3rd. Ironically, Mali may have come out the better from that draw, with their third position pitching them against Ghana while Uruguay will face Brazil. However, the Ghana team have shown their ability and are expected to be too strong for Mali.
Ghana – 1.83Bet €100 to win €18383/100Bet £100 to win £183-120Bet $100 to win $1830.83Bet HK$100 to win HK$183-1.20Bet Rp100 to win Rp1830.8300Bet RM100 to win RM183 with Boylesports and Ladbrokes
Ukraine v Senegal
Later in the morning, at 8.30am to be precise, Ukraine will continue with their impressive tournament when they face Senegal, and they are also worth backing. They topped their group with nine points without conceding a goal, and the young Shakhtar Donetsk duo, Viktor Kovalenko and Bohdan Sarnavskyi, have stood out as players of huge potential. Kovalenko has already scored five goals, including a hat trick against USA, and his coach fully expects him to take the golden boot. When asked, Ukraine manager Oleksandr Petrakov, said his young striker should finish tournament top scorer. Goalkeeper Sarnavskyi, has also demonstrated his ability with a penalty save and three clean sheets, and Ukraine are a dark horse for this competition.
Senegal were another of the best third-placed sides, finishing behind Portugal and Colombia in group. Third position came virtue of a 1-1 draw with Colombia and a 2-1 win over Qatar, but they were soundly beaten 3-0 by Portugal in the other match – despite two of the goals coming very late. Ukraine's defensive ability along with Kovalenko's ability up top should see the European's progress to the quarter-finals.
Ukraine – 2.25Bet €100 to win €2255/4Bet £100 to win £225+125Bet $100 to win $2251.25Bet HK$100 to win HK$2251.25Bet Rp100 to win Rp225-0.8000Bet RM100 to win RM225 with Betvictor
Brazil v Uruguay
Moving onto Thursday mornings games, and two of the favourites for the tournament are in action – Brazil and Germany. Brazil take on fellow South Americans Uruguay, and it's hard to look past the free-scoring Brazilians. They overcame a slight scare against Nigeria when they fought back from 2-1 down to win 4-2, and followed that up with a 2-1 victory over Hungary and a 3-0 win over North Korea.
Uruguay finished 2nd ahead of Mali after the drawing of lots, and they can take confidence from the last meetings between the sides in January. Uruguay won 2-0 in Brazil in the South American u20 Championship, before the sides played out a 0-0 draw a couple of weeks later. However, Uruguay's form hasn't been too impressive of late, while Brazil look like they are here to do business.
Brazil – 1.70Bet €100 to win €1707/10Bet £100 to win £170-143Bet $100 to win $1700.70Bet HK$100 to win HK$170-1.43Bet Rp100 to win Rp1700.7000Bet RM100 to win RM170 with Betvictor and Ladbrokes
Germany v Nigeria
The final match to get involved in is the Germany v Nigeria game, where the Germans look a very tempting price. It's true that Nigeria pushed Brazil close and will be no pushovers, but Germany have laid waste to all before them in the group stages. Thumping wins over Fiji, Uzbekistan and Honduras may not be a true test of the German players, but they have done all that's been asked and more, notching 16 goals in those three games. They were favourites before the tournament, and remain at the head of the market now, and they should progress through to the quarters here.
Nigeria have shown that they are a decent team, and after that Brazil result they went on to beat North Korea 4-0 and Hungary 2-0, to finish clear 2nd in the group. That makes it a good competition already for the Nigerian youngsters, but the story should end on Thursday as the Germans are expected to be too strong and too ruthless for Nigeria.
Germany – 1.67Bet €100 to win €16767/100Bet £100 to win £167-149Bet $100 to win $1670.67Bet HK$100 to win HK$167-1.49Bet Rp100 to win Rp1670.6700Bet RM100 to win RM167 with Betvictor
Tips Summary
FIFA under-20 World Cup Matches:
Wednesday 10th June:
Ghana – 1.83Bet €100 to win €18383/100Bet £100 to win £183-120Bet $100 to win $1830.83Bet HK$100 to win HK$183-1.20Bet Rp100 to win Rp1830.8300Bet RM100 to win RM183 with Boylesports and Ladbrokes
Ukraine – 2.25Bet €100 to win €2255/4Bet £100 to win £225+125Bet $100 to win $2251.25Bet HK$100 to win HK$2251.25Bet Rp100 to win Rp225-0.8000Bet RM100 to win RM225 with Betvictor
Thursday 11th June:
Brazil – 1.70Bet €100 to win €1707/10Bet £100 to win £170-143Bet $100 to win $1700.70Bet HK$100 to win HK$170-1.43Bet Rp100 to win Rp1700.7000Bet RM100 to win RM170 with Betvictor and Ladbrokes
Germany – 1.67Bet €100 to win €16767/100Bet £100 to win £167-149Bet $100 to win $1670.67Bet HK$100 to win HK$167-1.49Bet Rp100 to win Rp1670.6700Bet RM100 to win RM167 with Betvictor
Brazil
FIFA Under-20 World Cup
Germany
Ghana
Ukraine