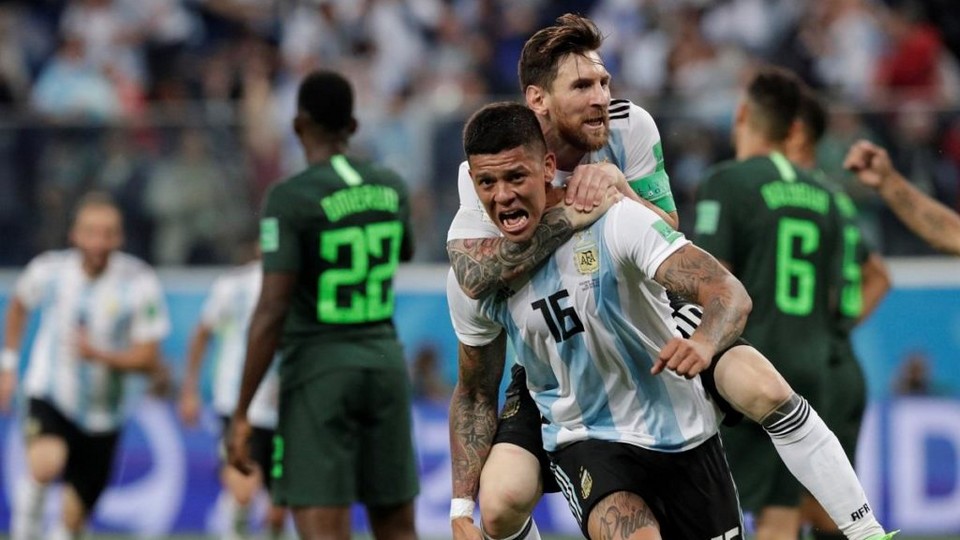 Another day of battle and four more countries were sent home on their shields. The vanquished left in a variety of emotional states. All sad, sure but Peru finally got the result that their brio and verve deserved, putting pay to Australia's outside hope of progressing at the expense of Denmark with a 2-0 that gave their wonderful fans a cherished memory to hold on to. The Socceroos loss didn't matter in the end as Denmark's 0-0 draw with France, a match of interminable boredom, was enough to send them back to the southern hemisphere.
Croatia, secure in the knowledge that the top of the group was theirs, made nine changes to their team but that was still enough to account for an Iceland team that, having faltered so badly in the second half against Nigeria, just couldn't summon the sort of spirit which saw them draw with Argentina in their opening game. It was the other match, however, that contained all the tension.
Argentina were in open revolt against the manager, there was even talk of punch-ups between some players. Their team was dysfunctional, they were lacking quality in vital areas of the team and they were to face a buoyant Nigeria team who only needed a draw to progress. It hardly needs writing that VAR was once against a guest at the table but thankfully, it didn't overstay its welcome and was well behaved. In a match of high drama late on, the result that many neutrals hoped for and as a result, the world will get to see Messi at least one more time this summer.
Nigeria 1-2 Argentina
Rarely can there ever have been more pressure heaped so solidly on such slender shoulders – Messi was carrying not only his team but also fevered desires of his whole country. He appeared to be struck by the weight of it all in the 3-0 loss to Croatia and all seemed dark. Nigeria's win against Iceland gave them an out, however, and all of sudden there was the hint of hope.
The opening 15 minutes saw Argentina keeping possession and, importantly, showed Messi with considerably more pep in his step, finding space early on. Nigeria were quite cagey and seemed to be feeling their way into the game. Unfortunately for them, they took too long and Argentina struck first. The ball was played from Ever Banega through for – who else? – Messi who took the first touch on his thigh, the second on his toe and the third saw the ball fly into the back of the net off his weaker right foot. It was the perfect start for Argentina and the boys.
Nigeria were being outplayed in every area of the park and simply seemed to be overawed. They couldn't string more than a few passes together and far too often lumped the ball forward for Ahmed Musa to chase. Given that Argentina had given a debut to a 31-year-old 'keeper and had Nicholas Otamendi and Marcos Rojo as their centre-back pairing, there was surely some scope for hope if they just set things up properly but that was beyond their capabilities in the first half and Argentina went in at the break one to the good.
That lead didn't last long as, five minutes into the half, Nigeria were awarded a penalty for a pull by Javier Mascherano during a corner. No need for VAR initially but the ref asked the boys in the VAR box to take a look all the same and they concurred with him. Victor Moses took just a couple of steps but it was all he needed to put it by Armani in the Argentina goal. The scores were now level and all the demons that Argentina thought they'd exorcised rushed back in some haste.
Knowing that nothing less than a win would do, Argentina made an attacking substitution and suddenly looked rather top heavy. It was a huge gamble as Mascherano was on sole duties holding midfield and his performance throughout had been less than assured, to say the least. Still, they felt it was all or nothing and they took the game to Nigeria with continuous gusto but try as they might, they could not get the ball through to Gonzalo Higuain, generally as a result of misplaced and hurried passes.
With a quarter of an hour left, there was a strong shout for another Nigerian penalty after Rojo appeared to handle the ball but the referee, after consulting with VAR, decided there was no case to answer. What was lost in all the subsequent shouts was that Odion Ighalo totally shanked the opportunity to blast the ball home. Anxiety was spreading like the plague through the blue and white stripes and it effectively meant their ability to make the right decision when it mattered most was shot but then, with three minutes left, Rojo – of all people! – finished beautifully from the 12 yards out and suddenly, somehow, Argentina were dreaming again.
They weren't in the clear just yet because with four minutes of additional time, all Nigeria needed was a goal to level matters and that would mean that they would go through. It wasn't to be. Argentina found a way, they did enough and they got through by the skin of their teeth. This performance can't mask the deficiencies in Argentina's squad, however, but given that they face a stuttering France in the Round of 16, perhaps that won't matter too much. Yet.
If you think Argentina can improve and go all the way, get the best odds at these top bookmakers:
Denmark 0-0 France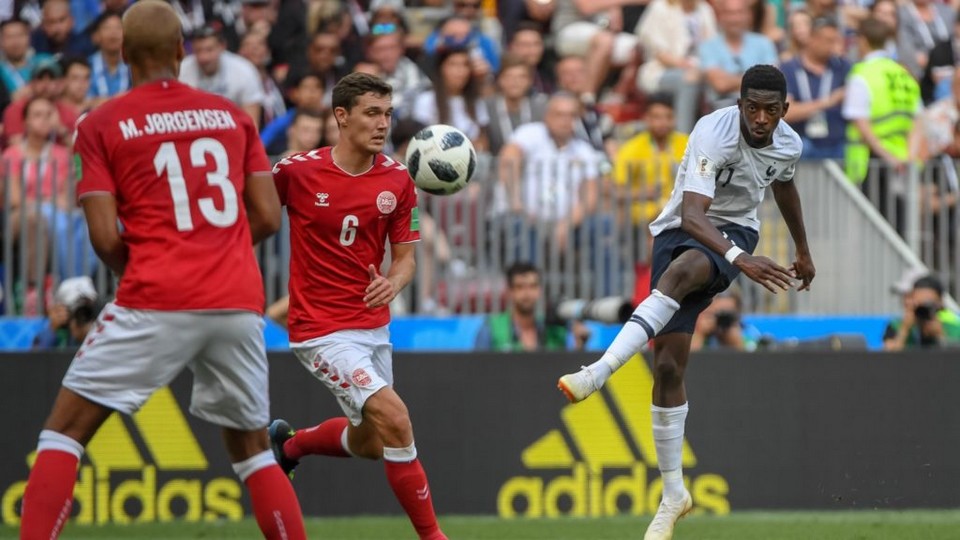 Didier Deschamps didn't ring the changes so much as roar them from the rooftop. Fully six changes to the starting line-up from their second game left one assuming that the French performance would be even more disjointed than it had been for the majority of their tournament to this point. The opening part of the game seemed to confirm this fear as Denmark imposed themselves on proceedings in a manner akin to the arrival of winter in late September – uncharacteristic, unsettling and upsetting for France.
It took France until the 15th minute to engineer anything resembling a chance. Although it amounted to little, thereafter they were far more comfortable in possession and looked after the ball for long spells but rarely created any chances for their front men. Denmark had taken their foot off the pedal but this may have had something to do with the fact that word had filtered through that Peru had taken the lead in the other group game thus making Australia's forlorn hope of finishing ahead of Denmark even more remote.
The rhythm of the match continued in this vain and well over half an hour was played before France managed a shot. The match played out as if France's 'lesser' players were struggling to get an understanding of each other's intent whilst simultaneously trying too hard as individuals in an attempt to impress the boss. Denmark played as if they knew that progression was assured. The sides went in 0-0 at the break and not many watching expected huge changes come the second half.
With 10 minutes played in the second half, more news came through from the other group game – Peru were now 2-0 up against the Socceroos. Australia, to that point, had scored a goal in each game but both were penalties so it was difficult to imagine them scoring three in the time left to them. That being the case, Denmark were home and hosed with little need to do anything other than conserve energy and avoid injury. The status quo suited them very well, thank you very much.
The shame of it was, though, if they had really attacked this game and grabbed a win, they would top the group and theoretically have the easier tie in the Round of 16. If they entertained those thoughts to any degree, they were ignored and Denmark, a team that had only conceded a single goal (Mile Jedinak's penalty) in their last seven games, comfortably repelled France's attacks. A shower of substitutions for both teams did little for the spectacle and this column was very much reminded of the turgid fare that was Holland v Republic of Ireland in the 1994 edition of this tournament.
Up to this point, we had seen 37 games and this was the first 0-0 draw of the World Cup. Both teams were through and no-one outside of France and Denmark ever wanted to think about this game again.