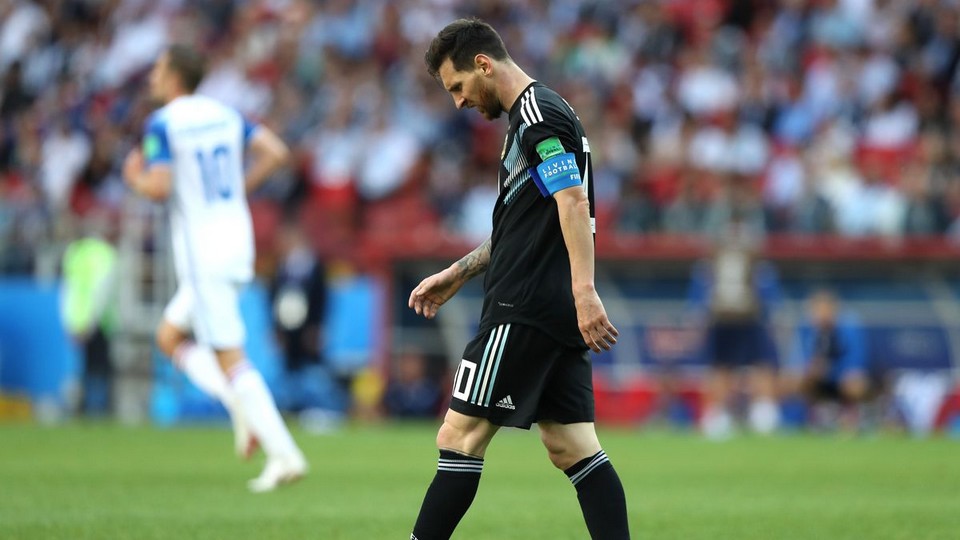 It was bound to happen at some stage, VAR was never going to go gently into the dark night. Granted the opportunity to intervene, it took its chance with both hands and decreed a penalty for France where just moments before the referee had waved away the appeals. In fairness, it looked to have got the decision right although not everyone was convinced. France didn't care when Griezmann stepped up and scored.
It doesn't rain but it pours, as the old saying goes and so it was that a similar situation came to pass in the Peru v Denmark match – a foul missed by the ref before his attention was drawn to it whereupon he took a look and pointed to the spot. The outcome differed wildly, however, as Peru blasted the ensuing penalty miles over the bar. Crucially, though, it looked as if VAR got it right again. Five penalties were awarded over the four matches but VAR was only called on twice. If that ratio can be stuck to, there may be a chance that VAR won't be the domineering disaster that many of us thought it would be. Still, there's plenty of time for that to change. On that cheery note, here's a round-up of the action from matchday three.
France 2-1 Australia
Australia didn't seem unduly rattled by a France side that threatened but rarely delivered. Paul Pogba stated pre-tournament that he wanted to be the boss of this French team. It was a bold statement and one that requires considerably more presence on and off the ball than he showed in the first 45. Hugo Lloris pulled off a good save, N'Golo Kante buzzed efficiently in midfield and Kylian Mbappe was lively and dangerous up front but apart from that, France looked very disjointed. Australia, in contrast, looked like a well-drilled side, comfortable off and on the ball.
France's main threat at the top of the pitch is the speed of Mbappe and Ousmane Dembele but with Australia sitting deep, there was little space for them to attack. This is where Pogba was expected to take control and create chances in those congested areas but he was unwilling or unable to do so. Incapable of capitalizing on a blistering opening period, it seemed like France ran out of ideas and Australia grew in confidence, competently repelling any attacks on their goal.
The second half began with France moving further up the pitch and applying more pressure than in the first half. Australia felt the squeeze but were able to cope up until a beautiful through ball by that man Pogba put Antoine Griezmann in on goal whereupon he was seemingly upended. Play went on but when next the ball went out of play the referee blew for a break in play and, for the first time in World Cup history, went to the sideline to consult with the video footage. After a brief period of reflection, he blew his whistle and pointed to the spot.
Up stepped Griezmann who finished with aplomb, the Australian 'keeper hedging his bets and sticking to the middle of the goal. One up to France and their tails were up, Mbappe keeping his foot on Australia's throat by surging into the box but the attack was repelled. Play went back up the pitch and Australia got themselves a free-kick from wide on the right. Aaron Mooy is their set-piece specialist and whipped it across the six yard box. It was at this point that France centre-back, Samuel Umtiti decided to channel his inner Maradona and handle the ball out of the way – penalty to Australia. Up stepped team captain, Mile Jedinak, who coolly rolled it to the left of Lloris and into the net.
Deschamps decided to change things around by taking Griezmann and Dembele off and replacing them with Olivier Giroud and Nabil Fekir. His final substitute saw Corentin Tolisso come off to be replaced by firm manager favourite, Blaise Matuidi, for the final 12 minutes of regular time. With eight minutes left, a bizarre set of circumstances saw Pogba credited with a goal that was confirmed through goal-line technology, the ball making its looping way to the goal via his boot and that of an Australian defender.
So France took the win in the end but Australia will consider themselves unfortunate to lose to a VAR-awarded penalty and a fluke. They did themselves proud and served notice to both Peru and Denmark of their intentions. France will be delighted to have fallen over the line but they'll know that they have to up their game considerably if they are to have any notions of progressing in this tournament.
Argentina 1-1 Iceland
Perennial World Cup favourites Argentina began their campaign against an Iceland team who were making their debut on football's greatest stage. As far as the market was concerned, this was to be a straightforward win for the South American side. With Lionel Messi and a host of other world famous players like Sergio Aguero, Javier Mascherano and Angel Di Maria to name a few, how could it be otherwise? The problem with this thinking is that it fails to take into account the centre-back pairing of Marcos Rojo and Nicolas Otamendi. With hardly a defensive brain cell between them, they are the softest of soft centres.
The game began in a cagey manner with Argentina stroking the ball around midfield without ever looking threatening. Panic ensued after nine minutes following some shoddy passing between their 'keeper and defence which led to a shot on goal for Iceland that was dragged wide when really it should have been scored. It was scrappy play by Argentina but Messi was beginning to get on the ball more, influencing proceedings. Then, on 20 minutes, Argentina scored. A speculative shot by Rojo was picked up in the area by Aguero and the diminutive striker created some space for himself before smashing it into the net.
It looked as if the floodgates would open for Argentina and, in a sense, they did as just four minutes later, Iceland equalized following a scramble in the penalty area with Alfred Finnbogason supplying the finish. In truth, for all Argentina's possession, Iceland were worth the goal, showing no fear at all against their illustrious opponents. Brilliantly drilled in two banks of four with the front two dropping in when required, it was going to take something a little special to open them up but it didn't happen in the first half.
Iceland alternated between sitting deep and also putting Argentina under some sustained pressure but, much like the first half, Argentina had most of the ball. In the 63rd minute, however, things turned in their favour as they were awarded a penalty after Aguero was bundled over in the box. Up stepped Messi to coolly slot it home. Except he didn't as the Iceland 'keeper made a sweet save. Messi is many things but if there is a weakness in his game, it is his penalty taking.
The game went continued along as before with Argentina trying the same thing over and over again and getting the same result over and over again. Iceland were lucky not to give another penalty away when the ref blew for a goal kick when it looked for all the world like Pavon, on for Di Maria, had been fouled in the box. Time was running out for Messi and his men. He had the ball kicked away from him just as he was pulling the trigger, he fizzed a shot just wide of the post – was it going to be his day? Gonzalo Higuain was brought on with eight minutes left to play as Jorge Sampaoli played his last card. Higuain moaned a bit and put in a cross but it was all for nothing. Argentina could have played late into the night and it still wouldn't have been enough time for them to break Iceland's resolve. Messi is their Plan A–Z and as great as he is, he is still just one man. Five minutes of extra time came and went without any joy for Argentina but when the referee blew for full time, Iceland's joy was unconfined.
Argentina are up against it but you can get great prices about them qualifying from Group D. Try these top-rated bookies for the best odds:
Croatia 2-0 Nigeria
In boxing terms, this match could have been considered a middleweight clash between two solid fighters. In the Croatian corner was one of the world's finest midfielders. Luka Modric's importance to his team was clear from the off with the diminutive general always looking for the ball and pulling the strings. Nigeria were hesitant to begin with, rightly cautious of the threats they faced from their opponents. They rolled, ducked and clinched, firing out the occasional jab until worked their way into the bout. As their confidence grew, Croatia's appeared to stutter and they began to become looser in their play, allowing their opponents off the ropes.
They swiftly ended up back there, however. With just over half an hour played, Modric swung in a corner which made its way toward the back stick before it deflected into the net off Etebo's leg. The goal seemed to remind Croatia how good a team they are and they began to increase the pressure on Nigeria. Whatever about their confidence, Nigeria were just the lacking the quality to fight back effectively. Ighalo was isolated up front and spent most of his time throwing himself to the ground whilst Jon Obi Mikel just appeared to be in the wrong position altogether. The gap between the midfield and attack was too pronounced and it remained to be seen whether the manager would address it during the break or just hope for something different to happen.
With neither side making any changes at the break, Nigeria started the second half with a good deal more urgency but were unable to make it count where it really mattered. The pace fell off again and the game became scrappy with a lot of niggles and dramatic appeals to the ref. Nigeria took Alex Iwobi off and replaced him with Ahmed Musa, adding some serious speed to their attack. Croatia replaced Kramaric with Brozovic which allowed Modric to drift a little further forward.
On the 70th minute, Croatia swung a corner in and the eagle-eyed ref spotted some amateur wrestling moves in the box as Mandzukic was unceremoniously dragged to the ground. Nigeria protested but to no avail. Modric stepped up and calmly slotted it into the bottom corner. Nigeria were in serious trouble with time running out but they just didn't seem to have the wherewithal or quality to cause Croatia any real bother. Attacking substitutions were made but didn't make the impact they needed; Croatia were comfortable and Nigeria were sinking.
The match rolled on and the addition of four minutes at the end of the 90 amounted to nothing more than an extension of Nigeria's suffering. They were never favourites to win this game but the nature of their performance will give them serious cause for concern as their decision-making and efficiency – aspects of the game not easily drilled in training during tournaments – were lacking, possibly due to the young age profile of the squad. Croatia had the guile and class that allowed them to get over the line without ever being consistently impressive. It will be interesting to see how they fare against a wounded Argentina this coming Thursday.
Peru 0-1 Denmark
Peru's journey to Russia has been eventful, to say the least. Having qualified for the World Cup since 1982, the country was put through the wringer as their star man, Paolo Guerrero, was hit with a ban after popping positive for cocaine. That ban was then reduced, then reinstated and then cut again, leaving him free to compete this summer. He started on the bench for this match, however, with Jefferson Farfan starting up front.
Peru took to the game like ducks to water and were causing Denmark problems all over the pitch, keeping Christian Eriksen quiet and making things very uncomfortable for their opponents. Denmark threatened from set-pieces but little else although they could see from early on that Peru's 'keeper perhaps wasn't the most confident when coming for crosses. Overall, though, the first half was quite start-stop in nature as the referee was overly fussy when it came to blowing up for any and all perceived infractions.
It was drawing to a close when Peru's Flores went down in the box but the referee, unusually for him, chose not to blow his whistle. Play went on but shortly after he stopped play and went to the sidelines to consult VAR. After a brief look, he decided that in fact it was a penalty and pointed to the spot. Christian Cueva was the man charged with putting it away for Peru and, following a staggered run up to the spot, he decided to eschew the back of the net and instead sent it flying miles over the bar. Cueva was distraught and was comforted by his teammates as they headed down the tunnel for half-time.
Coming up to the hour mark and Eriksen announced his class. Taking the ball on the run, he surged through space in midfield before putting Yussuf Poulsen through on the left with the winger calmly slotting it past the 'keeper. Peru upped their game thereafter and put Denmark under some pressure before they brought on Guerrero to lead the line. At last, the game opened up. There were chances at either end but most of them went the way of Peru. Luckily for Denmark, Kasper Schmeichel wasn't in the mood to be beaten between the sticks.
Five minutes of additional time wasn't enough for Peru to break through the massed defensive ranks in front of them and when the whistle blew for the final time, the relief on their faces was clear to see. They'll know they got away with one and will have to up their game but they won't care as they've got the three points in the bag. For Peru and their travelling army of fans, it was a cold splash of reality in the face of their beautiful dream. It doesn't get easier for them next time out when they meet France.